CESI Monitoring Project 98-3
Impact of Anthropogenic Disturbance on Wetland Aquatic Communities: Changes in Patterns of Species Abundance and Richness as a Function of Distance from Canals
Jennifer S. Rehage & Joel C. Trexler

The Everglades ecosystem boasts a wide variety of freshwater environments ranging from long-hydroperiod marshes that remain inundated almost year-round to ephemeral aquatic habitats that retain surface water for only a short time. Much of the life that inhabits these areas display a strong preference for specific aquatic habitats. Thus, alterations of hydroperiod in any given area can have an effect on the assemblage of life that thrives there.
This CESI-funded investigation examined the effect of canals on species abundance and density in the freshwater Everglades. The study found clear effects on the distribution and density of large predatory fishes, small fishes and invertebrates in close proximity to canals. The results of this project help bring to light surprising insights on the mechanics of predator / prey relationships in these communities.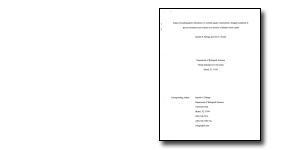 Final Report
(PDF, 4.2 MB)
Contact the principal investigator directly with questions about this study.
Last updated: April 14, 2015