Article
National Park Week-Inspired Checklist of 20 Virtual Ideas for 2020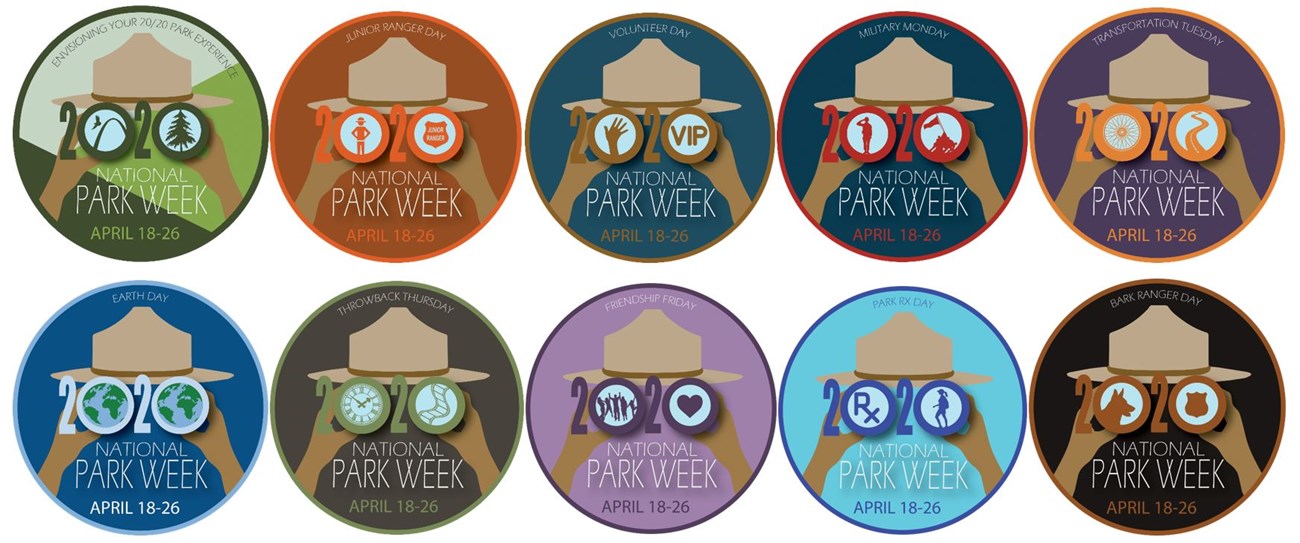 National Park Week is going digital in 2020! Check out 20 virtual things to do during National Park Week and all year long as part of envisioning your 2020 park experience.
__1 Find Your Virtual Park
Feeling the need to be parked at home? Find Your Virtual Park from anywhere in the world with ways to stay connected to parks through digital experiences, including social media, virtual tours, webcams, and games and activities.
__2 Be Social on Social Media
Share your favorite park memories, experiences, and goals on social media using #NationalParkWeek (April16–26), #FindYourVirtualPark, and #FindYourPark or #EncuentraTuParque. Use any of these hashtags on Twitter during National Park Week and a special ranger emoji will appear! Decorate your national park memories using new digital Instagram stickers by the National Park Foundation.
__3 Games and Challenges
Test your knowledge or learn more about national parks with games and activities that you can play with family, friends, or yourself. Remember to check back for more games all year. Keep an eye out on park social media accounts as well.
__4 Join a Live Park Program
Parks, NPS programs, and partners are hosting virtual live tours, chats campouts, and more. Check a calendar or official NPS social media channels to find these events.
__5 Take the Find Your Park Quiz
Start planning your next national park adventure with the National Park Foundation's virtual Find Your Park Quiz, which will match you to a park. Find other ways to enjoy Parks at Home with our official partner, including kids activities, virtual visits, and audio experiences.
__6 Collect Virtual Passport Stamps
Have you gone park to park to get passport stamps? Our partner America's National Parks is extending its Passport to Your National Parks program to include virtual passport stamps for participating national parks. See if you can also find passport stamps on some parks' websites.
__7 Recreate Your Dream National Park Trip
Pull out the tents, sleeping bags, flashlights, and anything else that you would need to take a trip to national park—except your home is the park. Create maps, itineraries, and activities, such as wildlife watching, cultural demonstrations with family traditions, museum exhibits with items and photos in your home, and maybe some hiking and biking in the neighborhood.
__8 Watch and Listen
Be on the lookout for wildlife and soak in stunning views from webcams in parks around the country. Enjoy a symphony of natural and cultural sounds in a sound gallery. Maybe even send someone an audio postcard from Yellowstone National Park.
__9 Become an Online Junior Ranger
National Park Week traditionally kicks off with National Junior Ranger Day. New in 2020, Junior Ranger Online features digitized booklets and activities for at-home fun. Kids (and adults) of all ages can earn their virtual Junior Ranger badges while learning about parks or special history and nature topics.
__10 Share Your "VIP" Status
Volunteer Day, also part of National Volunteer Week, kicks off a year of volunteer recognition in honor of the 50th anniversary of the NPS Volunteers In Parks (VIP) Program. If you have ever volunteered in a national park, are a current volunteer, or are making a commitment to become one, create a "I Volunteer Because…" signboard and share a picture of you with it on social media using #VIP50 and #NPSVolunteer.
__11 Recognize Military Service
In the spirit of Military Monday, learn more about the connections between national parks and the American military both past and present. Find opportunities for military families to enjoy national parks throughout the year.
__12 Get Transported
In honor of Transportation Tuesday, learn more about the past, present and future impacts of transportation on national parks. Do some virtual trip planning for a future trip to find fun ways to get to and around parks using alternative transportation or as recreation, such as boating, bicycling, and horseback riding.
__13 Earth Day
Join the international celebration for the 50th anniversary of Earth Day as it goes digital in 2020! Become a citizen scientist by volunteering in science research with projects for all ages and experience levels. Find citizen science projects that you can do in your neighborhood, from your yard, and even indoors.
__14 Throw Back to the Past
Inspired by Throwback Thursday, share park memories of your previous trips to national parks or old family photos on social media using #ThrowbackThursday (on Thursdays) and #FindYourPark or #EncuentraTuParque. Share generational cultural traditions to the next generation, much like rangers and volunteers share their rich cultural heritage with park visitors and each other.
__15 Enjoy a Circle of Friends
National parks and programs are strengthened by the invaluable support of various kinds of partnerships. In celebration of Friendship Friday, learn more about the amazing work of our network of friends providing a wide range of opportunities and support across the country. Explore a toolkit if you are interested in becoming a partner this year.
__16 Prescribe Yourself Some Nature
For Park Rx Day and beyond, find tips that promote physical and mental wellness in your home, yard, and neighborhood. Join the #GoingOnABearHunt campaign and other fun activities for Wellness in Nature.
__17 Be a B.A.R.K. Ranger
Tails are wagging for B.A.R.K. Ranger Day! Prepare your furry friends to be B.A.R.K. Rangers on their next trip to a national park. Start practicing the basic B.A.R.K. ranger principles in your own neighborhood:
Bag your pet's waste.
Always leash your pet.
Respect wildlife.
Know where you can go.
__18 Look to the Stars
Inspired by International Dark Skies Week (April 19–26), learn more about the night skies and how you can enjoy and protect them from anywhere. Become a Junior Ranger Space Tech Explorer with our friends at NASA and check out Newfie News following the adventures of Seaman Jr. and his pack of plush Newfoundlanders.
__19 Tour Your Neighborhood
Did you know that the NPS is at work in almost every community in the United States through programs and partnerships? Explore places on the National Register of Historic Places, national historic landmarks, national natural landmarks, national recreation trails, and national heritage areas to better know your neighborhood.
__20 Embrace Your Inner Armchair Explorer
Discovery history, architecture, archeology, and culture across the country with online travel itineraries. The Discover Our Shared Heritage series takes online visitors on a virtual trip to thousands of places on the National Register of Historic Places.