Social Media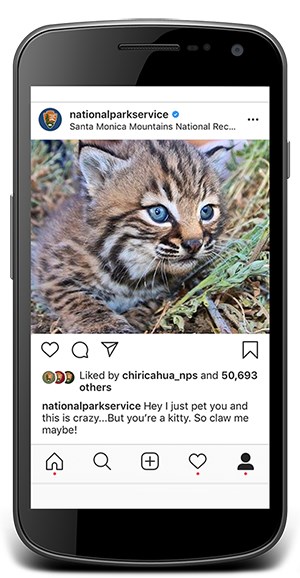 We use social media to reach new audiences and create a vibrant community of park advocates. We also look to promote a deeper understanding of national parks by providing accurate, engaging, and timely content, as well as share important news and events from more than 400 parks and National Park Service (NPS) programs. Follow, share, and be a part of the conversation with the NPS!
Channels
A listing of all park and program accounts can be found on the
US Digital Registry
.
Policies
We treat our platforms as public forums and welcome discussion and debate. Be considerate of differing opinions and do not personally attack others. We will hide, delete, or report comments that break any platform rules. Threats and other illegal activity will be reported to law enforcement.

Our comment policy is enforced on all platforms:
While this is an open forum, it is also a family friendly one, so please keep your comments and wall posts clean. In addition to keeping it family friendly, we ask that you follow our posting guidelines. If you don't comply, your message will be removed.
We do not allow graphic, obscene, explicit or racist comments or submissions, nor do we allow comments that are abusive, hateful or intended to defame anyone or any organization.
We do not allow solicitations or advertisements. This includes promotion or endorsement of any financial, commercial or non-governmental agency. Similarly, we do not allow attempts to defame or defraud any financial, commercial or non-governmental agency.
We do not allow comments that suggest or encourage illegal activity.
You participate at your own risk, taking personal responsibility for your comments, your username and any information provided.
Finally, the appearance of external links on this site does not constitute an official endorsement on behalf of the U.S. National Park Service or the U.S. Department of the Interior.
Facebook Community Standards
Instagram Community Guidelines
The Twitter Rules
Flickr Community Guidelines
Youtube Community Guidelines
Things to Know
Keep safety in the picture! While we want you to capture all of the splendor of amazing parks through social media, it's important to practice responsible online photo sharing. Posting about conservation, leave no trace, and safety helps spread and support the mission of the National Park Service. Be mindful of what your images portray. Do not promote illegal or unsafe behavior.
Do you have a permit for that? All commercial filming activities taking place within a unit of the National Park System require a permit. "Commercial filming" means the film, electronic, magnetic, digital, or other recording of a moving image by a person, business, or other entity for a market audience with the intent of generating income.
Unmanned aircraft use may be prohibited at the park you are visiting. Due to concerns about the negative impact that flying unmanned aircraft can have on the safety of visitors, staff, and wildlife, they have been restricted in all but a few parks. Check the park's website to see if it is an allowed activity at that park.
Contacts
Please
contact us
with questions or to report an issue.
Last updated: July 14, 2022