National Park Week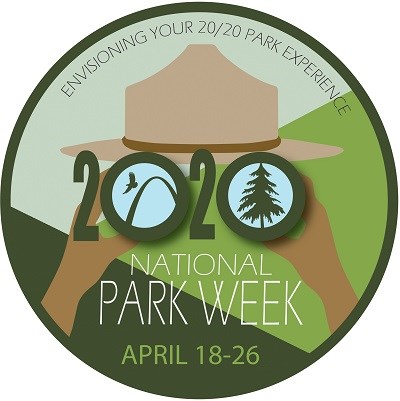 Each April, during the presidentially proclaimed National Park Week, we join with the National Park Foundation, the official charity of America's national parks, to celebrate America's treasures. National Park Week is a time to explore amazing places, discover stories of history and culture, help out, and find your park.

Thanks for celebrating National Park Week 2020 from April 18 to 26. Parks across the country hosted a variety of special programs and events with a focus on digital experiences in 2020. There were also special days during the week to highlight the different ways everyone can enjoy national parks.

It's not too late to join us on social media, find graphics to use, or stay caught up on news. Try to check off as many experiences on a list of 20 in '20 virtual ideas inspired by National Park Week.
Visit our keyboard shortcuts docs for details
Duration:

24 seconds
Stay connected with national parks during National Park Week as the celebration goes digital. (Video contains footage copyright of More Than Just Parks. All rights protected.)
National Park Week Theme Days
National Park Week is Official!
Did you know National Park Week is recognized by a presidential proclamation? Each year, National Park Week is declared a special time to celebrate national parks and programs across the country and to encourage everyone to discover the nation's diverse natural and cultural heritage.
Be Social!
Share your National Park Week experiences and memories on social media using the hashtags #NationalParkWeek, #FindYourVirtual Park, and #FindYourPark or #EncuentraTuParque! Join the conversations on special theme days using these hashtags:
| Day | Hashtags | Day | Hashtags |
| --- | --- | --- | --- |
| National Park Week (April 18-26) | #NationalParkWeek, #FindParkVirtualPark, #FindYourPark / #EncuentraTuParque | Earth Day (April 22) | #EarthDay |
| National Junior Ranger Day (April 18) | #JuniorRangerDay | Throwback Thursday (April 23) | #ThrowbackThursday |
| Volunteer Day (April 19) | #NPSVolunteer | Friendship Friday (April 24) | #FriendshipFriday, #NPSFriends |
| Military Monday (April 20) | #MilitaryMonday | Park Rx Day (April 25) | #ParkRx, #HealthyParksHealthyPeople |
| Transportation Tuesday (April 21) | #TransportationTuesday, #NPSOnTheMove | BARK Ranger Day (April 26) | #BarkRanger |


National Park Week Twitter Chat
Thanks for joining the annual National Park Week Twitter chat hosted by the National Park Foundation, National Park Service, and the Department of the Interior on April 16, 2020. We had a lively and engaging conversation using the hashtags #FindYourPark, #EncuentraTuParque, and #NationalParkWeek. And, we trended again!
Ranger Emoji on Twitter
During National Park Week, a special "Park Ranger" emoji appeared on tweets using #NationalParkWeek, #FindYourVirtualPark, #FindYourPark, or #EncuentraTuParque!
National Park Week Instagram Stickers
The National Park Foundation created special digital stickers for National Park Week! Search for "National Park Week" or "National Park Foundation" in the stickers function of Instagram Stories to find new national park-themed digital stickers to decorate your posts sharing park memories.
Graphics & Videos Gallery
Learn the principles of B.A.R.K. rangering to become an ambassador the next time you take your human on a walk in a park.

Duration:

30 seconds
National Park Week News
Find news about National Park Week by also looking on parks' websites for current conditions, updates on events, and more.
Last updated: April 27, 2020