Youth Conservation Corps Opportunities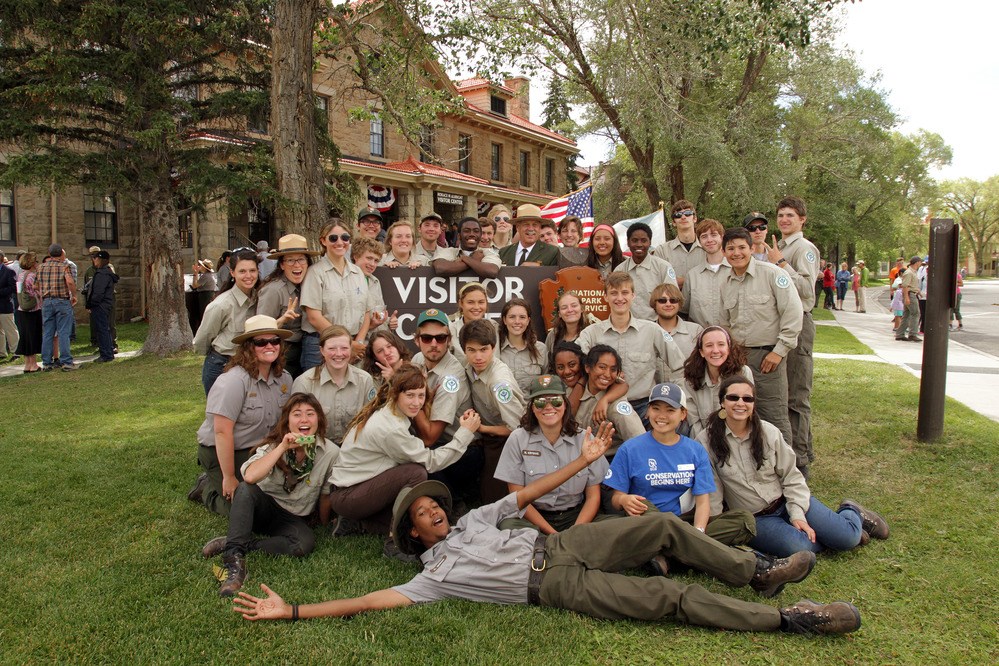 2023 Youth Conservation Corps Opportunities by Park
Apply for the 2023 YCC season now through the deadline date (different for each park).
If you have any questions, please feel free to email us. For questions about specific locations, please contact your regional manager on our "Contact Us" page. You can also contact the park directly below with first name_last name@nps.gov. Go back to the main YCC page to apply.

*Please note all locations are subject to change. All YCC programs listed below (except Yellowstone National Park) are non-residential, and are therefore unable to provide park housing and transportation to and from the site. Please keep this in mind when applying.
Alaska Region
| | | | | |
| --- | --- | --- | --- | --- |
| Park Name | Session Dates | Types of Projects | Deadline | Contact |
| Denali National Park and Preserve | June 5 - July 28 | Interpretation and education, trail maintenance, all aspects of the care, feeding, exercise, and training of 30-plus active Alaskan huskies | February 22 | Krista Johnson |
| Kenai Fjords National Park | May 31 - August 11 | Invasive species removal, interpretation, and visitor services | February 23 | Gillian Braver |
| Wrangell-St. Elias National Park and Preserve | May 30 - August 11 | Trail maintenance, Ranger Station grounds maintenance, visitor services, Junior Rangers | March 31 | Russell Scribner |
Intermountain Region
Park Name
Session
Dates
Types of Projects
Deadline
Contact
Colorado National Monument (Colorado)
June 5 - July 28
Trail maintenance, historic road maintenance, invasive species removal, assisting with field data collection for archaeological and biological studies, and education field trips to other land management agencies in the region
April 21
Kevin Dowell
Fort Davis National Historic Site (Texas)
June 5 - July 28
Trails maintenance, historic preservation, invasive species removal, interpretation, and visitor services
April 28
Julz Wright
Fort Union National Monument (New Mexico)
June 5 - July 28
Visitor services, interpretive education, cultural and natural resource protection, and facilities maintenance

May 14
Steven Geick
Petrified Forest National Park (Arizona)
June 5 - July 21
Trail maintenance, invasive species removal, resource management field work
March 31
Stan Belinte
Saguaro National Park (Arizona)
June 5 - July 28
Trail Maintenance, Resource Management-cactus surveys, invasive species removal, maintenance projects, campsite improvements and various other work projects; Please note that we will be camping out each week Monday-Friday. Housing will not be provided over the weekends.
April 21
Christina Cultrara
Yellowstone National Park (Idaho, Montana, Wyoming)

Note: This is a residential program, so housing will be provided, and non-local residents are encouraged to apply.
June 11 – July 10 and
July 16 – August 15
Boardwalk repair, invasive species removal, trail maintenance, installing food storage containers (Bear Boxes), visitor use monitoring, community science (national dragonfly freshwater study), fence building or repair, painting, campsite improvements, and various other work projects
March 1
Mike Coonan
Midwest Region
Park Name
Session Dates
Types of Projects
Deadline
Contact
Arkansas Post National Memorial (Arkansas)
June 6 -
August 5
Invasive plant management, trail maintenance, and cultural landscape maintenance
April 30
Kirby McCalie
Buffalo National River (Arkansas)
June 4 - July 29
Trails, painting, general campground maintenance, and custodial maintenance
May 1
Kimberly Morgan
Fort Scott National Historic Site (Kansas)
June 12 - August 4
Historic preservation, interpretation, leadership, and stewardship, as well as resume building, interviewing skills, the ins and outs of USAJobs, and working for the NPS
May 19
Carl Brenner
Fort Smith National Historic Site (Arkansas, Oklahoma)
April 24 - September 22
Removing overgrown vegetation and trees and conducting trail brushing along the west bank of the park
March 3
Darin Huggins
Indiana Dunes National Park (Indiana)
June 4 -
August 12
Custodial services
April 30
Florida Harris

Skaidra Kempkowski
Lincoln Boyhood National Memorial (Indiana)
June 5 -
July 28
Replace 1500 linear feet of split rail fence
April 15
Daryl Beck
St. Croix National Scenic Riverway (Wisconsin, Minnesota)
June 12 - August 25
Campground maintenance, riverbank stabilization, painting, staining, river trash pickup
April 24
Jedediah Wannarka
Tallgrass Prairie National Preserve (Kansas)
May 29 -
July 21
Invasive species removal, learn about cattle and bison, stream fish, including the federally endangered Topeka shiner, and numerous nationally significant cultural resources
April 7
Deborah Haley

Kristen Hase


Pea Ridge National Military Park (Arkansas)
April 24 - September 22
Trail maintenance and repairs, new signage to clearly identify trail locations to be installed
March 3
Aaron Artripe
Pictured Rocks National Lakeshore (Michigan)
June 19 - August 11
Trail maintenance and grounds projects
May 1
Kevin Swenson
National Capital Region
Park Name
Session
Dates
Types of Projects
Deadline
Contact
Catoctin Mountain Park (Maryland)
June 20 - August 11
Invasive species removal, native plant monitoring and rehabilitation (implementing and maintaining tree tubes), trail trimming and rehabilitation (implementation of drainage structures), foot bridge and wayside cleaning, monitoring of fish, and painting.
April 1
Samantha Mills
Prince William Forest Park (Virginia)
Mid-June - Mid-August (TBD)
Trail maintenance, stream quality monitoring, painting, staining, and other projects that are needed
April 15
Kathy Kimmitz
Northeast Region
Park Name
Session Dates
Types of Projects
Deadline
Contact
Acadia National Park (Maine)
June 26 - August 18
Installing check dams, replacing bog walk, clearing vegetation and drainage, removing invasive plant species, painting
March 15
Erica Lobel
Boston African American National Historic Site (Massachusetts)
June 28-August 18
YCCs work alongside NPS staff to learn recreational activities and develop facilitation skills. Youth build their abilities to take the lead to connect 8-12 year-old campers along the Black Heritage Trail in Boston's Beacon Hill.
April 15
Michelle Pizzillo
Boston Harbor Islands National and State Recreation Area (Massachusetts)
June 28 -August 18
YCCs work alongside NPS staff to learn recreational activities and develop facilitation skills. Youth build their abilities to take the lead to connect 8-12 year-old campers with the natural, cultural, and recreational resources of Boston Harbor Islands National and State Recreation Area.
April 15
Michelle Pizzillo
Boston National Historical Park (Massachusetts)
June 28 - August 18
Digital media storytelling focused on interpretation and education. Youth will work alongside NPS staff to conduct historical research to be infused in videography, photography, and social media used throughout the park digital visitor information kiosks and museum exhibits.
April 15
Michelle Pizzillo
Colonial National Historical Park (Virginia)
June 19 - August 11
Assisting Facilities staff with the maintenance of cultural landscapes including the Colonial Parkway, Jamestown Island, and Yorktown Battlefield
May 26
Matt Henderson
Fredericksburg & Spotsylvania National Military Park (Virginia)
July 3 - 31
Cleaning head stones in the National Cemetery and some landscaping work in the cemetery, as well as within the park
April 1
John Storke
Valley Forge National Historical
Park (Pennsylvania)
June 26 -
August 18
Invasive species removal, native tree and shrub care, native seed collection and propagation
April 15
Kate Jensen
Pacific West Region
| | | | | |
| --- | --- | --- | --- | --- |
| Park Name | Session Dates | Project Types | Deadline | Contact |
| American Memorial Park (Northern Mariana Islands) | May 29 - July 29 | Edge plantings of the park's approximately 30-acre nature wetland, remove invasive vine species | April 30 | Charles Wolford |
| Big Hole National Battlefield (Montana) | June 19 - August 11 | Custodial, grounds maintenance, trails maintenance, natural and cultural resource management, interpretation | May 15 | James Stevenson |
| City of Rocks National Reserve (Idaho) | June 5 - July 28 | Trail maintenance, invasive species removal, assisting with Natural Resources surveys, fuels reduction, habitat restoration efforts, as well as maintenance, visitor services, cultural resources, and compliance departments | April 28 | Austin Zollinger |
| Craters of the Moon National Monument and Preserve (Idaho) | May 30 - July 31 | Trail maintenance and painting | TBD | Brianna Bowhay |
| Haleakalā National Park (Hawai'i) | June 11- August 5 | Maintenance work to restore a garden in the Kipahulu District among others, and interpretation of natural and cultural resources | May 15 | Lewis Johnson |
| Lake Roosevelt National Recreation Area (Washington) | June 19 - August 11 | Trail maintenance, picnic shelter painting, and visitor services | May 15 | Ronald Sacchi |
| Lava Beds National Monument (California) | June 19 - August 11 | Invasive species control, post-fire reseeding and restoration, native plant seed collection, cave restoration and visitor impact mitigation, general maintenance and custodial work, and cement work for new pathways at cave entrances | April 30 | David Hays |
| Lewis and Clark National Historical Park (Oregon, Washington) | June 13 - August 18 | Dragonfly Mercury Project monitoring, invasive species removal (blackberry, scotch broom, ivy), forest monitoring (long-term study on the Clatsop unit), vegetation monitoring (wetland plants), trail maintenance, visitor services (checking in junior rangers, leading tours, running games) | April 14 | Barbara Clark |
| Manzanar National Historic Site (California) | July 3 - August 4 | Grounds and building maintenance, which involves care of Manzanar's historic gardens, orchards, visitor center, and other features throughout the park. | June 2 | David Goto |
| Mount Rainier National (Washington) | June 26 – August 18 | Trail maintenance, shoveling snow in preparation for the busy visitor season, brushing, trail opening, tread maintenance, and rock wall repair | May 1 | James Montgomery |
| National Park of American Samoa (American Samoa) | TBD | Invasive species removal, trail maintenance | TBD | Anthony Wyberski |
| Nez Perce National Historical Park (Idaho, Montana, Oregon, Washington) | June 19 - August 18 | Historic grounds maintenance (mowing, landscaping, trimming, hedging), trail maintenance, invasive species removal, native planting, debris removal, inventorying. visitor services, interpretive training, program development, summer events | May 30 | Tara Wilson |
| Pu'ukohola Heiau National Historic Site (Hawai'i) | June 5 - July 31 | Cultural demonstrations, vegetation management, invasive species removal, re-planting native species, general maintenance of historic grounds | June 5 | Shelby Campbell |
| Point Reyes National Seashore (California) | June 12 - August 4 | Trail maintenance, resource fencing projects, wildlife education, beach clean-up, crosscut saw training, and more | April 28 | Bridget Dugan |
| Redwood National and State Parks (California) | June 26 – August 18 | Trail maintenance and repairs, bridge maintenance and repairs, assist the Resource Management Division on invasive plant removal, clearing fuel breaks around historic buildings | April 30 | Brittney McGuire |
| | | | | |
| | | | | |
Southeast Region
Park Name
Session Dates
Project Types
Deadline
Contact
Big South Fork National River and Recreation Area
(Kentucky, Tennessee)
June 5 - July 28
Students will pressure wash, sand, and properly prepare all exterior surfaces of the receptacles for repainting. Decals will be applied stating "Trash Only" to encourage proper recycling.

May 5
Kenny Gilreath
Blue Ridge Parkway
(North Carolina, Virginia)
June 5 - July 28
Trails and campgrounds maintenance, in particular, have had little or no maintenance, learn about park management
May 5
Jim Grant
Cape Hatteras National Seashore (North Carolina)
June 4 - July 28
Boardwalk deck replacement
April 15
Scott Babinowich
Christiansted National Historic Site (Virgin Islands)
June 5 - July 28
Repaint grounds site features, clean drainages/gutters, trash collection, grounds care work, such as trimming, composting, pressure wash side walks and other walking areas

May 25
Angelina Alvino
Gulf Islands National Seashore (Florida, Mississippi)
June 5 - July 28
Brush clearing on trails, repairing trail tread surface, installing signs, replacing missing bricks, dry lay and wet lay of missing bricks on historic fortifications, vegetation removal on historic fortifications, installing and removing sand fencing

April 7
R. W. Jenkins
Kings Mountain National Military Park (South Carolina)
June 5 - August 11
Cultural landscape maintenance, trail maintenance, remove selected underbrush to improve the viewshed of the landscape, invasive plants management.

April 11
James Mullins
Little River Canyon National Preserve (Alabama)
June 4 - July 28
Trail maintenance, trail structure construction, grounds care, roadside cleanup, exotic weed control, sign placement, and participate in environmental education training

April 5
Matthew Ibbettson
Martin Luther King, Jr. National Historical Park (Georgia)
June 4 - July 28
Landscape maintenance in and around historic homes in the Sweet Auburn neighborhood
April 7
Elvis Babilonia
Obed Wild and Scenic River (Tennessee)
June 5 - July 28
Preservation of two wooden fences, preventative maintenance in order to preserve the integrity of the structures and ensure a maximum lifetime of service

May 5
Kenny Gilreath
Virgin Islands National Park (Virgin Islands)
June 19 - August 12
Repainting parking lots and boardwalks, learning about interpretation and creating social media posts, learning about marine ecology monitoring and gathering nearshore monitoring data, beach clean-ups and marine debris categorizing and data sheet submission to national databases, getting certified in CPR/First Aid/CPR
May 15
Elsa Alvear
Last updated: September 14, 2023