Youth Conservation Corps (YCC) Program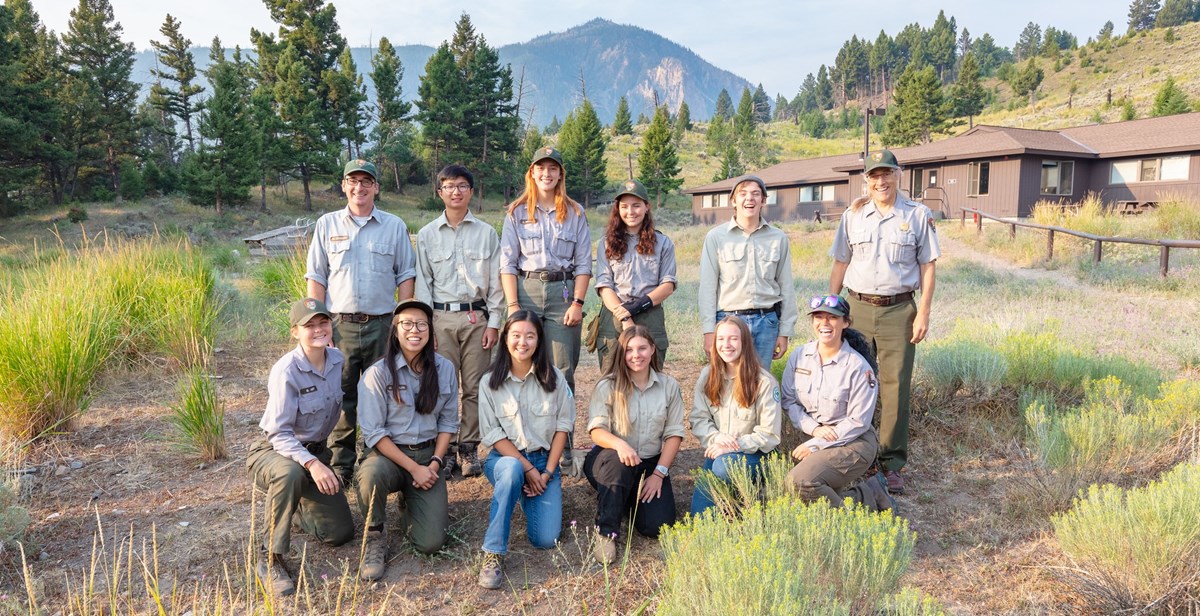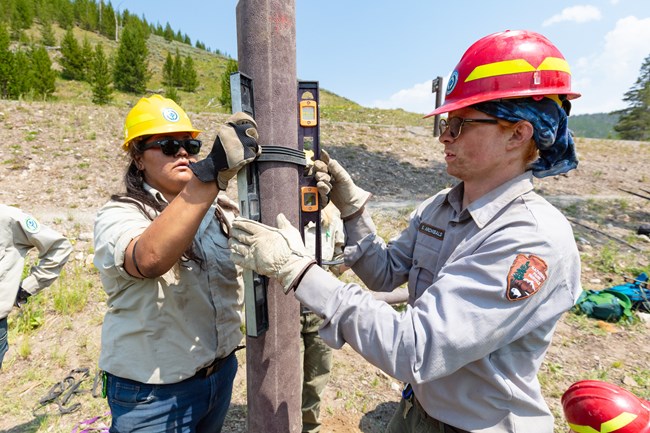 Yellowstone is offering its Youth Conservation Corps (YCC) program for the 33rd consecutive summer in 2021—a month-long residential program for young people between the ages of 15 and 18 years of age. Participants must be a US citizen or permanent resident of the United States, its territories, or its possessions. They also must provide a valid US Social Security number.
The YCC experience allows teen enrollees and staff the opportunity to learn, work, and recreate in Yellowstone National Park. The program is challenging, educational, fun, and offers participants opportunities to expand their horizons while building skills that will benefit them for a lifetime. No previous wilderness experience is required, but a willingness and ability to work in a physically active outdoor program, get along well with others, and maintain a positive attitude are essential for success.
We had a fully successful 2021 residential YCC summer working with 12 students from all over the United States. We are looking forward to working with students in 2022. Crews will camp in various frontcountry locations in the park 5 nights per week near their work site. Two nights per week, the crew will return to the YCC facility to shower, do laundry, and resupply. The crew will be a "family" pod with no overlap with the other crew. Due to COVID-19, crew members will have access to testing each week.
Teen enrollees will be selected from across the country to participate in this summer program. Enrollees will work 40 hours a week and receive the federal minimum wage ($7.25/hour) with daily deductions for room, board, and laundry facilities (~$10/day). Healthy food options will be prepared by staff and youth while camping or provided by the YCC Cook. While this diet might be different than what you are used to, the goal is to provide highly nutritious, healthy meals to sustain youth during a work program. YCC participants will work in a variety of weather and terrain conditions while completing projects which may include: fence and bench building; trail construction and/or maintenance; installing "bear boxes" and trailhead signs; general maintenance work; painting/staining; exotic plant control; and collecting data for citizen science projects and for visitor use management.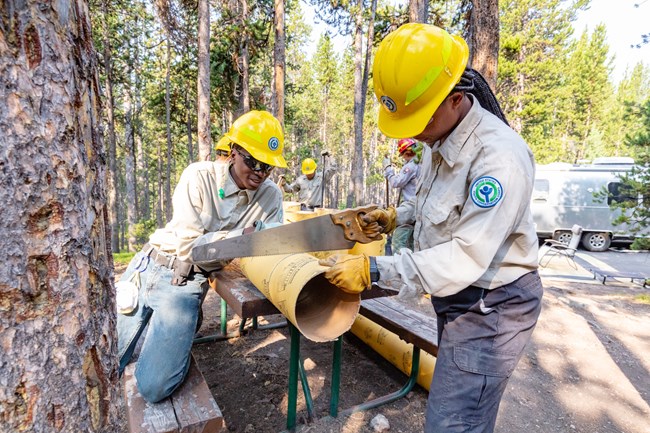 Enrollees will also spend time participating in resource education, recreation, and NPS and other agency career orientation activities. Many of these activities are scheduled in the evenings and on weekends. Activities may include: hiking, rafting, fishing, ranger-led programs, guest speakers, enrollee and staff presentations, and trips throughout the Greater Yellowstone Ecosystem.
Yellowstone's YCC Program is supported by generous donations to Yellowstone Forever and through park entrance fees.
2022 Applications
The 2022 Yellowstone YCC applications will be found here in mid-February 2022 and will be due March 1st. Please check back here in February for more information.
Yellowstone YCC Curriculum
The Yellowstone YCC Curriculum can be viewed online. In 2013, a University of Wyoming graduate student assisted the YCC program by developing a full YCC Curriculum. Five themes are examined including Ecological Relationships, Cultural Heritage, Stewardship, Sustainability, and Leadership.
Visit our keyboard shortcuts docs for details
Duration:

1 minute, 8 seconds
In the park's earlier years, bears fed on garbage behind hotels and on visitor snacks along roadways—averaging 48 bear-inflicted human injuries each year from 1931 to 1969. In 1970, the park implemented a new bear management program to restore bears to a diet of natural foods. Human injuries dropped dramatically, as did the need to kill bears. Today, "bear boxes" are a primary tool of Yellowstone's Grizzly Bear Conservation Program. In 2021, we are at 61% of our goal of 1,907—one for each roadside campsite.
Visit our keyboard shortcuts docs for details
Duration:

1 minute, 13 seconds
To improve visitor experience and safety, Yellowstone Youth Conservation Corps crews are replacing outdated trailhead exhibits with new, matching ones. Designed in-house and fabricated with funding from Yellowstone Forever, all 96 trailheads should have new signs by the end of 2022.
Last updated: January 19, 2022