Youth Conservation Corps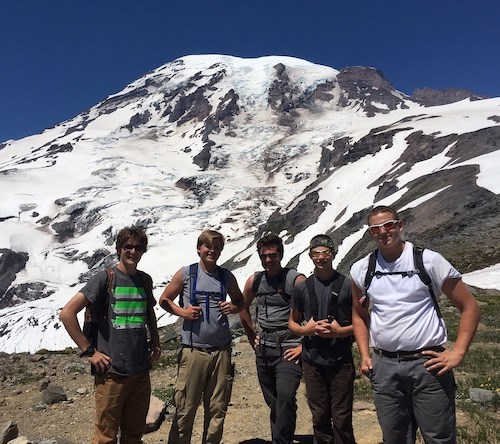 YCC: Come work with us this summer!
Spend the summer working on trails in Mount Rainier and learning about the park! We are hiring for two Youth Conservation Corps (YCC) crews this summer.

YCC crew members are employees of Mount Rainier working on 4-5 person crews doing trail maintenance and construction projects. Each week you will spend four days working on trail work and one day learning about the park and different career paths.

This is a great opportunity for you to learn more about the National Park Service and develop natural resource conservation work skills while you earn $13.69 an hour. During the summer, you will establish relationships with working professionals in the outdoor industry through networking opportunities and create bonds with your peers thru hard work and adversity in the field. Most importantly, you will have fun doing meaningful work.
Who Can Apply
Any 15-18 yrs olds* living within driving distance of Mount Rainier National Park. The towns/cities of Enumclaw, Greenwater, Buckley, Orting, Eatonville, Morton, Packwood and Randle are the closest. *You must turn 15 by June 28, 2021 and may not turn 19 before August 20, 2021 to apply.
When
The YCC program is 8 weeks in duration. Monday, June 28 - Friday, August 20 are the tentative dates for the 2021 season. The crew will work Monday-Friday, 8:00 am - 4:30 pm.
Where
The YCC Longmire crew begins and ends their day in Longmire, within Mount Rainier National Park. The Sunrise crew will meet at White River. Crews will meet in a designated outdoor space and travel to their work sites in a government provided passenger van. This year we plan to have the crew work on mainly on projects at Paradise and Sunrise. They may perform maintenance and construction efforts elsewhere as well. YCC crewmembers have to arrange a ride or drive to the park each day. Transportation to and from the park is perhaps the biggest challenge of this being viable employment for folks. In the past, crewmembers have carpooled to make this more feasible.
To Apply
Check back next spring for the 2022 Application! Applications must be returned by April 15 to Craig Frohbieter at craig_frohbieter@nps.gov. You will then be entered into a lottery for a spot on one of the crews.
COVID Safety
At the National Park Service, our safety measures resemble those taken elsewhere within our society. Including, but not limited to: wearing provided masks when in contained environments (buildings, vehicles) or when physical distance of 6 ft is not achievable; using disinfectants and cleaning supplies for shared spaces; having safe means of travel; quarantining sick or exposed employees; contact tracing, etc. The nature of our outdoor work places the crew in a relatively safe environment. However, there will be times when the crew will enter shared workspaces. The most anticipated shared workspace will be in the van travelling to and from Paradise and Sunrise. We are mitigating this hazard by renting a 12-15 person passenger van to provide adequate spacing during transport of the YCC. The YCC crew leader and 4-5 YCC crewmembers will have exclusive use of this vehicle.
Questions
Do you have any questions about the program or application process? Email us!
Last updated: June 17, 2021