Youth Conservation Corps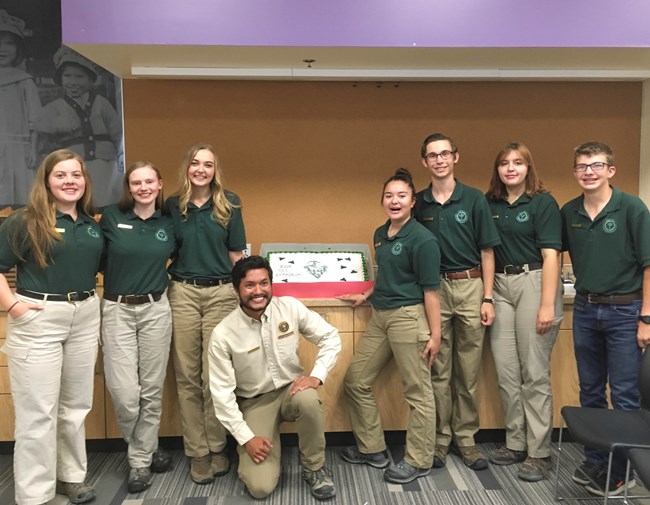 Kenai Fjords National Park is offering some unique summer employment opportunities to teens. This program is open to all applicants ages 15 through 18. These positions are designed to give students the background they need to pursue a variety of jobs in the future. It is a great way to learn new skills and begin building a resume. Participants are encouraged to apply for uniformed positions in the park following their YCC year.
Applicants must have parental consent to participate in the program. Enrollees will be paid a special remote park Youth Conservation Corps (YCC) wage of $14.00/hour and will work for 10-12 weeks beginning in late May and ending in early August.
Positions exist in
Interpretation
,
Maintenance
, and
Resource Management
, as described below.
Application info and eligibility
can be found at the bottom of the page.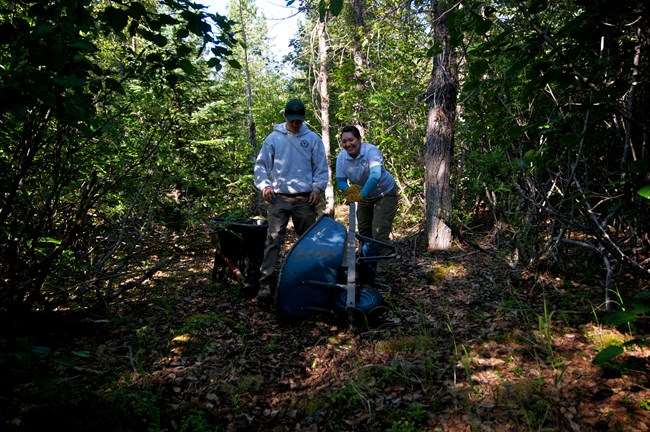 Do You Enjoy Trades Work and Working Outdoors?
Maintenance and Facilities Division (1 or 2 positions)
These positions include a wide range of duties working with the Building and Utilities (B&U) Department or the Trails crew. Work is often performed outdoors in all weather conditions and can be physically challenging. Trails duties may include hiking as many as 8 miles per day, wearing a backpack and lifting heavy loads, trail brushing, clearing drains, repairing trail tread, hauling materials, transplanting native vegetation, digging, installing signs, and collecting data. Tools used may include shovels, picks, sledges, rakes, wheelbarrows, and hand tools. B&U work may include light maintenance and landscaping of park grounds, cleaning buildings and yards, and assisting maintenance and trades workers as assigned. YCCers are responsible for actively participating in safety trainings, adhering to safety policies, and wearing Personal Protective Equipment (PPE) when required.
Position Requirements: must be 18 years old by mid-May to work with power tools and other equipment. Must be 16 years old to work 9-hour day schedule.
Work Schedule: eight, 9-hour days and one, 8-hour day every two weeks.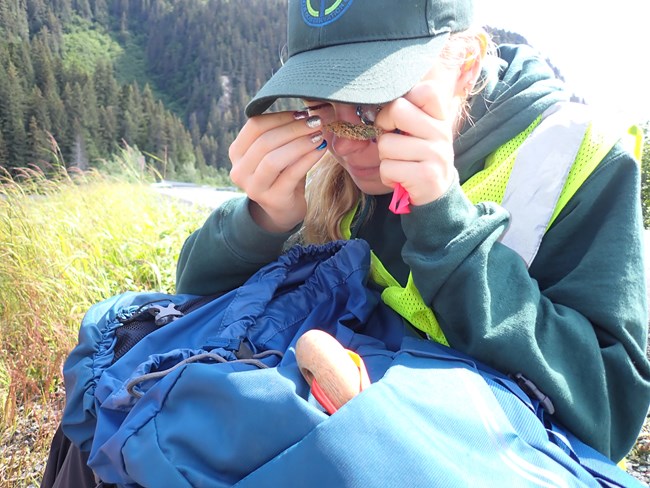 Do You Enjoy Thinking Like a Scientist?
Invasive Plant Management Team (2 positions):
These positions include a range of duties as part of the invasive plant management team. Work is performed outdoors in all weather conditions. Duties include hiking on and off trail, collecting native seeds, assisting with GPS mapping efforts, and hand pulling invasive plants, while learning about various natural resources. YCCs will be required to complete some outdoor safety training, should have sturdy hiking boots, experience hiking over rough terrain, and the ability to follow technical instructions.
Work Schedule: eight, 8-hour days every 2 weeks.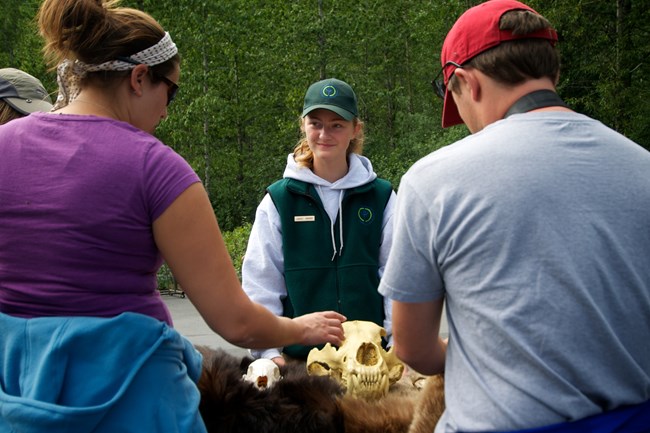 Do You Enjoy Sharing Kenai Fjords National Park With Others?
Interpretation Division (1 to 4 positions):
These positions staff the Kenai Fjords Visitor Center and Exit Glacier Nature Center front desk and provide quality customer service to park visitors. Work includes answering trip planning questions, sharing safety tips, and working with Junior Rangers. Walking around the Exit Glacier area trails to greet visitors, answer questions, share safety tips, and provide informal interpretation. Staffing a "touch table" and talk with visitors about park resources (topic and props may be based on employee's interests). In additions, YCCs may assist with projects as assigned and shadow park staff in a variety of disciplines.
Work Schedule: eight, 8-hour days every two weeks.
How to Apply
Application to open in January, 2024 and will be due by February 23, 2024.
For more information about how to apply please contact the Youth Coordinator, Gillian Braver, by email or phone, (907) 422-0529. If unavailable, contact Leah Wold by email or phone, (907) 422-0528
Enrollee Eligibility
Young persons, 15 through 18 years of age, who are permanent residents of the United States, its territories or possessions, are eligible for employment without regard to social, economic, racial, or ethnic backgrounds.
To be eligible youth must:
be at least 15 years of age by mid-May and not have reached 19 years of age during employment as a YCC enrollee.

be permanent residents of the United States, its territories, possessions, or trust territories.

possess a Social Security card and have a work permit before the first working day of the YCC program; the park will process the work permit.

have housing, because park housing is not available.
Last updated: September 14, 2023