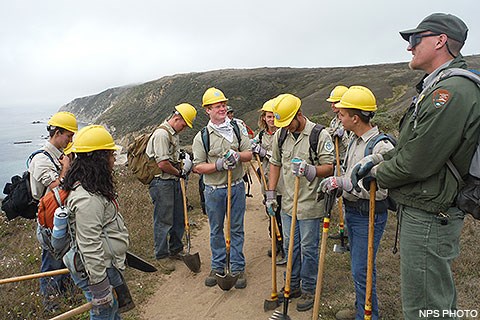 The deadline for submitting an application for the 2019 YCC season is April 12, 2019.
Download the application for the YCC Program (879 KB PDF)
Descargar la aplicación para el programa de YCC (465 KB PDF)
Superintendent Cicely Muldoon has announced that Point Reyes National Seashore is seeking applications for the summer 2019 Youth Conservation Corps (YCC) Program.
Young men and women must be at least 15 years of age by June 17, 2019, but cannot turn 19 before August 9, 2019. They must also be permanent residents of the United States and have or be able to obtain a Social Security Card and work permit. Twelve positions are anticipated to be available for this summer's program.
Work projects will include removing downed trees, trail maintenance, and grounds maintenance. Work locations will vary from the historic Pierce Point Ranch to the heart of the Seashore's backcountry.