First Timer Guide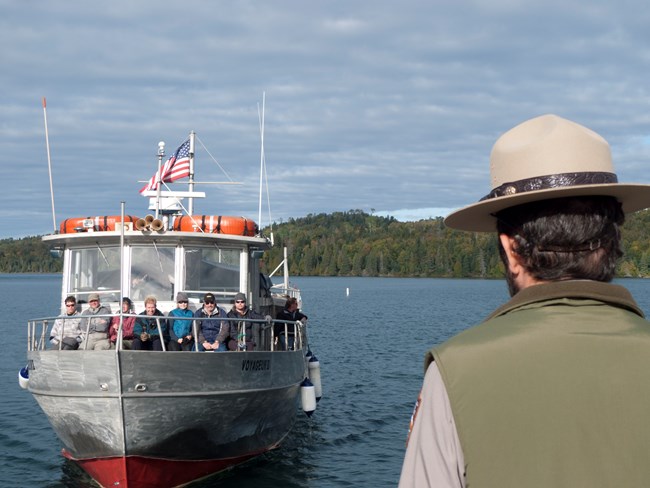 Adventure Awaits
When planning a trip to Isle Royale, many visitors ask, "What is the one thing I must do or see while I'm there?" The answer is, it depends on what type of Isle Royale experience you want to have! With a multitude of ways to travel to the park and numerous things to do once you arrive, compounded by the island's large size and isolation in Lake Superior, Isle Royale adventures are as diverse as the thousands of visitors who come to the park each year. Despite these differences, the safest, most enjoyable trips are all grounded in planning and preparation that takes place before arrival. Using the information in this guide, plan an unforgettable experience to your national park.
What Should I Know Before I Start Planning My Trip?
Isle Royale is Accessed Via Boat or Seaplane 
As a collection of islands, Isle Royale can only be accessed by crossing Lake Superior via a boat or seaplane. Most visitors to the park utilize ferry or seaplane services from Michigan or Minnesota. Private boaters and private seaplanes travel from around Lake Superior and beyond.
No Vehicles are Allowed on the Island
Ferry services only transport people and select freight (canoes, kayaks, luggage, etc.). They do not transport vehicles to the park since vehicles are not allowed on the island.
Non-motorized wheelchairs are welcome, although trails are narrow and rocky with numerous boardwalks.
Bicycles and other wheeled devices (wagons, strollers, portaging carts, etc.) are not allowed on park trails.
Traveling to Isle Royale Takes Time and is Weather Dependent
All visitors who travel to Isle Royale must cross Lake Superior's vast, cold waters. Travel times one-way range from 35-45 minutes on the seaplane service. On the ferries, travel times one-way range from 1.5 hours to 7 hours, depending upon departure and arrival location. Ferry crossings can be flat calm, or rough and bumpy. Inclement weather on Lake Superior can cause ferry services to be delayed or cancelled. Fog, storms, and wind on the mainland or island can cause seaplane services to be delayed or cancelled.
Cell Phone Service is Unreliable - Do Not Depend on it for Your Trip
Occasionally you may pick up a signal if you are on a high ridge - be aware that this may be a Canadian tower, and additional fees through your cell phone carrier may apply. Do not plan on being able to use your cell phone in case of an emergency. When the Rock Harbor Trading Post in Rock Harbor and Windigo Store in Windigo are open, there is a satellite phone available for visitor use (additional fees apply). There is no public Wi-Fi available for visitor use on island.
Emergency Medical Response and Evacuation are Limited and Take Time
Safety is your responsibility. Come prepared with the knowledge and tools you may need to respond to an emergency. Basic emergency services are available on the island, but contacting rangers for assistance can be difficult. Emergency response and evacuation take time, requiring you to rely on your own skills and equipment. 

Plan a Conservative Trip Itinerary
Many visitors overestimate their skills and abilities and underestimate Isle Royale's challenging terrain when planning their trips. Since it is isolated, there are rarely easy "bail out" options in the park when things go wrong. Plan your itinerary with the least experienced person in your party in mind. By doing this, you will have an enjoyable and safe trip, versus once that ends with an emergency.

Come Prepared with Everything You May Need
There are limited services available in the park, especially for those who visit in the spring (April/May/early June) and fall (September/October). Do not expect park stores or Visitor Centers to have items you may need. Come prepared for the experience you are planning and variable weather conditions. Items to consider for all trips: layers (weather conditions vary, even in the middle of summer), rain gear, sturdy shoes (trails are rocky), extra food, extra fuel, and prescriptions.
Know What to Expect Before You Come
Prepare yourself by reviewing current conditions in the park prior to your trip. Campgrounds, docks, and trails are busy late June through September.
Expect Your Plans to Change
Over 99 percent of Isle Royale's land is federally designated wilderness. Weather, emergencies, and other rapidly changing conditions affect even the best laid trip plans. Prepare yourself for this possibility by being flexible with your itinerary.

Transportation Delays are Common
Changing weather conditions means that ferry and seaplane delays and cancellations are common. If your departure is affected, you can prepare yourself by:
Being self-sufficient by bringing all items that you may need during your trip with you to the park.

Not planning any important life or work events within a few days after your scheduled departure. Though it is uncommon, visitors can be delayed for multiple days.

Relax and slip into island time! Make the most out of your delay by maintaining a positive attitude and spending a little more time in your national park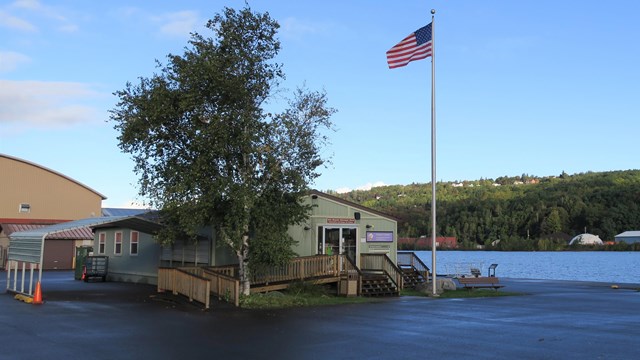 Basic Information
Start planning your island adventure here.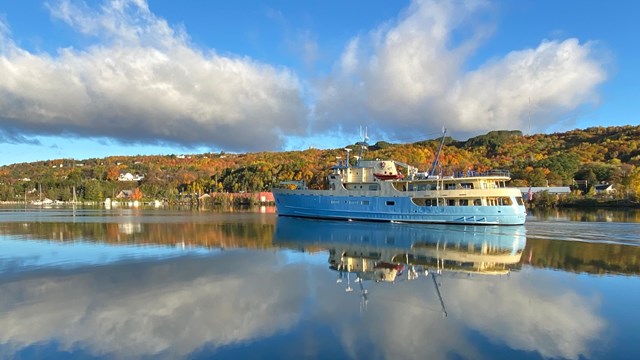 How to Travel to Isle Royale
Multiple ferries and a seaplane service transport visitors to the park.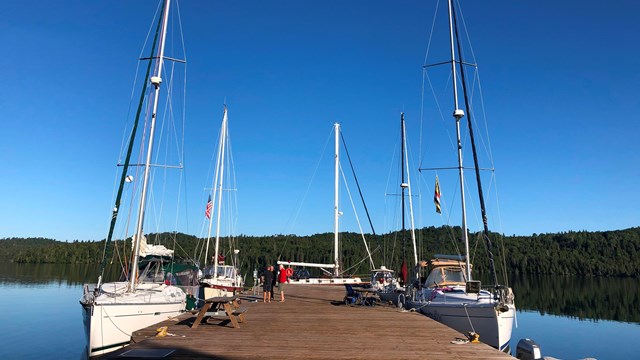 Things to Do
Explore all the land and water activities the park offers.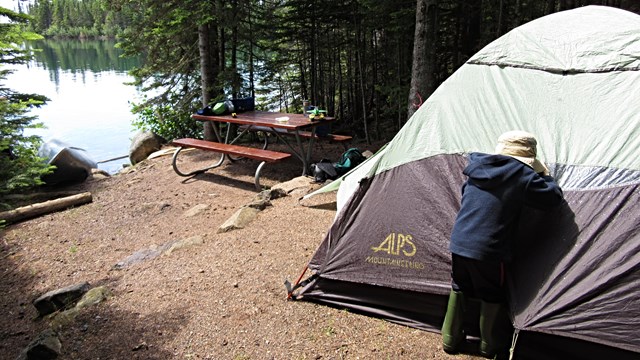 Where to Stay
Find your home in the island wilderness.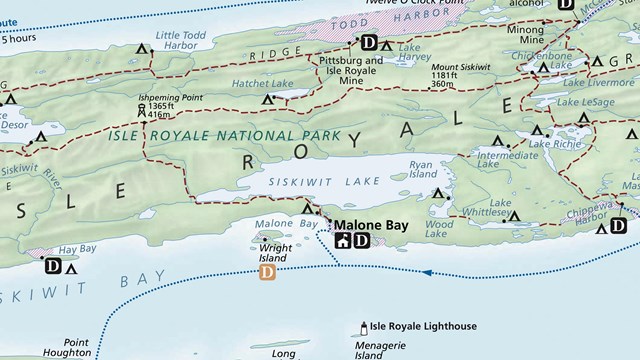 Maps
Trip Planning and Area Guides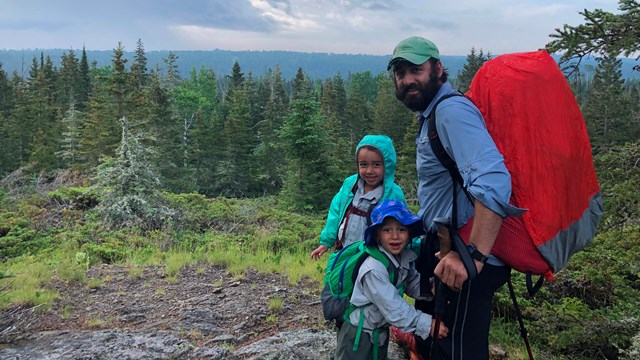 Overnight Camping & Boater Permits
Learn what type of permit you may need based on the trip activities you have planned.
Pre-Departure Checklist
Make sure that your arrival and depature dates work with your trip plan, particularly if you are staying at Rock Harbor Lodge or the Windigo Camper Cabins. Secure your transportation to the park as soon as possible. Transport can sell out any time during the season. Any questions about certain transportation services should be directed to those providers. Isle Royale National Park staff only facilitate reservations for the Ranger III ferry from Houghton, MI.
2. Finalize Your Itinerary
Know where you want to stay, how you are going to get there, and if you need a permit or reservation.
3. Pay Your Fees Online
Visitors are required to pay entrance fees to enter the park. Pay fees online before you travel to the park to avoid long waits and congestion upon arrival. All Federal Recreation Passes are honored.
The park trip planning newspaper, The Greenstone, hosts a wealth of information that is applicable for all visitors.
The NPS app provides tools to explore over 400 national parks. Download Isle Royale National Park before you come so you can access information offline during your trip. The free app is currently available for iOS and Android Devices.
Conditions constantly change in the park. Inform yourself about current conditions before you leave the mainland.
7. Prepare for Your Crossing
All visitors who travel to Isle Royale have one thing in common - crossing Lake Superior via boat or seaplane! Prepare yourself for this exciting rite of passage by reviewing your transportation providers website for travel information before you arrive. Enjoy your journey; we'll see you once you arrive at your destination!
Daytripper and Lodge Guest Orientation

Help Isle Royale Stay Wild by following these best practices for your day trip or lodge visit.

Backpacker Orientation

Help Isle Royale Stay Wild by following these best practices for your wilderness backpacking experience.

For Your Safety

As your trip gets near, use this guide to help prepare, learn what to expect, and consider how you will take responsibility for your safety.
Last updated: May 23, 2023