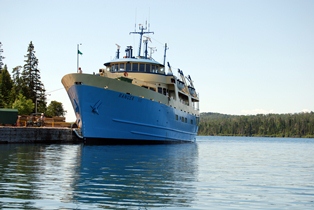 6/17/17 E. Lakeshore Drive Construction
When attempting to access the Houghton Visitor Center for
Ranger III
departures and arrivals
,
their is road construction and closures along E. Lakeshore Dr. Park staff will coordinate with construction crews to provide access to the check-in and baggage unloading areas. Construction is now expected to last into July.

Welcome Aboard the Ranger III
The Ranger III is a 165 foot long, 34 feet wide, 648 ton vessel that carries 128 passengers. An experienced nine-member crew takes great pride in maintaining the vessel and serving its passengers. All service departs from Houghton, Michigan or Rock Harbor on Isle Royale.
Schedule, Rates, Reservations, Accessibility, Amenities, Departure Location, Vessel History, Tours of the Ranger III, Keweenaw Waterway Cruises