Ranger III Information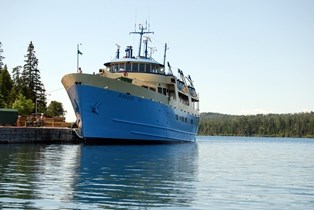 The Ranger III is a 165 foot long, 34 feet wide, 648 ton vessel. An experienced nine-member crew takes great pride in maintaining the vessel and serving its passengers. All service departs from Houghton, Michigan or Rock Harbor on Isle Royale.
How is Ranger III adapting to providing passenger service during COVID-19?

Masks will be required aboard Ranger III as well as in and around ferry terminals.
Schedule
Passenger service is offered from the end of May through early September annually.
Outbound to Isle Royale Voyages
From Houghton, MI to Rock Harbor, MI on Tuesdays and Fridays.

Begins 5/25/21; Ends 09/10/21
Departs Houghton at 9:00 am EDT
Inbound from Isle Royale Voyages
From Rock Harbor, MI to Houghton, MI on Wednesdays and Saturdays.

Begins 5/26/21; Ends 09/11/21
Departs Rock Harbor at 9:00 am EDT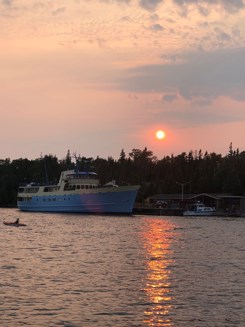 Reservations
For 2021 reservations will be accepted starting March 1 through mid-September for the upcoming Ranger III summer passenger season. Reservations received October to February 1 will not be processed.
Contact the Houghton Visitor Center: (906) 482-0984

2021 Hours of Operation:

March 1 - May 31: Monday - Friday, 10 am - 4 pm ET
June 1 - Sept 11: Monday - Saturday, 8:00 am - 5:30 pm ET

Have your sailing dates, passenger names and ages, and credit card information ready.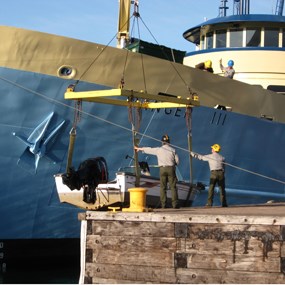 Fares (One-Way)
Fare Comparison to Previous Years
Low Season: Prior to 7/6/21 and after 8/28/21
High Season: 7/6/21 through 8/28/21
Fares Effective All Season
Children (1 -15 years): $35.00

Infants (under 1): Free
Boat (less then 18'01"): $100.00
Boat (18'01" to 20'00"): $150.00
Canoes/Kayaks (hand loaded): $30.00
Canoes/Kayaks (18'00" / 80 lbs or greater): $60.00
Outboard Motor: $15.00
100 lbs gear per passenger: Free
Additional freight after 100 lbs: $9.50/100wt.
Accessibility
NPS vessels strive to be accessible. Ranger III is more than 60 years old with nautical designs predating ADA legislation. Please inform staff when making reservations to facilitate assistance. Ranger III crew will gladly assist with loading and unloading up and down the gangplanks. On the lower deck, the Ranger III Grill and restrooms are accessible.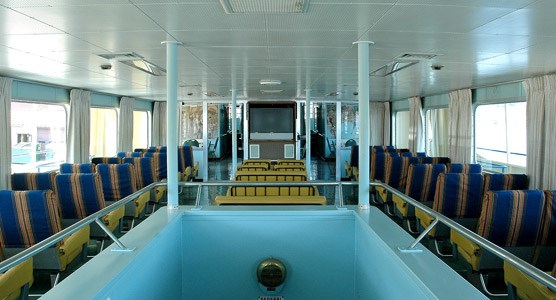 Amenities
There are many amenities that the Ranger III offers to its passengers.
Indoor and outdoor seating

Four comfortable passenger lounges

Luncheon grill: Closed for 2021 due to Covid-19.

Interpretive and educational programs

Can transport private boats up to 20' in length

Free vehicle parking in Houghton
The Journey
Your Isle Royale National Park journey starts at the Ranger III's home port located at 800 E. Lakeshore Dr., Houghton, Michigan. The 73 mile journey to Rock Harbor takes 6 hours. The 62 mile journey to Windigo takes a little over 5 hours.

During the first hour of the trip, the ship navigates the scenic Keweenaw Waterway, passing under the world's largest lift bridge. Once on the open water of Lake Superior, riding the Ranger III allows one to appreciate the size and breadth of the world's largest fresh water lake (measured by surface area). As Isle Royale approaches, a picturesque seascape transitions to a rugged, lichen-covered shoreline and the historic Rock Harbor Lighthouse for those traveling to Rock Harbor. For those traveling to Windigo, the isolated Rock of Ages Lighthouse is viewed before entering the waters of Washington Harbor.
Free Ranger III Tours
Scheduled Tours
Cancelled for 2021 due to COVID-19.
Tours By Arrangement
Cancelled for 2021 due to COVID-19.
Free tours of Ranger III can be arranged in advance by contacting the park. Rangers will present a guided tour highlighting the history and features of the National Park Service's largest motorized vessel.
Tour Details
Park at the Houghton Visitor Center

Gather outside the visitor center about 10 minutes prior to the tour time

Tour time length: Approximately 1 hour

Slip resistant shoes recommended

Narrow stairways and corridors are encountered

All ages welcome

No strollers

Children 15 and younger must be accompanied by an adult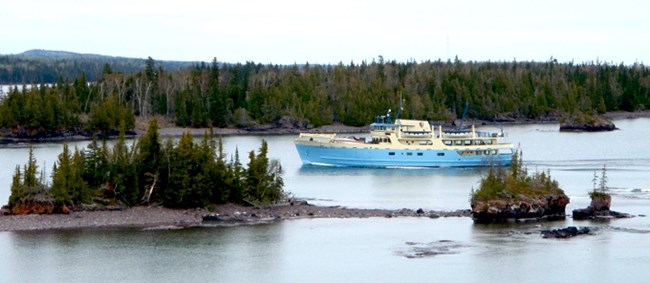 More About Ranger III
The Ranger III is a 165 foot long, 34 feet wide, 648 ton vessel that carries 128 passengers. Go here for full Ranger III specs. An experienced nine-member crew takes great pride in maintaining the vessel and serving its passengers. The Ranger III has been in operation since 1958, and is part of a rich history of vessels that have serviced Isle Royale.

View the Ranger III Photo Gallery.
Last updated: February 26, 2021