Group Camping (7 or more people)
2020 COVID-19 Changes for Group Camping
Due to the Coronavirus (COVID-19) pandemic, any visitor requesting any refund for any reason will receive a 100% refund. Entrance Fees and Group Camping Fees paid in advance will be refunded by request upon contacting the park. If you paid via www.pay.gov and have your email receipt showing your Pay.gov ID, the refund can be processed significantly faster.

We are accepting Group Camping Reservation Requests for parties of 7 or more for 2020. With all passenger ferry service suspended, the only transportation to and from the park is Isle Royale Seaplanes, which plans to operate.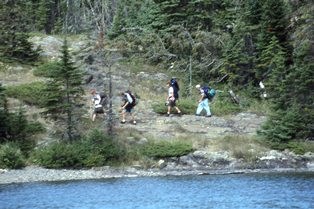 Things to Know
Advance group camping reservations and permits are required for groups of seven to ten individuals, including leaders.
If your party exceeds ten, you must split into two or more groups (of ten or less), each independent and traveling on completely separate itineraries. For groups of ten or more breaking up into small-parties (1-6 people), a permit must still be obtained in advance.
Groups of seven to ten may only camp in reserved group campsites.
Organizations may not have more than 20 people camping on the island at any one time and are limited to 80 people per year.
Isle Royale accepts group camping reservation requests beginning January 2 for the upcoming summer. The park strives to process all requests as quickly as possible. However, due to limited winter staffing, we are not able to process most requests until March, when staffing increases.

All requests are processed in the order we receive them.

To make a request, visit the Group Camping Reservation Instructions page.
Commercial Groups
Commercial groups such as "for profit" camps, outfitters, tour groups and any operation providing goods, activities, or services to the general public within the park, and which is undertaken for or results in compensation, monetary gain, benefit or profit to an individual, organization or corporation, must obtain a Commercial Use Authorization (CUA).
Fees & Permit Types Based on People
**Separate itineraries mean small-parties/groups cannot camp in the same campground at the same time.
Last updated: August 10, 2020