Permits
Overnight Permit
Isle Royale National Park requires an overnight permit from all who stay in the campgrounds, at dock, or who anchor out. The permits are used to monitor campground use, deliver emergency messages to hiking parties, find lost campers, and serve as a tool to measure backcountry use.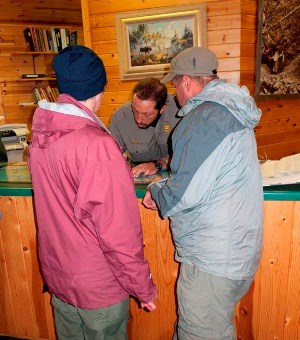 Individual parties who use the National Park Service ferry, Ranger III to travel to Isle Royale National Park receive their backcountry permit onboard. Those using another transportation provider will receive their permit when they arrive on the island at Rock Harbor or Windigo.
Group Camping (7 or more people)
Advance reservations are required for group camping.
All private boaters overnighting in the park waters must have a boater permit. Permit in advance by contacting the Houghton Visitor Center.
The National Park Service (NPS) requires permits for business activities in NPS areas to protect the park visitor, the business operator, the federal government from liability, and to ensure that commercial activities in the parks are appropriate. Title 36 of the Code of Federal Regulations, Section 5.3 prohibits business activity in NPS areas without a permit.

Activites covered by special permits and fees include:
Small party camping, overnight boating, or scuba diving activities require regular use permits, but no special permit or fees.


Last updated: February 21, 2023