Your Safety is Your Responsibility
Lake Superior and Isle Royale's wilderness present challenges and hazards to the inexperienced or ill-prepared. The best, safest, and most enjoyable trips to Isle Royale are all grounded in good planning and preparation. As your trip gets near, use this guide to help prepare, learn what to expect, and consider how you will take responsibility for your safety.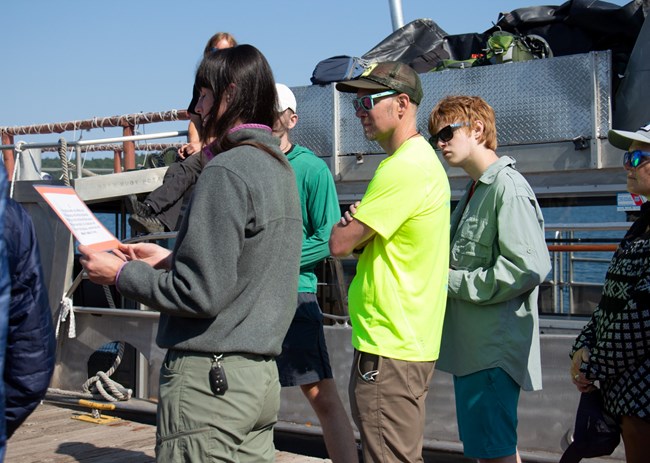 Know Before You Go
Emergencies
Basic emergency services are available on the island, but contacting rangers can be difficult. Emergency response and evacuation take time, requiring you to rely on your own skills and equipment. Most private boaters have radios and may be able to contact rangers in an emergency.
Cell phone service is unreliable; do not depend on it.
To contact the park in an emergency: 440-546-5945
Algal blooms
have occurred in interior lakes and can be toxic. Purifying does not remove toxins from the water. Avoid drinking, swimming, and fishing if water has a cloudy blue cast or looks like "pea soup." If algal blooms occur,
advisories will be posted
.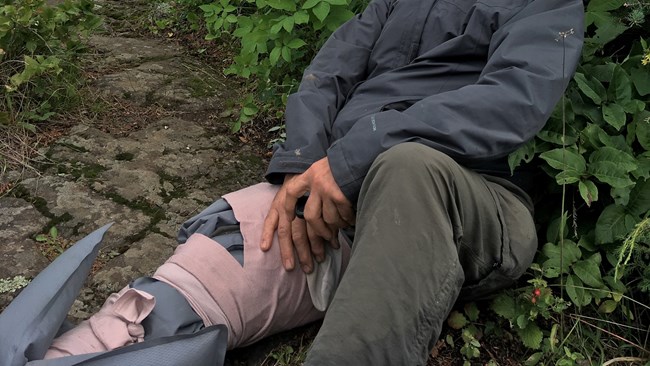 Play It Safe
Plan Ahead
Make a Conservative Trip Plan. Plan your adventure with the least experienced person in mind.
Be First Aid Ready. A first aid kit is a must. Be trained, experienced, and equipped to deal with common injuries.
Plan for Problems. What will you do if someone gets injured or lost? How will you self rescue?
Prep Your Gear. Bring supplies needed to handle delays and weather. Test your gear prior to your adventure. Wear sturdy, well-broken-in boots with ankle support for hiking.
Watch the Weather. Conditions deteriorate quickly and unexpectedly.
Huddle Up. Start each day discussing expected conditions and potential safety issues.
Care for Your Companions. Monitor health and energy levels of party members. 
Be Flexible. When issues arise, evaluate. Should you keep going, take a break, or change your trip plan?
Stick Together. Divide gear to lighten the load of a slower or injured hiker. Don't leave slow party members in the dust.
Rest Often. Enjoy frequent short breaks: drink water, munch snacks, relax and rejuvenate. Travel during cooler times of the day.
Stay Hydrated. Drink upon waking, along your route, and at your destination. Water is life.
Watch Your Step. Footing is uneven. Rocks and roots are trip hazards. Boardwalks and rocks are slippery when wet.
Take a breath
Assess the situation
Make a plan
Self Rescue = Best Rescue.
Self-reliance is the only immediate option in an emergency. Park response is limited and even if you are able to contact rangers, help could be hours or days away. Are there others nearby who can assist or go for help?
If you are not equipped to deal with your emergency:
Call on marine radio, or
Use a satelite phone, or
Activate an emergency device with texting capability
Cellphone service is unreliable. Any device may fail in adverse weather.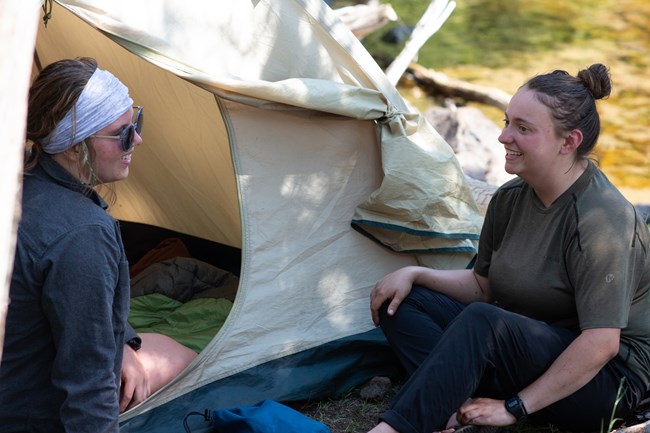 Protect Your Park
Help Isle Royale Stay Wild
Adventure and simple living are important components of an Isle Royale visit. To ensure these experiences, you should be familiarize yourself with the skills and habits that allow Isle Royale to stay wild. Find out how
backpackers and campers can stay wild
, and how
daytrippers and lodge guests can stay wild.
Most visitors come to Isle Royale to hear the sounds of nature in a wild setting. Be aware of your volume so others may enjoy peace and solitude. 
Quiet Hours are between 10:00 pm and 6:00 am eastern time. If people in adjacent campsites can hear your activities, you are being too loud.
Audible use of electronic devices such as stereos, televisions, radios, cellphones, and tablets is not permitted except in the developed areas of Rock Harbor and Windigo, and on Lake Superior waters outside of designated quiet/no wake zones.
Portable Generators are prohibited in most areas of the park.
Practice Proper Food Storage
Human Waste Disposal: Use outhouses. Never defecate within 100' (at least 50 steps) of lakes, streams, or campsites. In areas without outhouses, dig a cathole 6" to 8" deep; after use, cover with soil. Urinate on durable surfaces, like rocks or bare soil, away from water sources and campsites.
Toilet Paper: Visitors should bring their own toilet paper; outhouses are not stocked. Outhouse holes are the only place to dispose of toilet paper, otherwise it needs to be packed out.
Cookware Cleaning: Wash dishes at least 100' from water sources and campsites. Even biodegradable soap takes a long time to degrade. Use a strainer to remove food bits and pack them out with your trash. Disperse remaining water away from water sources and campsites.
Bathing: Get wet, then move at least 100' away from all water sources and campsites to lather and rinse. Use soap sparingly, if necessary. 
Removing, possessing, or disturbing park resources is prohibited. Antlers, plants, driftwood, cultural or archeological objects, rocks/minerals including those in Lake Superior, must be left where found. Fishing and picking small quantities of berries/mushrooms are allowed.

Grafitti and the building of cairns (rock piles) mar the park for other visitors. Leave the park as you find it.
Campfires are permitted at a handful of campgrounds. A
backpacking stove
 is highly recommended. A metal fire ring or grate is provided where campfires are allowed; never build your own ring.
Use Dead and Down Wood 
no bigger than your wrist. Do not break branches or strip bark from standing trees, live or dead. Trash has no place in a backcountry fire. Do not import firewood; insects and pathogens from infected wood could devastate Isle Royale's forests.   
Be Safe With Fire: Keep your fire small and burn down to ash; be sure the fire is completely out before leaving it.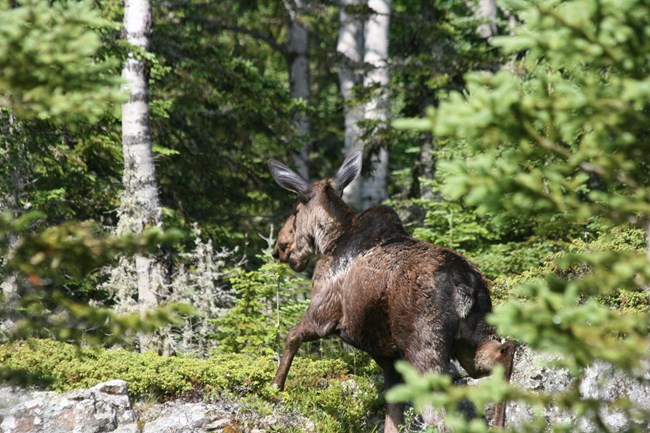 Share the Space
Show Respect
Observe, photograph, and enjoy park wildlife from a safe and respectful distance. If an animal changes its behavior, you are too close. It is illegal to feed, touch, tease, or intentionally disturb wildlife, their homes, nests, or activities.
Moose
are large and potentially dangerous animals. Always give them a wide berth because they may kick in any direction or charge. If you encounter a moose, step behind a tree, and wait for the moose to move on. Throughout the spring and summer, female moose are rearing youngand are very protective. Never get between a cow and her calf. During fall rut, bull moose are often aggressive. 
If you see a wolf: Do not appraoch. If the wolf comes closer, encourage it to leave by clapping and yelling.
If a wolf does not leave: Maintain eye contact and slowly back away until you are out of sight, continuing to clap and yell. Do not run or turn your back to the wolf.
If you cannot safely leave: Make yourself big. Aggressively use hiking poles or branches to discourage the wolf from approaching.
If a wolf attacks: Wolf attacks are extremely rare and unlikely to happen. But if it does, fight using any means necessary.
Report
all wolf sightings to park staff.
Loons
may abandon their nest when approached too closely. From May through mid-July (loon nesting season) you must stay at least 150' feet away from small islands and from shoreline nests. If a loon cries out, you are too close.
Dry summers often result in an abundance of wasps. Bring an epinephrine kit if allergic to stings.
Dogs, cats, and other mammals are not allowed, including
pets
on boats within park boundaries, which extend 4.5 miles into Lake Superior from the outermost land areas of the park. Visitors bringing pets to the park will be required to leave immediately. Pets disturb wildlife and can transmit diseases. Special conditions apply to
service dogs
. 
Last updated: May 2, 2023