Boating
As an archipelago with over 400 islands, Isle Royale National Park is an exciting place to embark upon a boating adventure. Powerboaters and sailboaters alike have numerous docks and countless anchorages in which to find their own wilderness.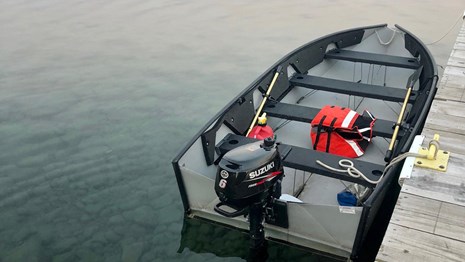 Boating Guide
Helpful boating tips to keep you safe and legal while visiting Isle Royale.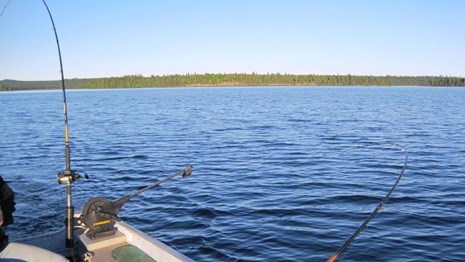 Fishing
Enjoy fishing the waters of Lake Superior and the island's numerous inland lakes and streams.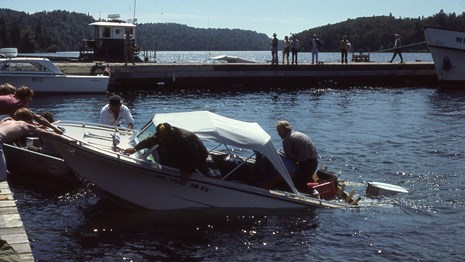 Boating Safety
Be prepared for any Lake Superior challenge.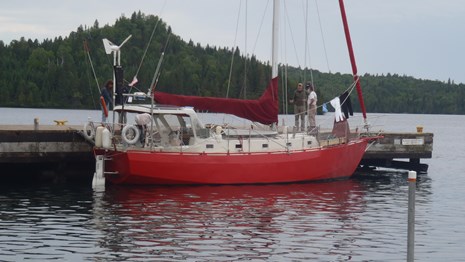 Boater Permit Request
You can request a permit in advance using an online form.
Permits
All boaters staying overnight at anchor, at docks, or in campgrounds must first obtain a camping permit in-person at
Houghton
,
Rock Harbor
, or
Windigo
. Boaters may also obtain their
permit in advance
. Permits should be displayed on the boat when at anchor, at dock, or in the campground on a shelter or tent.
Customs
All vessels traveling from Canada (Canadian or U.S.) must clear U.S. customs at the Windigo or Rock Harbor Visitor Centers. A valid passport, U.S. passport card, enhanced drivers license, or trusted travel program card is required. Visitors from Canada can be cleared for Isle Royale only. Additional information can be obtained from
Grand Portage U.S. Customs and Border Patrol
. Any questions regarding customs at Isle Royale National Park can be directed to Grand Portage U.S. Customs and Border Patrol at (218) 475-2244.
Fuel
Gasoline and disesel fuel is sold in Windigo and Rock Harbor. Please
contact the park
prior to your trip for the most up-to-date information regarding fuel availability and prices. Early and late season fuel service may be obtained at Windigo or Mott Island if park personnel are available (credit or check only; no cash accepted).
Portable Generators, Electronic, and Motorized Devices
Operation of electronic and motorized devices such as stereos, televisions, radios turned to commercial stations and portable generators are not permitted except in developed and open-water motorized zones. Developed areas include Windigo, Rock Harbor, and the Mott Headquarters area. Open water motorized zones include Lake Superior waters outside of designated "quiet/no wake waters."
Pollution Prevention
Head pump-out service is available at Windigo and Rock Harbor when the concession operation is open. Vessels carrying spare fuel in portable containers must use legally approved containers. Fuel may not be stored on docks.
Last updated: November 26, 2018