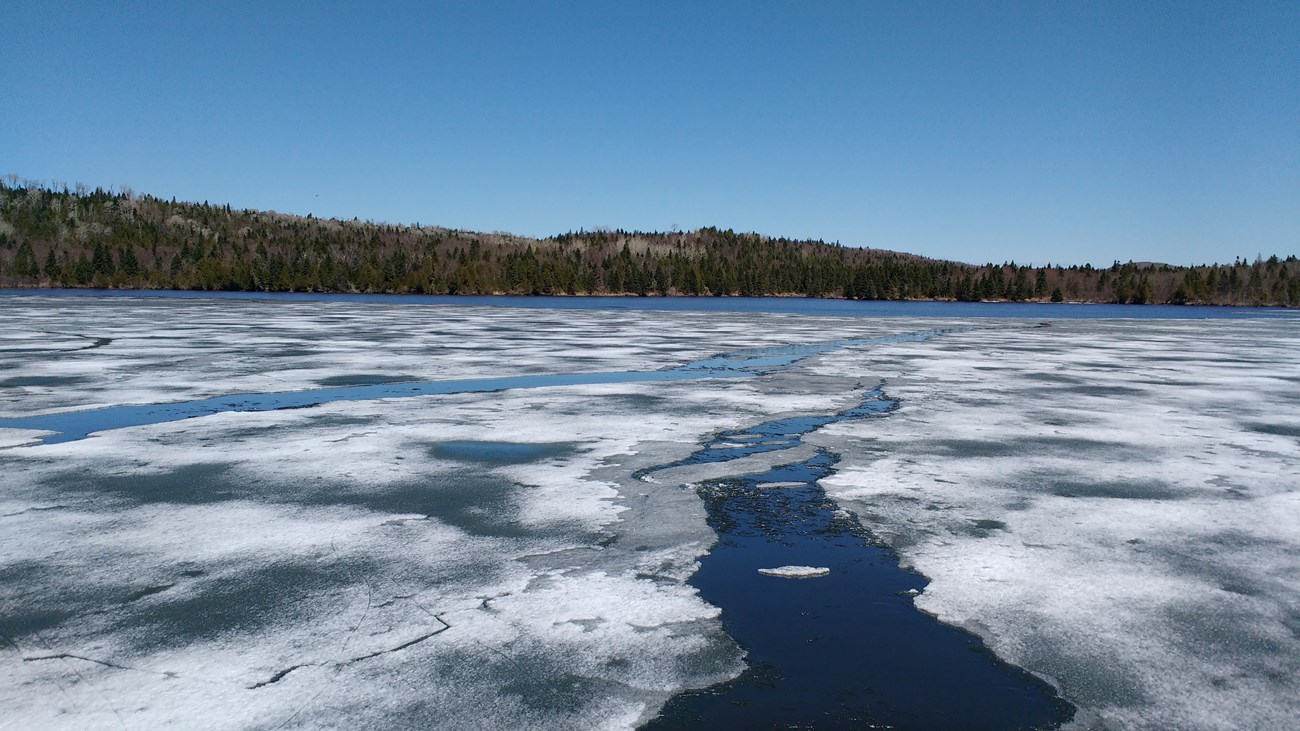 Isle Royale National Park is open every year from April 16 through October 31. Visiting the park during the spring season (April/May/early June) requires a higher degree of planning and preparation. In the spring, visitors should expect to be completely self-sufficient, as services and emergency response are limited to non-existent. Check current conditions and The Greenstone newspaper before your trip for the most up to date information, including opening dates for services and transportation schedules.
Reduced Services
On island services in the spring are limited to non-existent. Visitors should bring everything they will need for their trip. Consider bringing extra provisions, such as warmer gear or more food for additional meals.
Visitor centers at Rock Harbor and Windigo are closed in April, and open intermittently in May. Visitor centers are open daily starting in early June.
In the spring, potable water is not available anywhere on island. Spring visitors should come prepared to purify water.

Restrooms are closed in spring - use outhouses and bring toilet paper.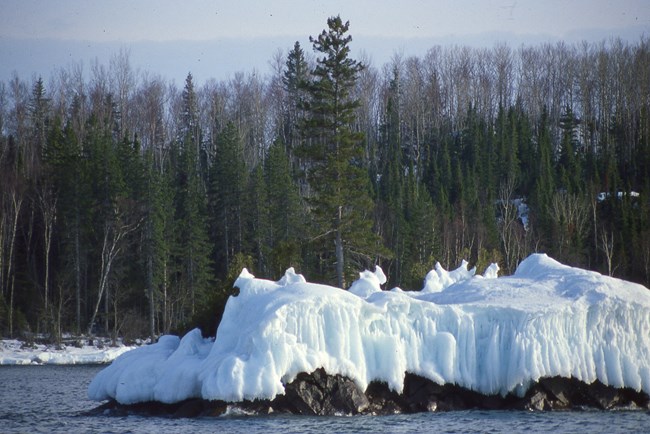 Weather
Spring weather on Isle Royale can be inclement and unpredictable. Plan for a variety of conditions, including heat, cold, rain, waves, wind, ice and snow. Snowy or icy trail, campground, and shore conditions typically subside by late May, but can persist into summer, especially on the island's north shore and northeast end. Pack layers and waterproof gear. Check the Isle Royale recreational forecast and the Isle Royale marine forecast before your trip.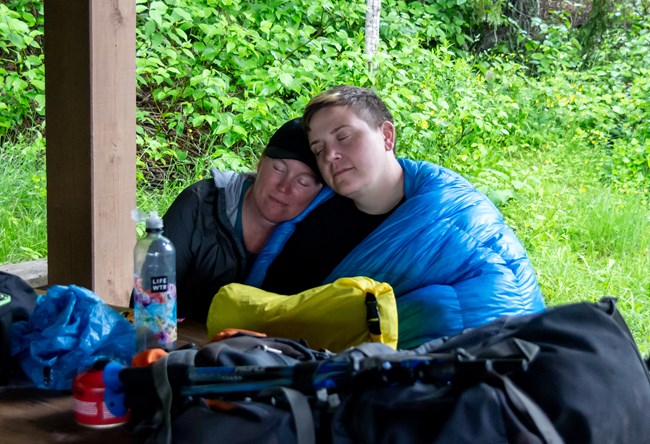 Safety
Your safety is your responsibility. During the early and late season, emergency response is limited to non-existent, requiring visitors to rely on their own skills and equipment. For this reason, it is important to keep a conservative trip plan, be first aid ready, and plan for problems. Cell phone service is unreliable, do not depend on it.
Hypothermia
Cold and wet spring conditions can result in hypothermia. Campfires are only permitted at a handful of campgrounds - bring rain gear, extra layers, and warm liquids to mitigate cold.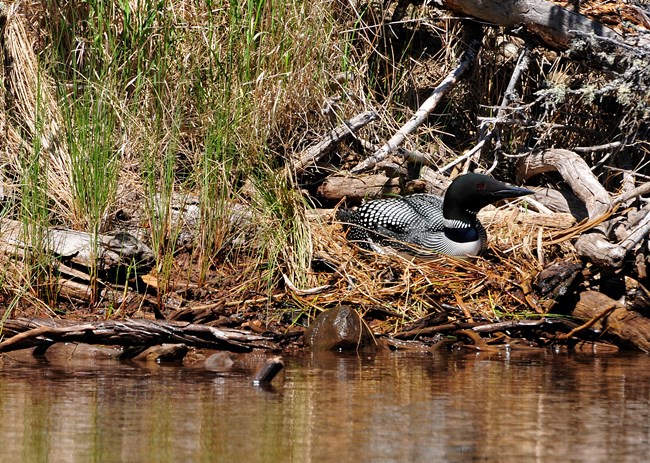 Wildlife
Cow Moose with Calves: Calf moose are born in the spring, and cow moose are extremely protective of them. If you see a cow moose (no antlers), look to see if there is a calf around. If a cow moose were to approach, protect yourself by putting a large tree or rock between you and the moose.
Loons: Loons are nesting in the spring. Loons are sensitive to human activity. If you see a loon on land, give it plenty of space. A loon may abandon its nest if disturbed.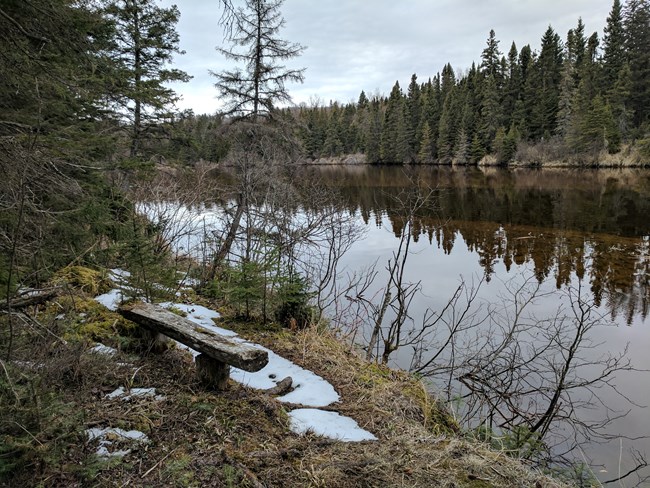 Trail Conditions
Hazards may exist on trails. In the spring, hazards include down trees and falling branches, flooded, wet, or muddy trails, slippery boardwalks, and unexpected obstacles such as broken bridges or boardwalks. Inspect campgrounds for hazard trees before choosing a site.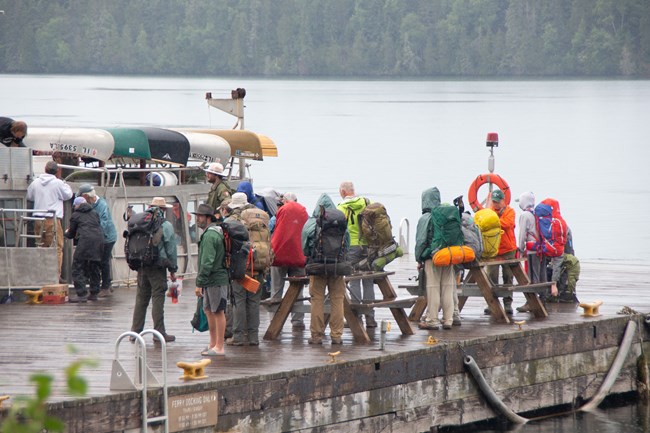 Transportation
Spring ferry and seaplane schedules are limited, and reservations are required. Transportation delays and/or cancellations due to inclement weather are common. Passengers should bring everything they will need for their passage - services onboard ferries are limited. Traveling to Isle Royale between opening (April 16) and mid May would require use of a private boat or private seaplane.