Go Green and Refill Your Water Bottles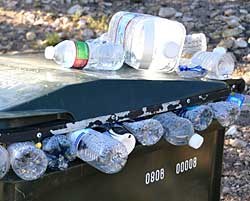 Reduce, Reuse, Refill!
Did you know that disposable plastic bottles comprise an estimated 20% of Grand Canyon's waste stream and 30% of the park's recyclables? (Deirdre Hanners, Grand Canyon National Park's Environmental Specialist)
As a Climate Friendly Park, Grand Canyon National Park's staff, partners and stakeholders have made a commitment to take a leadership role in reducing greenhouse gas emissions and educating the public about what they can do to reduce their impacts on the park - in order to reduce plastics in the park's waste stream, litter along trails and walkways and green house gas emissions. Even though Individual, single-serve water bottles are available for sale throughout the park, we encourage everyone to reduce, reuse, refill!
---
Water Bottle Filling Stations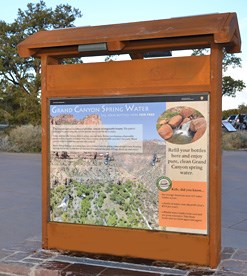 Designated water bottle filling stations are installed in high traffic areas on both rims of the park, making it easier than ever before to refill your water bottle.
Like the existing water fountains and sinks in buildings and facilities throughout the park, the filling stations provide free, Grand Canyon spring water from the park's approved water supply, located at Roaring Springs.
South Rim filling stations are located at:
Hermits Rest (located near the other public amenities);
Bright Angel and South Kaibab Trailheads;
Canyon Village and Desert View Marketplaces (inside the stores)
Yavapai Geology Museum;
Grand Canyon Visitor Center
Verkamp's Visitor Center
Desert View Visitor Center
Maswik Lodge (inside the cafeteria).
North Rim filling stations are located at:
North Kaibab Trailhead,
North Rim Visitor Center (adjacent to the restrooms), and
North Rim Backcountry Office. (all year)
Two North Rim filling stations provide only seasonal access to water:
North Kaibab Trailhead, and North Rim Visitor Center.

For a list of water stations along Corridor Trails, visit this link >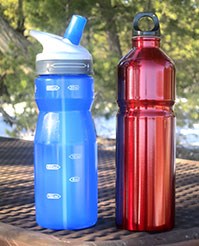 Forgot Your Water Bottle?
A variety of reusable, souvenir water bottles are available at all of the park's major retail outlets.
Grand Canyon's "reduce, reuse, refill" initiative is a collaborative effort between the National Park Service and Grand Canyon National Park's concessioners and partners. Concessioners Delaware North Companies Parks and Resorts; Xanterra South Rim, L.L.C.; and Forever Resorts; as well as the park's cooperating association and fund-raising partner, Grand Canyon Conservancy, have all developed product lines that provide sustainable alternatives to disposable containers.

If you should choose to bring packaged water with you, please drop your empties into one of the single stream recycle bins conveniently located throughout the park.
---
Why Refill?
In Grand Canyon National Park, litter associated with disposable plastic water bottles is on the rise along trails and walkways and is one of the biggest contributors to trash below the rim.

When you refill a reusable water bottle,

less ends up in the waste stream and the likelihood of litter associated with your water consumption ending up along the trail is decreased.
When you refill a reusable water bottle,

you decrease the greenhouse gas emissions associated with the production, filling, packaging and transport of disposable water containers.
Grand Canyon souvenir water bottles cost as little as $2.50 and can be filled over and over again with FREE Grand Canyon spring water.

When you refill a reusable water bottle,

you save money!
---
Notice: During spring runoff, Grand Canyon's drinking water may appear turbid or cloudy. This annual turbidity has been exhaustively researched and is not harmful to health. Grand Canyon National Park regularly tests the water to ensure it is safe to drink. Learn more....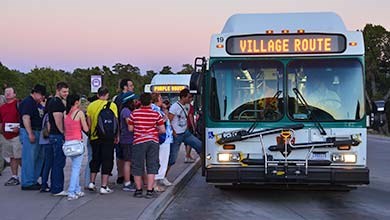 Quick links to information about:
Last updated: January 29, 2023