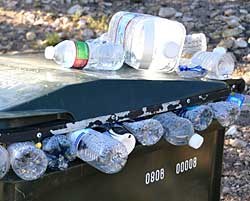 Reduce, Reuse, Refill!
Did you know that disposable plastic bottles comprise an estimated 20% of Grand Canyon's waste stream and 30% of the park's recyclables? (Deirdre Hanners, Grand Canyon National Park's Environmental Specialist)
As a Climate Friendly Park, Grand Canyon National Park's staff, partners and stakeholders have made a commitment to take a leadership role in reducing greenhouse gas emissions and educating the public about what they can do to reduce their impacts on the park - in order to reduce plastics in the park's waste stream, litter along trails and walkways and green house gas emissions. Even though Individual, single-serve water bottles are available for sale throughout the park, we encourage everyone to reduce, reuse, refill!
---