Tusayan (Purple Route) Shuttle Bus
COVID-19 Safety Modifications to Shuttle Operations:
Shuttle buses are operating at reduced capacity.
Passengers should have their own face mask/covering.
Hand sanitizer will be available for use.
Passengers must follow all CDC and public health physical distancing guidelines while in line and on the bus.
Sidewalk decals, tape, and signage has been installed at bus stops to promote physical distancing.
Buses will undergo daily cleaning according to CDC and public health guidance.
Shuttle bus staff will follow specific screening protocols when reporting to work each day.
Tusayan (Purple Route)
The Tusayan (Purple Route) will not be in operation during Spring 2022.
The route is scheduled to resume for the summer season on May 28, 2022.

The Tusayan (Purple Route) provided shuttle bus service between the gateway community of Tusayan and the park. After making four stops in Tusayan, the bus traveled 6.8 miles/11 km to the South Rim Visitor Center inside the park. The buses ran every 20 minutes between 8 am and 9:30 pm. It was a 40 minute round trip.

Xanterra offers taxi service between Tusayan/ Grand Canyon Airport and Grand Canyon Village. (24 hours) 928-638-2822. They are not providing service east of Yaki Point Road, or west of the Hermit Road Interchange at this time.
Spring 2022: South Rim Bus Routes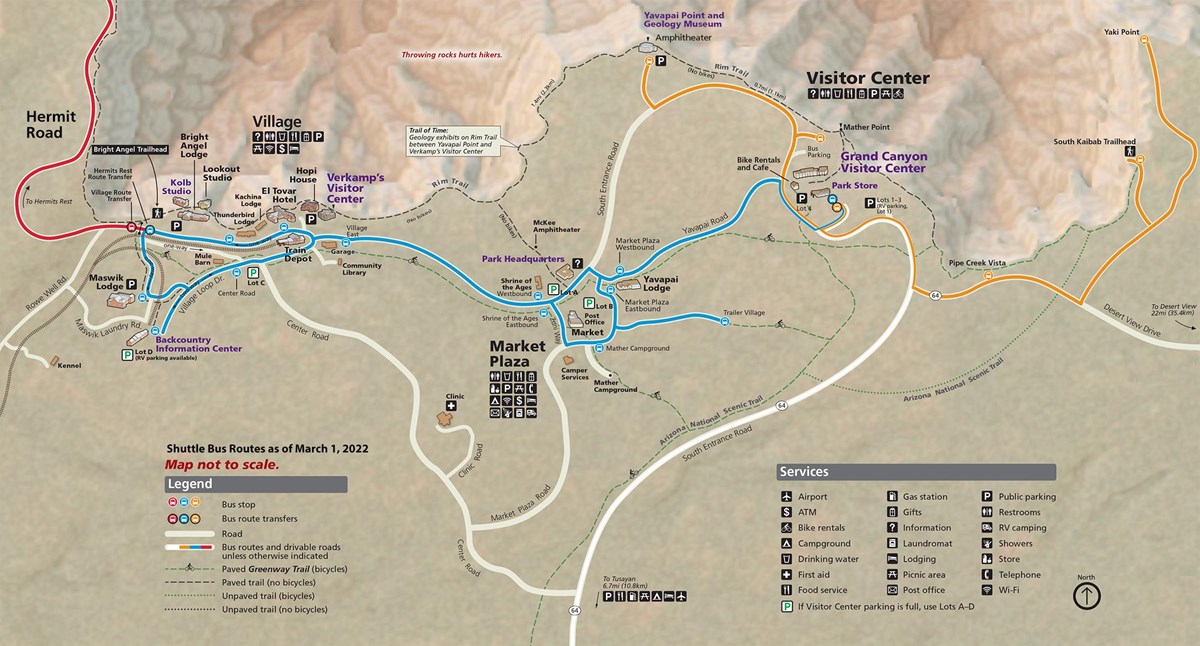 Additional Shuttle Bus Routes
Last updated: April 22, 2022