Desert View Drive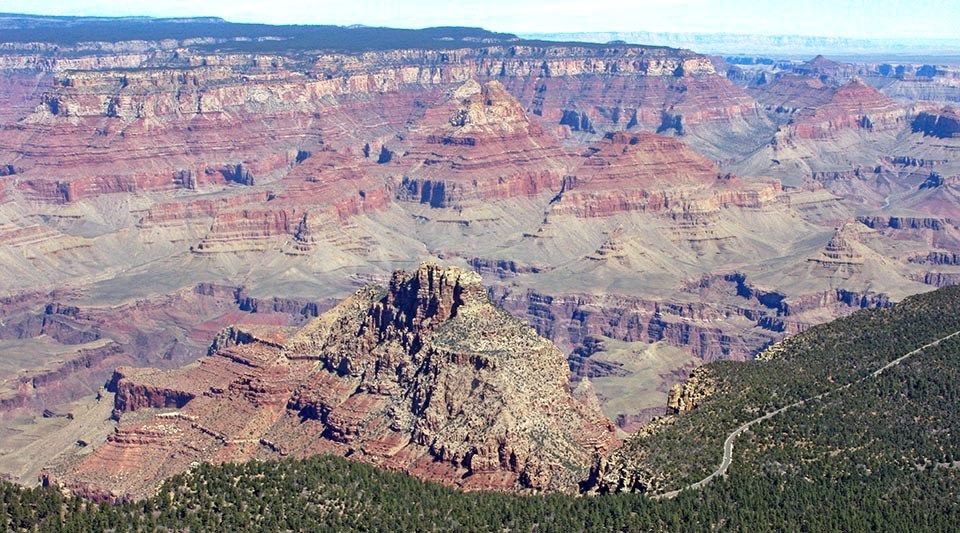 Most Desert View Facilities Are Open
Updated June 5, 2022. This page is about the scenic overlooks between Grand Canyon Village and Desert View. For an updated list of available Desert View services and their hours of operation: click here >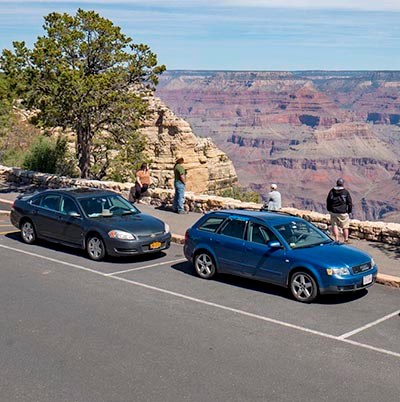 Along Desert View Drive
Desert View Drive portion of SR 64 is a scenic road that begins near Grand Canyon Village. Private vehicles can drive east along the canyon rim for 23 miles (37 km) to the Desert View Services Area, and the East Entrance of Grand Canyon National Park.
What's Along the Desert View Drive portion of SR 64:
Six developed canyon viewpoints
Four picnic areas
Five unmarked pullouts
Tusayan Pueblo Site (open on weekends this summer)
Desert View Drive begins at Mile Marker 241.5 - at the junction with South Entrance Road.

Note: Yaki Point may only be accessed on foot, bicycle, or by taking the Kaibab Rim (Orange) Route shuttle from the Visitor Center. Details >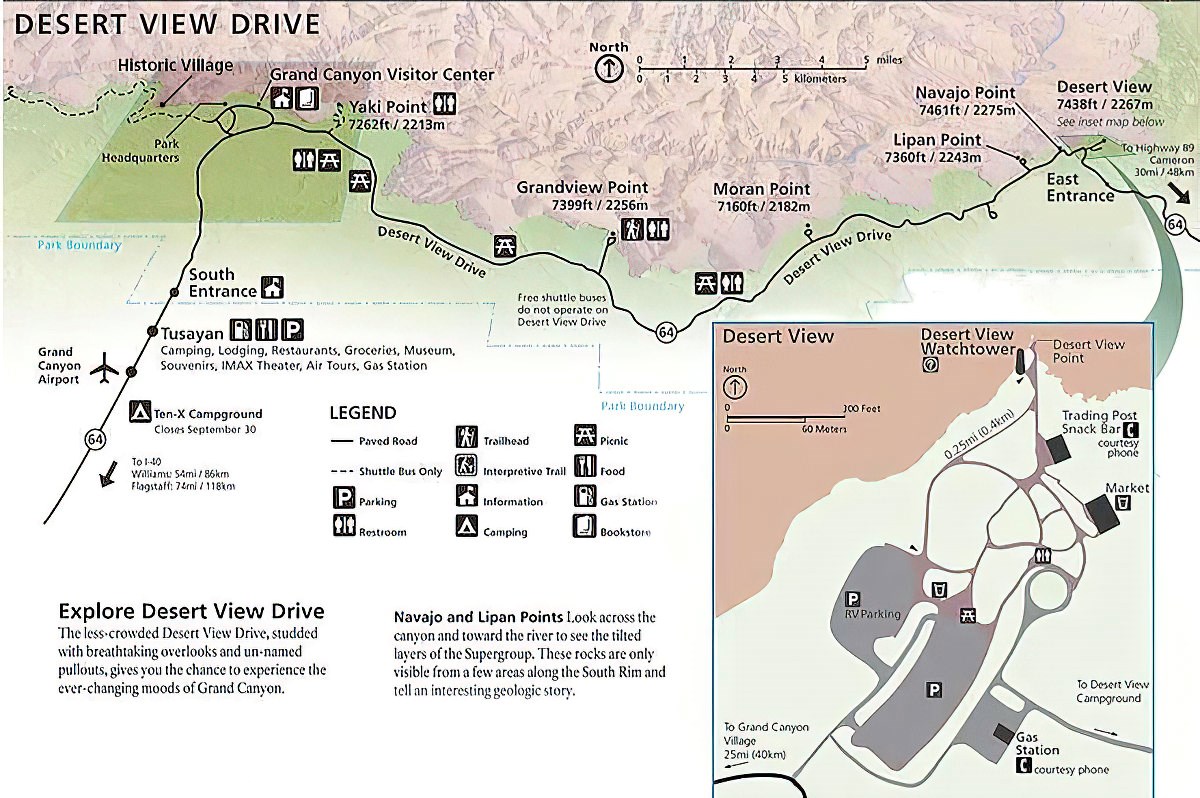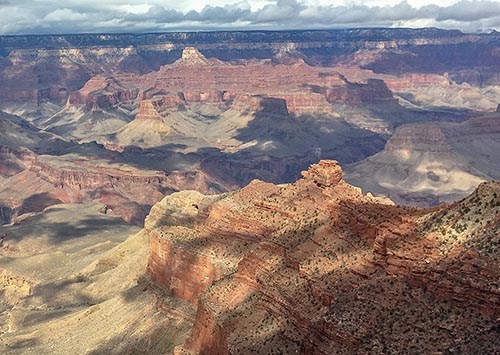 Pipe Creek Vista
Mile Marker 242.5

This pullout can be accessed by private vehicle or by using the free Kaibab Rim (Orange Route) Shuttle Bus, departing from Grand Canyon Visitor Center. Since this is the first view of the canyon along Desert View Drive, it can be a congested area with limited parking.

The Canyon Rim Trail may be accessed here, with a 1.3 mile / 2.1 km walk west on a paved footpath to Mather Point, or a 0.8 mile / 1.3 km walk east on a paved footpath to the South Kaibab Trailhead.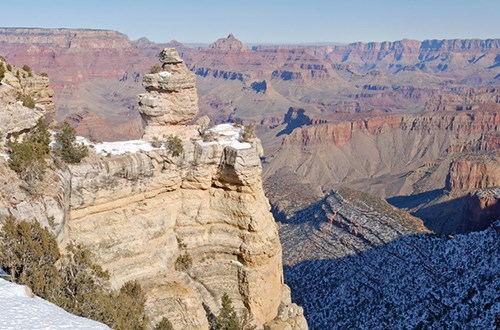 Duck on a Rock
(Elevation: 7,096 feet / 2,162 meters) Mile Marker 246

Grand Canyon's seemingly endless rock formations evoke shapes that only our imaginations can bring to life. Early mapmakers saw castles and temples in the rocks. Decade after decade, visitors have come to this spot to look for the "Duck on a Rock." What do you see?

Duck on a Rock is the next canyon viewpoint beyond Pipe Creek Overlook.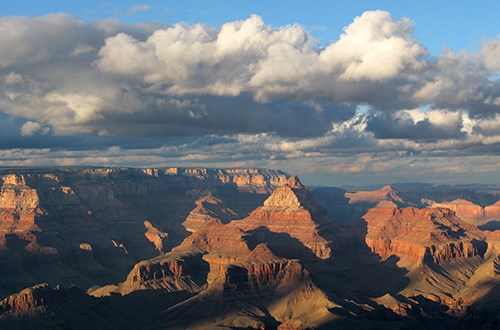 Grandview Point
(Elevation: 7399 feet / 2256 meters) Mile Marker 251
This popular viewpoint offers panoramic views of Grand Canyon from east to west, including several bends of the Colorado River to the east.

The historic Grandview Trail begins here. This trail is VERY steep! In the summer much of the trail is in full sun. In the winter ice and snow can make hiking treacherous. Always use caution on the Grandview Trail.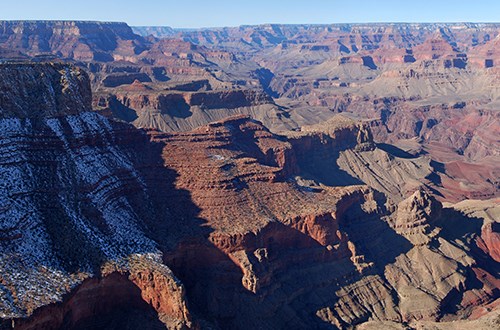 Moran Point
(Elevation: 7160 feet / 2182 meters) Mile Marker 258
Geology is a prominent feature at any Grand Canyon viewpoint but at Moran Point three main rock groups are clearly visible.

The Layered Paleozoic Rocks represent the sedimentary rocks that make up most of the Grand Canyon's depth. The Grand Canyon Supergroup represents a significant portion of the canyon's geologic record even though it is only in isolated remnants. The Basement Rocks are the oldest at the canyon, consisting of both metamorphic and igneous rock.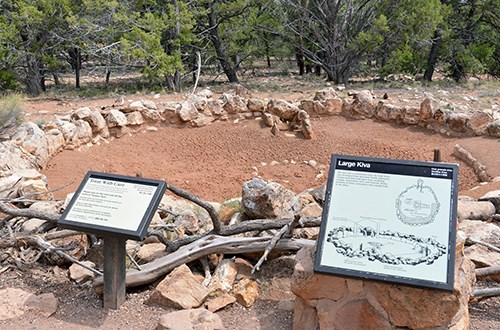 Tusayan Pueblo Site
Mile Marker 262

The Tusayan Pueblo archaeological site and self-guiding trail are now open on weekends, (Friday, Saturday and Sunday - and Monday of holiday weekends) between 9 am and 4 pm.

Note: Tusayan Musuem is temporairly closed.

Restrooms are also located here.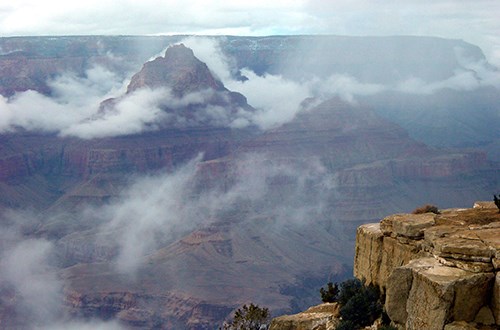 Lipan Point
(Elevation: 7360 feet / 2243 meters) Mile Marker 263.5
From this viewpoint can be seen several points of interest.
Hance Rapid is one of the many powerful whitewater rapids along the Colorado River.
Unkar Delta was once home to ancestral Puebloan people and is the site of active archeological study.
The Grand Canyon Supergroup is a unique rock strata at Grand Canyon, visible to this extent from only a few places on the South Rim.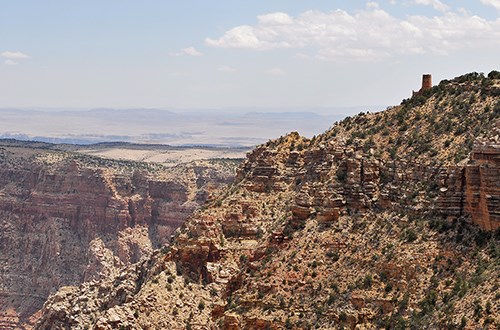 Navajo Point
(Elevation: 7461 feet / 2275 meters) Mile Marker 264
Just a few minutes west of the Desert View Watchtower, this viewpoint offers a great view of the watchtower as well as panoramic vistas to the west and a view north up the Colorado River.

Navajo Point is the highest overlook on the South Rim - unless one is standing on the top observation deck of the watchtower itself. The top of the tower measures slightly higher.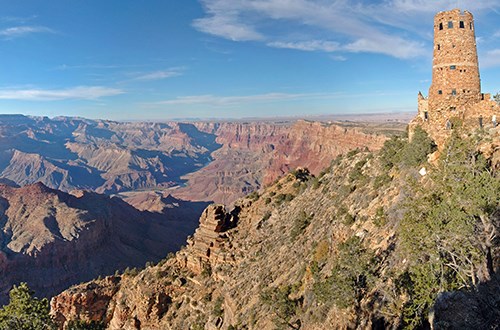 (Elevation: 7438 feet / 2267 meters) Mile Marker 264.5
A short ¼-mile (402 m) walk leads from the parking area, past historic buildings, to the rim.
From Desert View Point you can see the Colorado River make a big bend to the west.
Historic Desert View Watchtower is located here.
Here's the 2022 season list of Desert View Services > and their current hours of operation.
Desert View Campground > is open for the season between April 15, and October 16, 2022. Advanced Reservations are required.
Last updated: June 8, 2022