Raising Livestock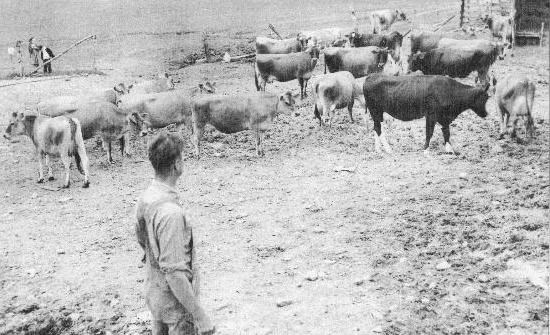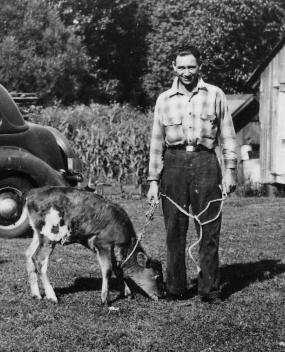 As with produce, the profitability of livestock depends upon market forces and the quality of land available. Early farmers had few livestock, mostly for personal consumption. The canals and railroads of the mid-19th century made it worthwhile for farmers to breed and raise cattle. Cheese factories, which purchased unprocessed milk from local dairy farms, began to spring up along the canal by the late 1840s. This caused the value of milk produced in the valley to skyrocket-nearly tripling between 1870 and 1910. As the dairy business became more profitable, farmers invested more time, money, and energy into their livestock. Farmers purchased breeds of cattle known for higher yields, fed their cows specialized grains, and kept them in barns during the winter to increase milk production. Although the cheese factories in the valley diminished, dairy farms continued to operate throughout the 20th century.
Click to learn more about the Point Farm dairy operation in Everett.

---
In Their Own Words

Click the topics to hear stories about Cuyahoga Valley life.
Click here to read the text file
.
Peninsula Dairy Farm
(1 minute)
George Dittoe, a resident of Peninsula, describes a local dairy farm that was near Camp Butler on SR 303.
Milk Hauling
(45 seconds)
Preparing the Milk for Pick Up
(23 seconds)
Willis Meyers describes a local milk hauler who transported milk between farms and factories, and how his family prepared the milk.
---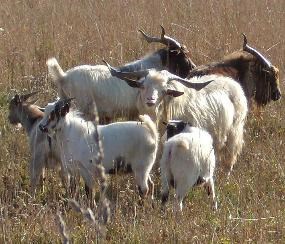 In addition to dairy cattle, Cuyahoga Valley farmers have raised beef cattle, chickens, pigs, goats, sheep, llamas, and turkeys. Most raised only a few livestock to support their family's needs. Whereas the bottomlands were often used for crops, farmers used the highlands to graze their sheep, cattle, and other livestock. In the 1940s and 50s, most farms had chickens, a few geese, and ducks. Larger-scale farmers tried to keep around 60 beef cattle and about 20 pigs. As farms started to slowly fade from the Cuyahoga Valley, fewer families raised large herds of livestock. Listen below as farmers talk about the reasons why they started raising different types of livestock.

---
In Their Own Words

Click the topics to hear stories about Cuyahoga Valley life.
Click here to read the text file
.
A Love for Highland Cows
(1 minute 11 seconds)
Philip Urbank, who grew up in Cuyahoga Falls, describes how he started his highland cattle operation.
Guard Llamas
(1 minute 31 seconds)
Crooked River Herb Farm owner Kathleen Varga describes how llamas protected her sheep from coyotes.
Challenges of Sheep Rearing
(38 seconds)
Dan Emmett, who owns and operates his farm in Richfield, talks about the difficulties of raising sheep.
---
Visit
Animal Stories
for more memories about living with livestock.
---
Click on the links to discover more:
Last updated: August 31, 2015