Animal Stories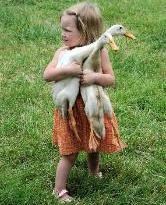 Growing up on a farm meant living in close quarters with various livestock, including cows, horses, goats, turkeys, and feisty roosters. Rural life also meant more interactions with wildlife such as deer, coyotes, and skunk.
Longtime residents of the Cuyahoga Valley have many memories about their adventures with animals on the farm. Listen to the following heartwarming stories about children and their beloved animals, as well as tales of the farm's scariest creatures.

---
In Their Own Words
Click the topics to hear stories about Cuyahoga Valley life.
Riding Horses
(1 minute 2 seconds)
For Carol Haramis, of Heritage Farms, taking care of and exercising horses was never a chore.
First Riding Horse
(21 seconds)
Rena Fiedler, who grew up at Stanford House, talks about how she loved her small riding horse.
Dogs, Goat, and Pony
(54 seconds)
Philip Urbank recounts how his dog and goat pulled a homemade cart before he got his first real pony.
Cow at Night (56 seconds)

Sprayed by a Skunk (1 minute 11 seconds)
Willis Meyers shares stories about running into a cow at night and about being sprayed by a skunk before going to school.
Chased by a Rooster
(1 minute 5 seconds)
Chickens in a Tree
(1 minute 17 seconds)
Pat Morse, who grew up across from Hale Farm, remember encountering a scary rooster, searching for eggs, and cleaning up after roosting chickens.
---
Click on the links to discover more:
Last updated: December 10, 2018