Farming Equipment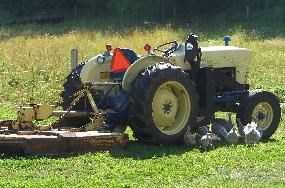 Using the railroad, manufacturers of farm implements and fertilizers could showcase their wares to all farmers in the area over the course of several days. These fairs encouraged a more scientific approach to farming, rather than simple reliance upon tried, but less-than-true, inherited farming practices.
The C. Aultman & Co. of Canton, Ohio, which manufactured a popular and highly successful harvesting machine called the Buckeye, opened up a branch in Akron in 1863. In 1865 and 1880, John F. Seiberling began production of mowers and reapers for making straw and hay. By 1890, Seiberling's company, the Empire Mower and Reaper Works, was one of the world's largest manufacturers of harvesting machines.
In spite of all these advances, farmers were slow to abandon practices which their ancestors had used for hundreds of years. The county fairs, as well as farmers' institutes, served an educational role to reduce fear of change and to encourage innovation. It was not until the Civil War, when the labor supply diminished, that agricultural improvements began to take hold. The introduction of the thresher in the 1850s, for example, enabled a farmer to thresh a ten-acre field in a day or two, a task that previously would have taken most of the winter with the use of a flail.
Tractors came into popular usage in the 20th century after World War II. After 1945, within two or three years, the majority of farmers in the Cuyahoga Valley began to use tractors instead of horses. Tractors, which enabled farmers to complete a previous week's worth of work in just a couple days, increased the trend towards "weekend farming."

---
In Their Own Words

Click the topics to hear stories about Cuyahoga Valley life.
Click here to read the text file
.
Tractors (33 seconds)
Carl Boodey, from Northfield, explains how tractors became popular in the valley and made farming much more efficient.
Quickly Plowing Fields (35 seconds)
Daniel Schneider, who grew up on the Schneider Farm (now Coonrad Ranger Station), describes how new tractors made plowing a quick and easy process.
Hay Baler (41 seconds)
Jan Thomas, from Everett, talks about the efficiency of the hay baler.
---
---
Click on the links to discover more:
Last updated: August 31, 2015