Roadside Stands and Markets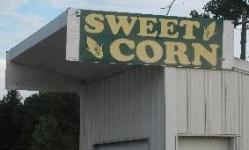 As transportation improved, tourism increased in the Cuyahoga Valley. City dwellers came via canal boat, train, and, later, automobile. With more visitors, local farmers could sell products directly from their homes. Roadside stands, usually at the end of the farmer's driveway, offered a convenient and inexpensive way to market goods. Most farmers only set up their roadside stands on weekends, since they travelled to urban markets during the week.
"[Customers] were very nice, and they always came back to buy stuff when I had it to sell. We used to sell quite a few tomatoes and apples there, everything I had there at the farm. Beans … I used to pick half a bushel of beans in twenty minutes. That's a lot of beans!"
Elizabeth Thalman, former Richfield farmer, 2011

---
In Their Own Words

Click the topic to hear a story about Cuyahoga Valley life.
Click here to read the text file
.
Farm Stands
(29 seconds)
Warren Roller, who lived where the Coliseum once stood in Richfield, describes how State Road 303 looked like a "growers' market" during the mid-20th century.
---
Roadside stands still exist in the valley today, attracting local and visiting customers. The Polcen Farm (Northfield), Neitenbach Farm (Cuyahoga Falls), Spring Hill Farm and Market (Brecksville), and Canal Corners Farm and Market (Valley View) continue to sell sweet corn and other local foods from their family-owned and operated stands.
The Szalay Sweet Corn Farm (Peninsula), Foote Farm (Valley View), and Country Maid Ice Cream and Orchard (Richfield) operate larger roadside markets that sell a variety of local products, from fruits and vegetables to soaps and pies.
---
Click on the links to discover more:
Last updated: August 31, 2015