Wilson Feed Mill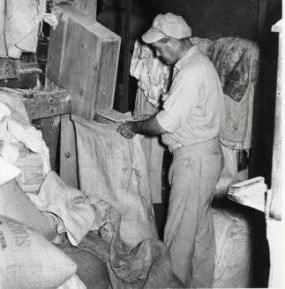 Flour milling was one of the earliest industries in Ohio's Western Reserve. With the opening of the Ohio & Erie Canal between Cleveland and Akron in 1827, farmers could easily ship grain to growing markets. By 1840, Cleveland represented the principle Great Lakes grain market, and Ohio became the nation's leading producer of wheat.
Alexander's Mill was built in 1855 by Andrew and Robert Alexander as a custom mill, grinding grist for area farmers. Thomas and Emma Wilson purchased the mill in 1900, and began milling and selling wheat, rye, flour, scratch feed, and shelled corn. With transportation improvements by the 1920s, the Wilsons could sell to larger commercial bakers and restaurants.
Also during the early 20th century, the manufacture of commercial animal feeds began to take hold as a popular industry. With the demand for flour diminishing, Wilson's Mill focused on the animal feed industry and the sale of farm products. Presently, Wilson's Mill continues to operate as a feed mill, and has an additional retail store that sells farming and gardening supplies. The mill continued to use water power until 1970 and the mill's water-power system is still in place today.
Mill Operations

2011 Oral History Project: Tom Wilson's family has been milling for six generations, over 150 years. Tom talks about the mill's operations.

Credit / Author:

Tom Wilson

Date created:

2021-09-29 00:00:00.0
History of Mill Development

2011 Oral History Project: Tom Wilson's family has been milling for six generations, over 150 years. Tom talks about the mill's history.

Credit / Author:

Tom Wilson

Date created:

2021-09-29 00:00:00.0
Childhood at the Mill

2011 Oral History Project: Tom Wilson's family has been milling for six generations, over 150 years. Tom talks about the family's experiences.

Credit / Author:

Tom Wilson

Date created:

2021-09-29 00:00:00.0
---
Click on the links to discover more:
Last updated: September 29, 2021