Horses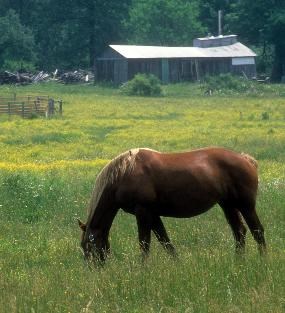 Horses have served multiple purposes on Cuyahoga Valley farms. Horses have pulled carts and ploughs, taken tourists on carriage rides, been raised and sold, been boarded for other owners, and become beloved companions for farm children.

Peggy and Tress Pittenger devoted much of their lives to raising, selling, and boarding horses at their farm, Blackacre, on Quick Road. Peggy worked hard to turn Blackacre into a thriving horse breeding business, while also writing popular books on how to raise horses. Peggy, Tress, and their three children learned that a successful horse farm requires hard work, persistence, and a little good luck.

In 2011, their son David Pittenger composed a history of his family farm for the National Park Service.
---
In Their Own Words
Hear stories about Cuyahoga Valley life below.
Peggy's Horses

Philip Urbank, who grew up on Quick Road, tells a story about Peggy Pittenger and her horses.
Horse Fairs

Until recently, Ronnie Meyers and his father Willis bought, sold, and trained Belgian horses for special competitions.
Horse-Drawn Vehicles

At the Carriage Trade Farm, owner Wade Johnson continues his grandfather's tradition of raising horses and offering sleigh and hayrides near Brandywine Falls.
---
Click on the links to discover more:
Last updated: December 20, 2021