Hungry Wildlife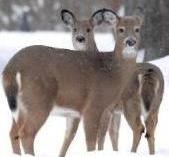 Like all farmers, those in the Cuyahoga Valley face challenges from wildlife. Deer, raccoons, coyotes, and other animals affect crops and livestock.
More than any other wild animal, deer threaten most crops, eating vegetables before they have a chance to fully grow. Within the last half century, the deer population has grown dramatically, creating more pressure on those who make a living off the land.

---
In Their Own Words

Click the topics to hear stories about Cuyahoga Valley life.
Click here to read the text file
.
Hawks and Raccoons
(21 seconds)
Alan Halko, who operates Spring Hill Farm and Market in Brecksville, talks about how hawks and raccoons threaten his chickens.

Deer Problems (43 seconds)
Gerald and Marilyn Polcen, who no longer farm in the valley due to the rising deer population, talk about a creative method for warding off deer from their fields.
More Deer (24 seconds)
Carl Boodey describes how the large deer population has affected the valley landscape and contributed to tree loss.
---
---
Click on the links to discover more:
Last updated: August 31, 2015