Railroads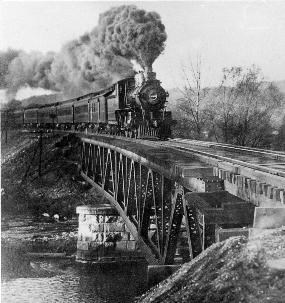 The advent of railroads helped make farming more profitable in the Cuyahoga Valley. In 1852, the Cleveland & Pittsburgh opened Summit County to railroad traffic. That same year, the Cleveland, Akron & Zanesville was built to connect with the Cleveland & Pittsburgh railroad. These railroad lines transported freight and passengers between Cleveland, Akron, and agricultural markets to the East.

Rather than replace the Ohio & Erie Canal as a means to ship agricultural goods, the railroad worked with the canal. Bulk staples such as oats and grains were shipped by way of the canal to distribution and processing centers in Cleveland and Akron, where the goods were reloaded to freight cars bound for the eastern markets.

The mid-century railroads, as well as the later Valley Railway finished in 1880, rapidly increased the Cuyahoga Valley's industrial expansion. Railroads made possible the development of booming industrial centers in northeast Ohio, with many of these new industries farm-related. Unlike the canal, railroads were cheaper, faster, and gave more dependable service since they were not subject to freezing and flooding, which caused lengthy delays.
---
Click on the links to discover more:
Last updated: December 20, 2021