River Systems and Fluvial Landforms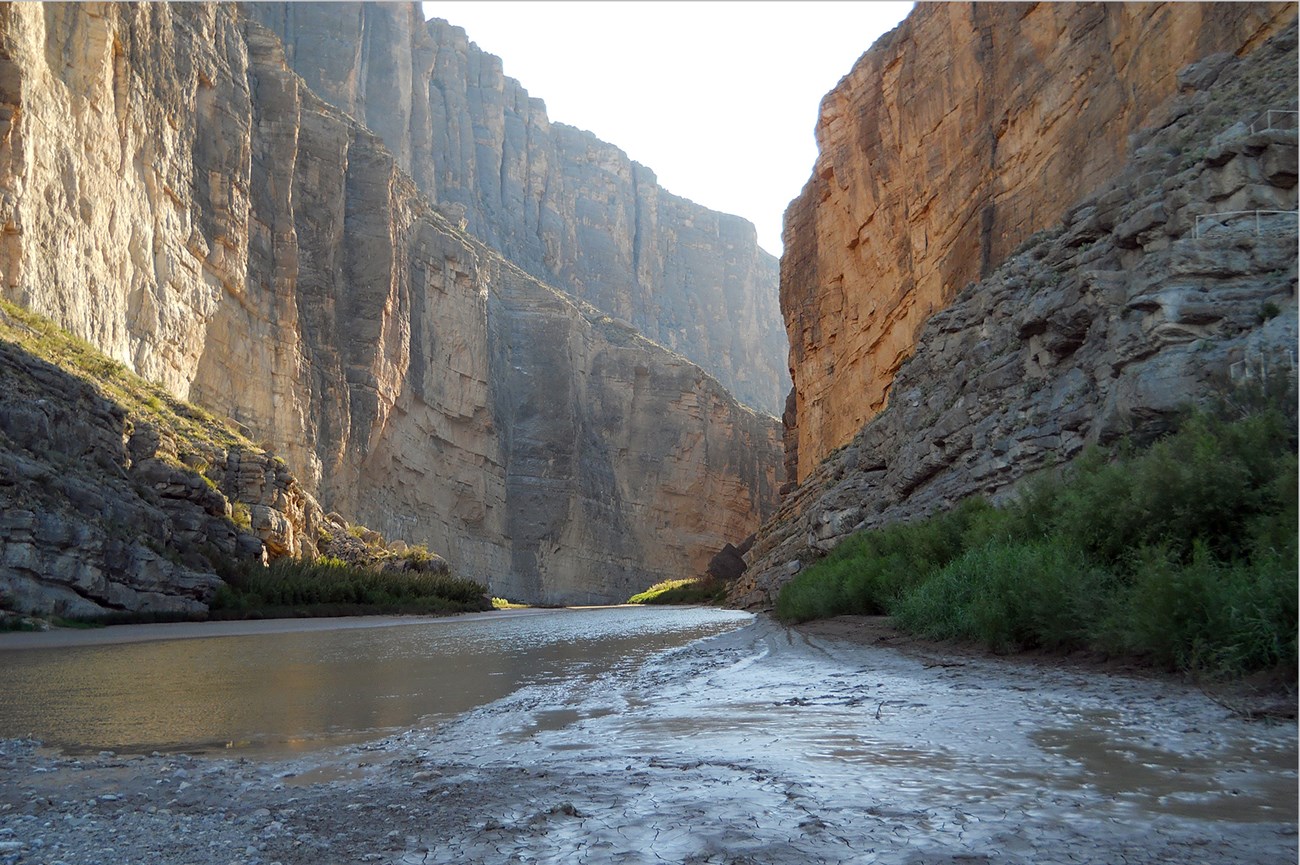 [Site Under Development]
Introduction
Fluvial systems are dominated by rivers and streams. Stream erosion may be the most important geomporphic agent. Fluvial processes sculpt the landscape, eroding landforms, transporting sediment, and depositing it to create new landforms. Human civilization and ecosystems alike are dependent on fluvial systems. Rivers provide water for hydroelectric power and shipping, as well as supporting stream-side wetlands (riparian areas) that are critical for clean water and provide rich habitat.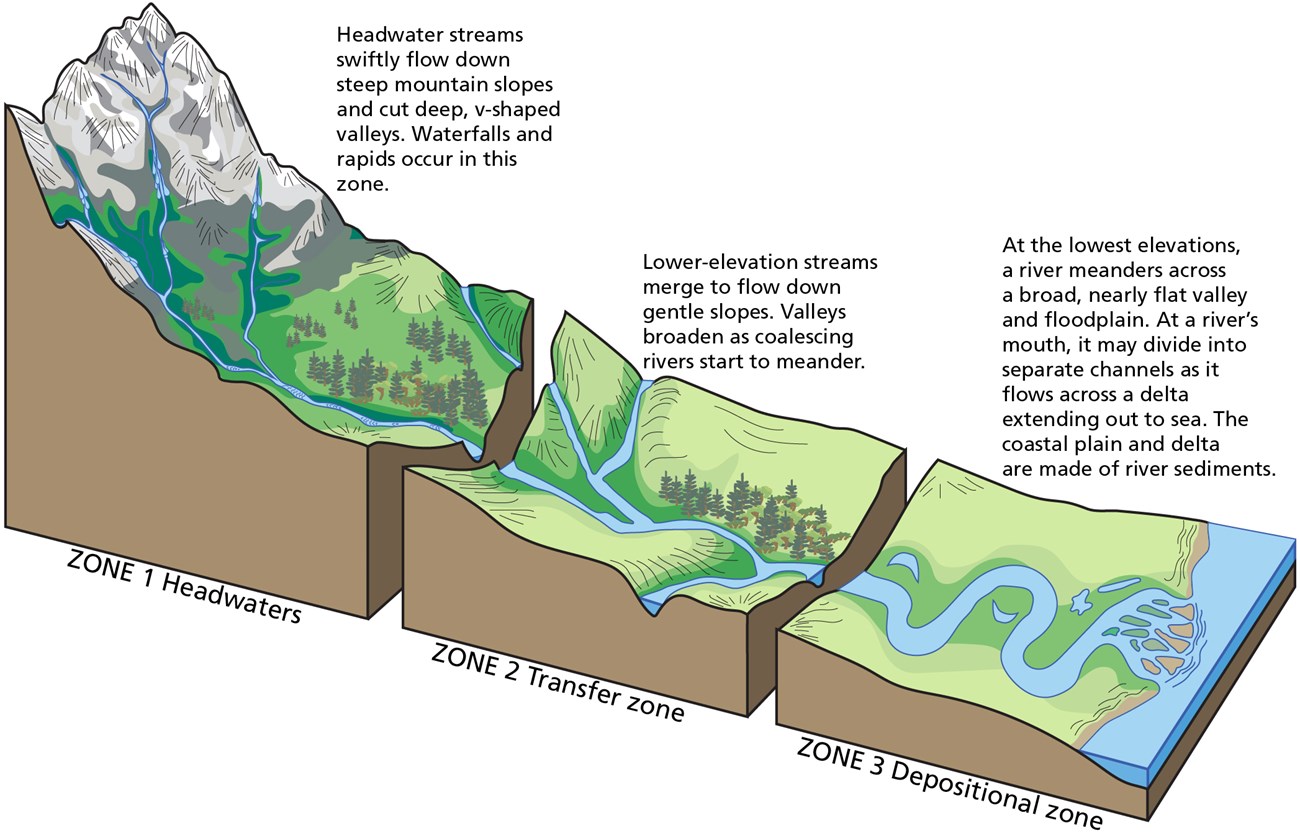 The drainage basin or watershed is a fundamental landscape unit in fluvial geomorphology. A dranage basin contains a primary, or trunk, river and its tributaries. Watersheds are separated from their neighbors by a divide; a highpoint where water flows in different directions on either side.
Upper Basin
Headwaters
Mid-basin
Low gradiant valleys and flood plains
Lower Basin
Depositional Zone
Floodplain Landforms
In addition to the streams themselves, the depositional habits of fluvial systems produce striking landforms. Fluvial deposits are sediments deposited by the flowing water of a stream.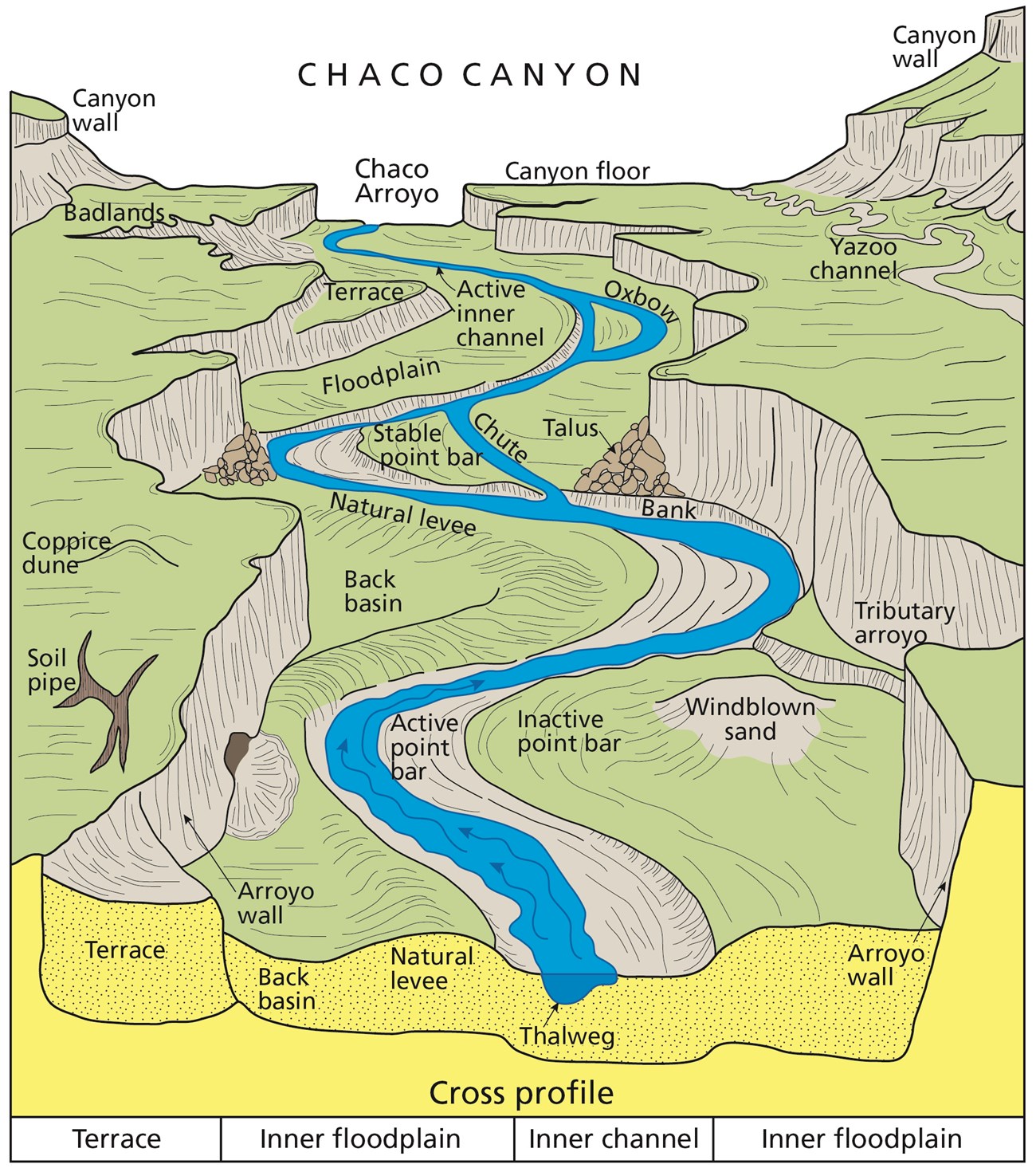 A floodplain is the relatively flat surface adjacent to the river or stream. During floods, when the stream overflows its banks, water flows over the floodplain and deposits sediment. Through fluvial processes, streams construct floodplains that accommodate their maximum flood capacity. Geomorphic features of the floodplain include:
Natural Levees—River may be immediately flanked by a buildup of sediment that forms natural levees. These provide some defense against flooding, but are occaisionally breached in areas producing flood-plain splays—coarse fan-shaped deposit of sediment created during high flow events.
Oxbows and oxbow lakes—See below, features of a Meandering Stream Channel.
Point Bars—See below, features of a Meandering Stream Channel.
Terraces
Channel Morphology
The shape that a stream takes, or its channel morphology, is a function of the sediment carried and deposited by the stream. This divides medium to low gradiant streams into two general categories, meandering and braided.
Fluvial Landforms in Parks
Alaska
Contiguous U.S.
Big Bend National Park, Texas—[Geodiversity Atlas] [Park Home]

Big South Fork National River and National Recreation Area, Tennessee and Kentucky—[Geodiversity Atlas] [Park Home]

Black Canyon of the Gunnison National Park, Colorado—[Geodiversity Atlas] [Park Home ]

Bluestone National Scenic River, West Virginia—[Geodiversity Atlas] [Park Home]

Buffalo National River, Arkansas—[Geodiversity Atlas] [Park Home]

Canyon de Chelly National Monument, Arizona—[

Geodiversity Atlas] [Park Home]

Canyonlands National Park, Utah—[

Geodiversity Atlas] [Park Home]
Chaco Culture National Historical Park, New Mexico

—[

Geodiversity Atlas] [Park Home]

Chattahooche National Recreational River, Georgia—[

Geodiversity Atlas

] [

Park Home

]

Chesapeake and Ohio Canal National Historic Park, Washington D.C., Maryland, & West Virginia—[Geodiversity Atlas] [Park Home]

Curecanti National Recreation Area, Colorado—[Geodiversity Atlas] [Park Home]

Cuyahoga Valley National Park, Ohio—[Geodiversity Atlas] [Park Home]

Delaware Water Gap National Recreation Area, Pennsylvania and New Jersey—[Geodiversity Atlas] [Park Home]

Dinosaur National Monument, Colorado, Utah—[Geodiversity Atlas] [Park Home]

Gauley River National Recreation Area, West Virginia—[Geodiversity Atlas] [Park Home]

George Washington Birthplace National Monument, Virginia—[Geodiversity Atlas] [Park Home]

George Washington Memorial Parkway, Washington D.C.—[Geodiversity Atlas] [Park Home]

Glen Canyon National Recreation Area, Utah—[Geodiversity Atlas] [Park Home]

Grand Canyon National Park, Arizona—[Geodiversity Atlas] [Park Home]

Greenbelt Park, Maryland—[Geodiversity Atlas] [Park Home]

Hapers Ferry National Historic Park, West Virginia—[Geodiversity Atlas] [Park Home]

Little River Canyon National Preserve, Alabama

—[

Geodiversity Atlas

]

[Park Home]
Mississippi National River and Recreation Area, Minnesota—[Geodiversity Atlas] [Park Home]
Missouri National Recreational River, South Dakota and Nebraska—[Geodiversity Atlas] [Park Home]

Natural Bridges National Monument, Utah—[

Geodiversity Atlas] [Park Home]

New River Gorge National River, West Virginia—[

Geodiversity Atlas] [Park Home]

Niobrara National Scenic River, Nebraska—[

Geodiversity Atlas

] [

Park Home

]

Obed National Wild and Scenic River, Tennessee—[

Geodiversity Atlas] [Park Home]

Ozark National Scenic Riverways, Missouri—[Geodiversity Atlas] [Park Home]

Rainbow Bridge National Monument, Utah—[Geodiversity Atlas] [Park Home]

Rock Creek Park, Washington D.C.—[Geodiversity Atlas] [Park Home.]

Saint Croix National Scenic Riverway, Wisconsin—[Geodiversity Atlas] [Park Home]

Theodore Roosevelt National Park, North Dakota—[Geodiversity Atlas] [Park Home]

Upper Delaware Scenic and Recreational River, Pennsylvania and New York—[Geodiversity Atlas] [Park Home]

Vanderbilt Mansion National Historic Site, New York—[Geodiversity Atlas] [Park Home]

Zion National Park, Utah—[Geodiversity Atlas] [Park Home]
Last updated: February 16, 2022