Geodiversity refers to the full variety of natural geologic (rocks, minerals, sediments, fossils, landforms, and physical processes) and soil resources and processes that occur in the park. A product of the Geologic Resources Inventory, the NPS Geodiversity Atlas delivers information in support of education, Geoconservation, and integrated management of living (biotic) and non-living (abiotic) components of the ecosystem.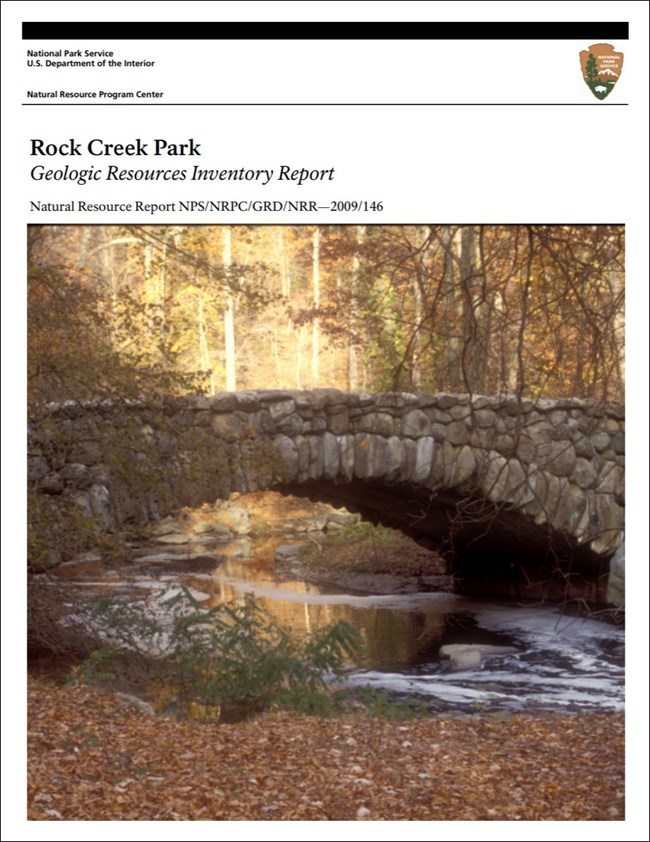 Geologic Features and Processes
[Site Under Development]

Rock Creek, the fourth oldest national park, was created by Congress on September 27, 1890. The park was originally designed for the preservation "of all timber, animals, or curiosities…and their retention, as nearly as possible." Previous names for the park include Meridian Hill Park (June 25, 1910), Montrose Park (March 2, 1911), Rock Creek & Potomac Parkway (March 4, 1913), and Dumbarton Oaks Park (December 2, 1940).

Rock Creek Park preserves a Piedmont stream valley in a heavily urbanized area and provides a sanctuary for many rare and unique species. The park is approximately 15 km (9.3 miles) long and up to 1.6 km (1 mile) wide. It extends southward from the Maryland – Washington, D.C., border to the Potomac River along Rock Creek valley.

Rock Creek runs approximately 53 km (33 miles) from its source near Laytonsville, Maryland, in Montgomery County. It connects with the Chesapeake and Ohio (C&O) Canal 0.40 km (0.25 miles) upstream from the Potomac River confluence. The Rock Creek watershed covers approximately 48,960 acres, nearly a quarter of which is located within Washington, D.C. The National Park Service administers 1754 acres of the basin as Rock Creek Park.

Rock Creek Park protects a portion of the upland section of the Piedmont Plateau. This is one of the geologically significant physiographic provinces in the eastern United States. The landscape of the park is comprised of a steep, craggy stream valley and rolling hills. Varied hydrological influences have resulted in a complex environment. These variations and seasonal flooding support a diversity of habitats. Rock Creek cuts through the deformed metamorphic crystalline rocks of the Piedmont Plateau. The park ends at the C&O Canal National Historic Park (NHP) and highlights the link between the Potomac River and American history. The park protects a variety of cultural and natural resources in a heavily developed urban area.

Rock Creek Park lies within the Potomac River watershed. The Potomac River is the second largest contributor to the Chesapeake Bay at 616 km (383 miles) in length. The Potomac watershed stretches across Maryland, Pennsylvania, Virginia, the District of Columbia, and West Virginia. This drainage includes 38,018 square km (14,679 square miles).
Geology Field Notes
Students and teachers of college-level (or AP) introductory geology or earth science teaching courses will find that each park's Geologic Resource Inventory report includes the Geologic History, Geologic Setting, and Geologic Features & Processes for the park which provides a useful summary of their overall geologic story. See Maps and Reports, below.
Regional Geology
Rock Creek Park is in both the Piedmont and Coastal Plain Physiographic Provinces and shares its geologic history and some characteristic geologic formations with a region that extends well beyond park boundaries.
Geologic Resources Inventory
The
Geologic Resources Inventory
produces digital geologic maps and reports for more than 270
natural resource parks
. The products listed below are currently available for this park, check back often for updates as many maps, reports, and posters are still in progress.
Scoping summaries are records of scoping meetings where NPS staff and local geologists determined the park's geologic mapping plan and what content should be included in the report.
Digital geologic maps include files for viewing in GIS software, a guide to using the data, and a document with ancillary map information. Newer products also include data viewable in Google Earth and online map services.
Reports use the maps to discuss the park's setting and significance, notable geologic features and processes, geologic resource management issues, and geologic history.
Posters are a static view of the GIS data in PDF format. Newer posters include aerial imagery or shaded relief and other park information. They are also included with the reports.
Projects list basic information about the program and all products available for a park.
Related Articles
Rock Creek Park
National Park Service Geodiversity Atlas
The servicewide Geodiversity Atlas provides information on geoheritage and geodiversity resources and values within the National Park System. This information supports science-based geoconservation and interpretation in the NPS, as well as STEM education in schools, museums, and field camps. The NPS Geologic Resources Division and many parks work with National and International geoconservation communities to ensure that NPS abiotic resources are managed using the highest standards and best practices available.

For more information on the NPS Geodiversity Atlas, contact us.