Things To Do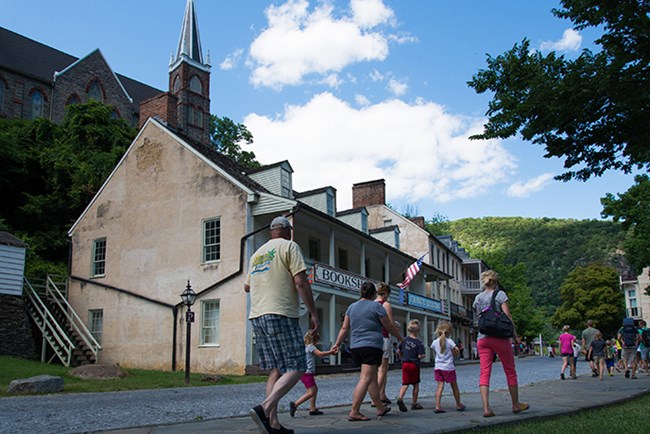 Harpers Ferry National Historical Park offers a wide variety of activities for individuals and families. Explore museums and exhibits, hike to overlooks or along Civil War skirmish lines, join a ranger-guided tour or sign-up for a living history workshop. Shop at the Harpers Ferry Park Association's Bookshop for books, artwork, postcards, and items for kids of all ages. Talk to rangers and volunteers at the Visitor Center and Information Center who will assist you and answer any questions you may have. Visit us soon and discover your Harpers Ferry.
For more information on Things to Do at Harpers Ferry National Historical Park, please see the descriptions and links below. As always, if you have any questions please contact the Information Center at 304-535-6029 or
email us
.
Ranger Programs
For information regarding the park's current ranger-guided tour times and other guided programs, please visit the Ranger Programs page.
Hikes
Did you know the park has over 20 miles of hiking trails? The trails vary from easy, riverside strolls to four-mile hikes across Civil War battlefields to eight-mile adventures on the tops of mountains. To learn more about the park's various trails and to download trail maps, please visit the Hikes page on our website.
The cliff faces within Harpers Ferry National Historical Park are widely considered to be some of the best climbing in the area, drawing visitors to the cliffs each year.
Picnicking
Picnicking is available at Harpers Ferry National Historical Park at a designated picnic area adjacent to the Visitor Center parking lot (171 Shoreline Drive, Harpers Ferry, WV 25425).
Get Your Passport® Stamps
Passport stamps are a fun way to remember your visit to Harpers Ferry NHP and other national parks! The park Passport stamps are available at the Bookshop in Lower Town.

Historic Trades Workshops
Our living history and historic trades rangers, in partnership with the Harpers Ferry Park Association, offer workshops throughout the year which focus upon 19th century trades and skills. Workshops may include cooking, blacksmithing, tin-making, or gardening. *Due to COVID-19 safety considerations, historic trades workshops are not offiered at this time.*
Living History Event Weekends
Step back into the past and join us on living history event weekends throughout the year! These events range in topic from the War of 1812 and 19th century farming to Civil War medicine and artillery demonstrations. *Due to COVID-19 safety considerations, the park is not conducting living history event weekends at this time.*

Last updated: August 30, 2021