Camp Hill and Appalachian Trail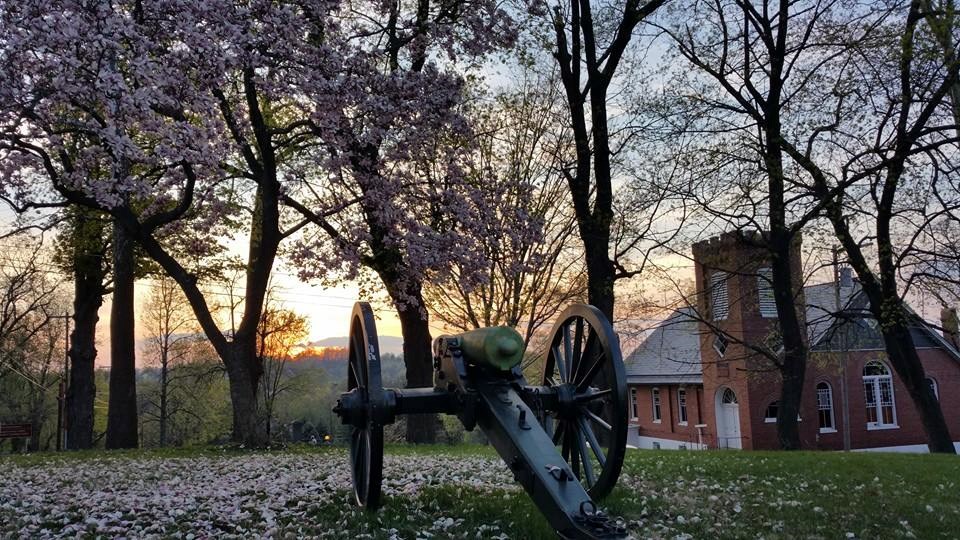 Moderate, 2-3 miles (3.2-4.8 km) round trip with optional side trails, 1-2 hours
Opportunity to see Jefferson Rock, Harper Cemetery, Lockwood House, Storer College Campus, mountain and river views, and the
Appalachian Trail Conservancy (ATC) Visitor Center
. Return via town streets or connect with
Virginius Island and Hall's Island trails.
Appalachian Trail is always open. Harpers Ferry National Historical Park trails are open during daylight hours and closed from sunset to sunrise.
Wayside exhibits.
The trail starts at the Information Center in Lower Town. Cross Shenandoah Street, turn left onto High Street, then turn left up 62 historic stone steps towards Jefferson Rock. Southbound AT hikers can follow the white blazes along this cliff side all the way to Georgia. The right fork just above Jefferson Rock goes to the Harper Cemetery and Lockwood House, the birthplace of Storer College. Just past Lockwood House, along the tree line, a side trail returns to the AT. Approximately 0.25 miles to the right on the AT, hikers have three options:

Continue on AT, following the white blazes along the cliff, across the Shenandoah river, to the Loudoun Heights trail
A highly recommended option angles off to the left. This trail, historically known as the Cliff Trail, allows a nice circuit back to Lower Town across the Virginius Island area. The Cliff Trail descends steeply to Shenandoah Street opposite the ruins of the pulp mill. Cross the street and follow the Virginius Island trail system back to Lower Town, about 0.5 miles to the left.
Above this intersection, a blue-blazed trail to the right winds up stone steps to the former Storer College campus. Continue up another series of steps between two buildings. Turn right and follow the long brick walk to Fillmore Street and the next set of blue blazes to the Appalachian Trail Conservancy Visitor Center. From the ATC Visitor Center, hikers have two options for returning to Lower Town: Turn right and use the sidewalk on Washington Street or backtrack one block and turn left on Fillmore Street. The quiet neighborhood here includes historic Morrell House and Brackett House on the way back to Lockwood House and the Harper Cemetery.

Drinking Water is available in Lower Town. Reusable water bottles and beverages may be available for purchase at the Harpers Ferry Park Association bookshop and ATC visitor center.
Restrooms are available in Lower Town next to the Bookshop. A restroom is also available at the ATC.
Last updated: November 21, 2022