Park Store
The Bookshop on Shenandoah Street in Harpers Ferry is maintained by the Harpers Ferry Park Association, which is an official National Park Service Cooperating Association. Proceeds from sales and fundraising activities directly benefit the interpretive programs of Harpers Ferry National Historical Park.
Stop by and shop in person or visit their online store.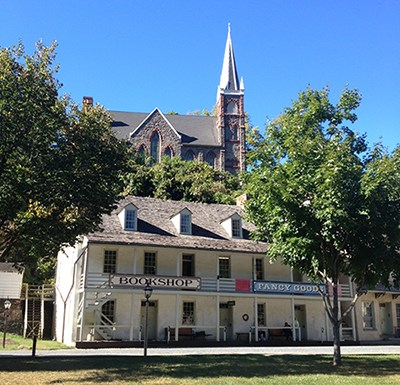 About the Bookshop
The Harpers Ferry Park Association (HFPA) raises funds through the sale of books and other educational materials at the Park Bookshop on Shenandoah Street and at a sales outlet in the park's visitor center. The Bookshop offers over 3,000 book titles, including award-winning items published by HFPA. The products sold are designed to help visitors better understand Harpers Ferry's rich cultural and natural heritage.
The selection of Bookshop items reflects the topics interpreted by the park: the physical and historical geography of Harpers Ferry, including the significance of waterpower; transportation in a growing nation; industry and the American system of manufacture; John Brown's Raid, the American Civil War; slavery, abolition and the education of freed African Americans in the post-Civil War era. To learn more about the Bookshop, please contact the Harpers Ferry Park Association directly or visit their website.

Harpers Ferry Park Association
P.O. Box 197
Harpers Ferry, WV 25425
Phone: 304-535-6881
Fax: 304-535-6749
Email: info@hfpawv.org
Last updated: February 5, 2020