Hikes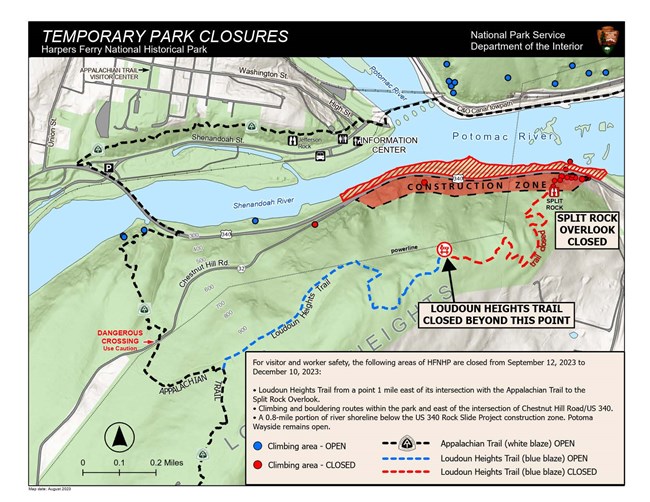 Temporary recreational closures due to US 340 rockslide stabilization work
Beginning September 12, 2023, rockslide stabilization work along US 340 will require closure of the Loudoun Heights Trail one mile east of its intersection with the Appalachian National Scenic Trail. For your safety, no access is permitted beyond that point. This closure does include Split Rock Overlook. Individuals crossing the US 340 bridge over the Shenandoah may experience intermittent delays of up to 30 minutes. Further closures of the Loudoun Heights trail may become necessary.
Harpers Ferry National Historical Park (NHP) has 22 miles of hiking trails. This web page provides the information needed to plan your perfect hike.
Harpers Ferry National Historical Park trails are open during daylight hours and closed from sunset to sunrise. The only exception is the Appalachian Trail which is always open.
Dogs are allowed on all trails in Harpers Ferry National Historical Park. They must be kept on a six-foot or shorter leash and owners must bag and remove pet waste from the park. Learn about bringing your pet to the park and our trash free park program.
Horses, bicycles, and motorized vehicles are not allowed on any of the trails in Harpers Ferry NHP.
Stay on the trail and off fragile earthworks and historic stone walls. Harpers Ferry NHP cares for natural and historical resources saved by the American people so that all may experience our heritage. Many of these resources border trails and are more fragile than they look. Help us keep these resources intact for all generations by staying on the trail. Staying on the trail also reduces your risk of running into trail hazards.
Trail Hazards: Depending on the season, you may encounter: poison ivy, poison sumac, ticks, bees and other stinging/biting insects, gnats, chiggers, copperhead snakes, rattlesnakes, slippery rocks, windy conditions, falling trees, dehydration, and other trail hazards. Use caution, stay away from cliff edges, and stop by the park's visitor center or information center for more information on staying safe during your hike.
Road and Rail Crossings: Some trails and connectors require visitors to cross roads and active railroad tracks. Please use signed crosswalks where available and always look out for cars and trains. The railroads in Harpers Ferry are active, trains come through town many times each day.
Drinking water is not available on the trails. Bring enough water for yourself, children, and pets whenever you hike. Water fountains can be found at the Visitor Center and in Lower Town. During winter the outdoor fountains are turned off to prevent damage due to freezing.
Trash receptacles are not available on trails or at trailheads. Be prepared to pack out all trash while visiting Harpers Ferry NHP, including cigarette butts and pet waste.
Review tips to recreate responsibly on our Safety page.

Last updated: September 6, 2023