Hikes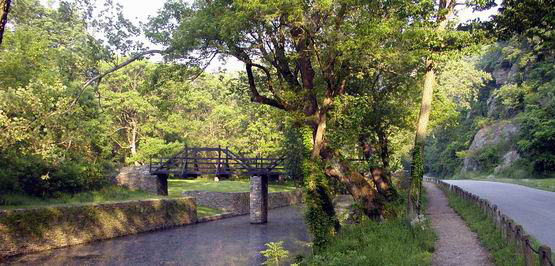 Harpers Ferry National Historical Park (NHP) is considered one of the best walking parks in America. The views are sublime, the history compelling, the restored town a work of historical art. The variety of trails coupled with nationally significant history and the scenery of the Blue Ridge Mountains and the Potomac and Shenandoah river valleys adds up to a unique hiking experience. Harpers Ferry NHP encompasses almost 4,000 acres in West Virginia, Maryland and Virginia, and several units of the national park system intersect here. As the mid-point of the 2,178-mile Appalachian National Scenic Trail (AT), Harpers Ferry is home to the Appalachian Trail Conservancy (ATC), the headquarters for the AT. Visitors can also walk along the 184.5-mile-long towpath of Chesapeake and Ohio Canal National Historical Park by crossing the footbridge over the Potomac River. The Potomac Heritage National Scenic Trail overlays the C&O Canal and continues north all the way to Pittsburgh, Pennsylvania.
Harpers Ferry NHP has about 20 miles of hiking trails. The trails vary from easy, riverside strolls to four-mile hikes across Civil War battlefields to eight-mile adventures to the tops of mountains. This web page provides the trail information needed to plan the perfect hike: location, length and intensity (easy, moderate, difficult); highlights (views, wildlife, historical significance); hiking time (based on one mile hiked per 30 minutes).
For a comprehensive guide to the trails in Harpers Ferry NHP, purchase A Walker's Guide to Harpers Ferry by David T. Gilbert from the non-profit Harpers Ferry Historical Association Bookshop online at www.harpersferryhistory.org, at the Bookshop in Lower Town, or at the Visitor Center. This book provides site-specific information about all aspects of Harpers Ferry NHP trails and history, along with historic and modern-day photographs.
Harpers Ferry NHP cares for natural and historical resources saved by the American people so that all may experience our heritage. Help us keep these resources intact for all generations. Please stay on the trail and off fragile earthworks and historic stone walls. Keep your dogs on leash and clean up after them. Bicycles, vehicles and horses can damage trails and historical resources and so are not allowed on any park trail. Thank you for your cooperation.