Fishing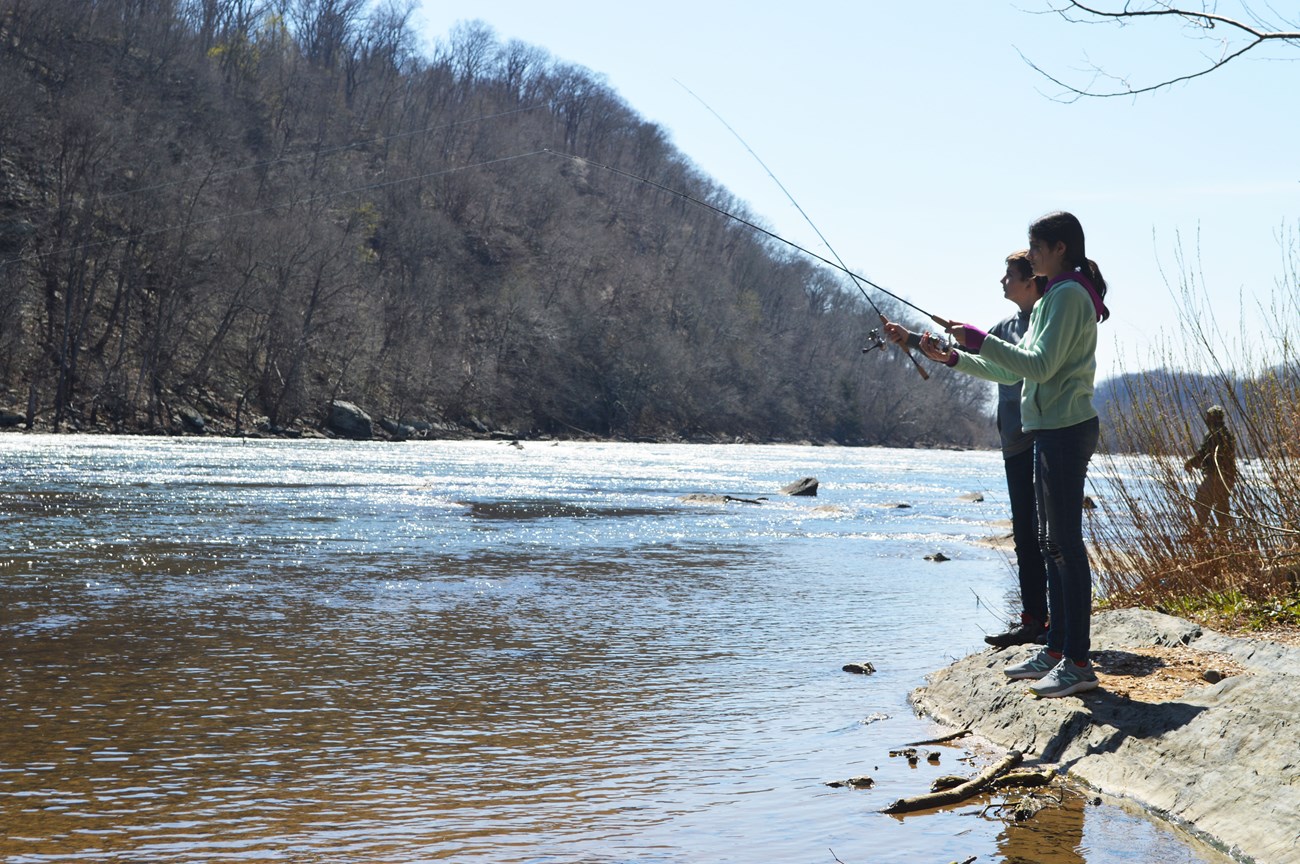 Do I need a fishing license to fish in the park?
Yes, unless you are:
Under the age of 15
A West Virginia resident who turned 65 years of age prior to 1/1/2012
Active duty military from West Virginia on leave with official furlough papers
Please visit the West Virginia Department of Natural Resources website for more information on fishing licenses and purchasing.
What types of fish are common?
Largemouth bass
Smallmouth bass
Channel catfish
Bluegill sunfish
Walleye
Where can I fish in the park?
The River Access area on the banks of the Shenandoah River provides a great location for fishing. You can access this area from the River Access parking lot at the junction of Shenandoah Street (alternate Highway 340) and Shoreline Drive. From here, use the pedestrian crosswalk across Shoreline Drive (use caution) and walk to the Shenandoah River banks. *NOTE: parking in the River Access lot is limited. We recommend arriving early in the day, especially on weekends.

Fishing from the Goodloe E. Byron Memorial Pedestrian Walkway is prohibited, per the Superintendent's Compendium.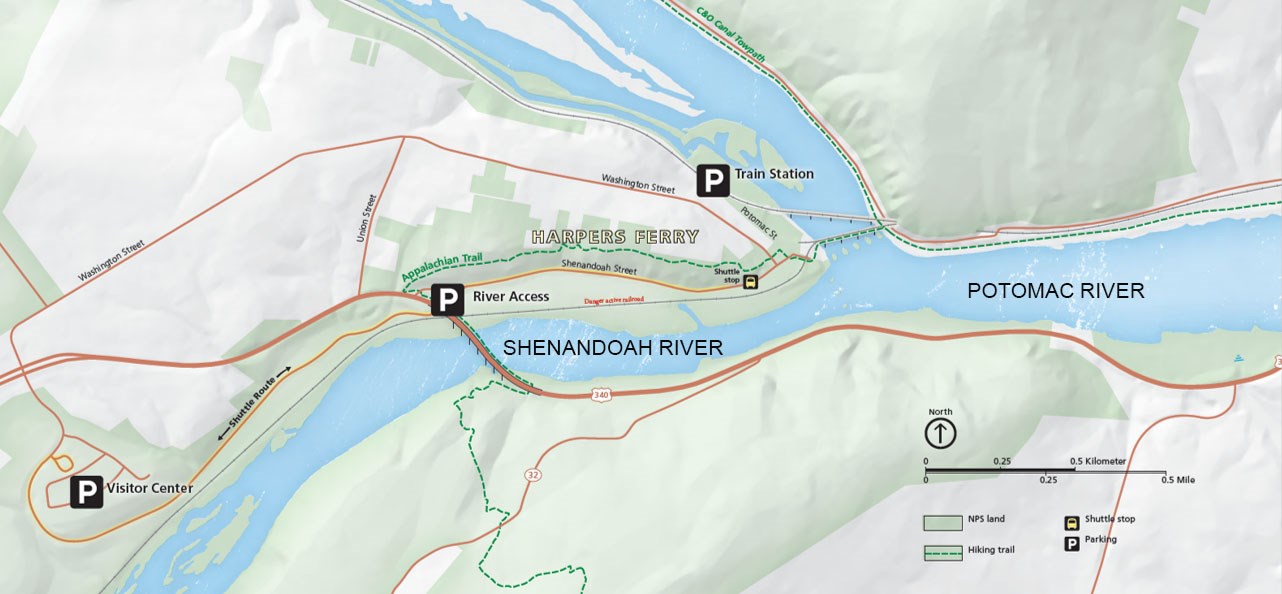 Image Alt Text: Map of the area around Harpers Ferry NHP's River Access, which includes the main Visitor Center parking lot off of Shoreline Drive (bottom left), the River Access parking lot at the junction of Shoreline Drive/Highway 340 and Shenandoah Street (slightly center left), and the Train Station parking lot in the historic Lower Town (center right). A black and white parking symbol indicates the River Access parking lot.
The map illustrates Harpers Ferry's Lower Town area, where a peninsula of land comes to a point where the Shenandoah River runs from left to right into the Potomac River, which moves from top center to the middle right on the map. Green dotted lines indicate the Appalachian Trail as it runs across the Shenandoah River through Lower Town and across the pedetstrian bridge over the Potomac River, where it intersects with the C&O Canal towpath. Brown solid lines indicate main roads: US Highway 340, Washington Street, Union Street, Shenandoah Street, and Potomac Street. A highlighted brown solid line indicates the shuttle route from the Visitor Center parking lot to the shuttle stop on Shenandoah Street in Lower Town.
A map legend on the bottom right indicates that land shaded in green is NPS land, green dotted line is hiking trail, a bus icon is a shuttle stop, and a P icon is parking. A map scale and north orientation is also indicated.
Last updated: June 14, 2022