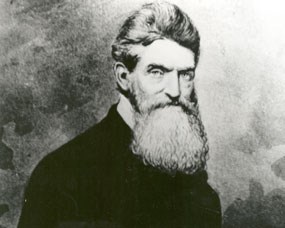 On October 16, 17, and 18, 1859, John Brown and his "Provisional Army of the United States" took possession of the United States Armory and Arsenal at Harpers Ferry. Brown had come to arm an uprising of slaves. Instead, the raid drew militia companies and federal troops from Maryland, Virginia, and the District of Columbia. On the morning of October 18, a storming party of 12 Marines broke down the door of the Armory's fire enginehouse, taking Brown and the remaining raiders captive. [View photos of John Brown's Fort]
Brown, charged for "conspiring with slaves to commit treason and murder," was tried, convicted, and hanged in Charles Town on December 2, 1859. Before the sentence was carried out, however, Brown issued a prophetic warning:
I wish to say furthermore, that you had better – all you people at the South – prepare yourselves for a settlement of that question that must come up for settlement sooner than you are prepared for it. The sooner you are prepared the better. You may dispose of me very easily; I am nearly disposed of now; but this question is still to be settled – this negro question I mean – the end of that is not yet.
Even as John Brown's Raid was unfolding, Harpers Ferry residents George and Mary Mauzy described the events of the raid in a series of emotional letters to their daughter and son-in-law, James and Eugenia Burton. [Read excerpts from the Mauzy letters]
John Brown's Raid remains part of the legacy of our nation's struggle with slavery. [View video clips of Stephen Oates discussing John Brown]