Current Conditions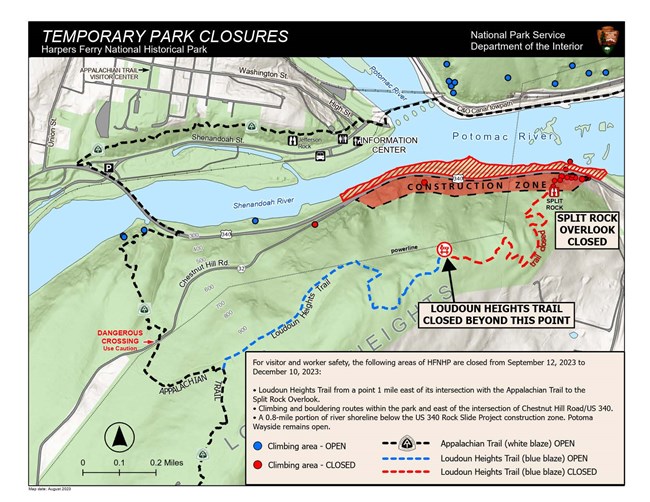 Current Park Conditions
For park, visitor center, and trail operating hours, please see Basic Information or Operating Hours and Seasons.

For park shuttle bus operating hours, please see Getting Around or Operating Hours and Seasons.
US 340 Rockslide Stabilization Impacts
UPDATE: As of 11/30/23, US 340 has been reopened, and all recreational closures caused by the closure are lifted. Loudoun Heights Trail, the shoreline, and climbing in West Virginia are reopened.

Beginning September 12, 2023, rockslide stabilization work along US 340 will require closure of certain recreational opportunities for visitor and worker safety. This closure is expected to last for 90 days.

Loudoun Heights Trail will be closed from a point one mile east of its intersection with the Appalachian National Scenic Trail to Split Rock Overlook. Climbing and bouldering routes within in the park and east of the intersection of Chestnut Hill Road and US 340 will be closed. A 0.8 mile portion of river shoreline below the US 340 Rock Slide Project construction zone will also be closed. Potoma wayside will remain open.


Park Areas Currently Closed
Multiple areas are closed or altered due to conditions or maintenance.
Schoolhouse Ridge South trail partially closed - the southern loop of the Schoolhouse Ridge South trail is closed due to sinkholes.
The Lower Town Information Center is not currently staffed by rangers. However, maps and information are available at the "Place in Time" exhibit space.
Temporary closure of exhibit spaces - the following exhibit spaces are closed:

Black Voices/African American History
A. Burton Fine Watch Repair/Burton Jewelry Store
Civil War Museum
Harper House
Park Areas Currently Open
The Visitor Center, hiking trails, and parking lots are all currently open.
The following Lower Town exhibit spaces are currently open:

1862 Battle of Harpers Ferry
Allies for Freedom
A Place in Time
Boarding House
Confectionery
Dry Goods Store
Industry Museum
John Brown's Fort
John Brown Museum
Master Armorer's Quarters
Provost Marshal's Office
Meriwether Lewis at Harpers Ferry
Philip Frankel & Co./Ready-Made Clothing
Reading an Old Building - archeology exhibit
Storer College & the Niagara Movement
White Hall Tavern
Loading weather forecast...
Last updated: November 30, 2023