Schoolhouse Ridge South Trail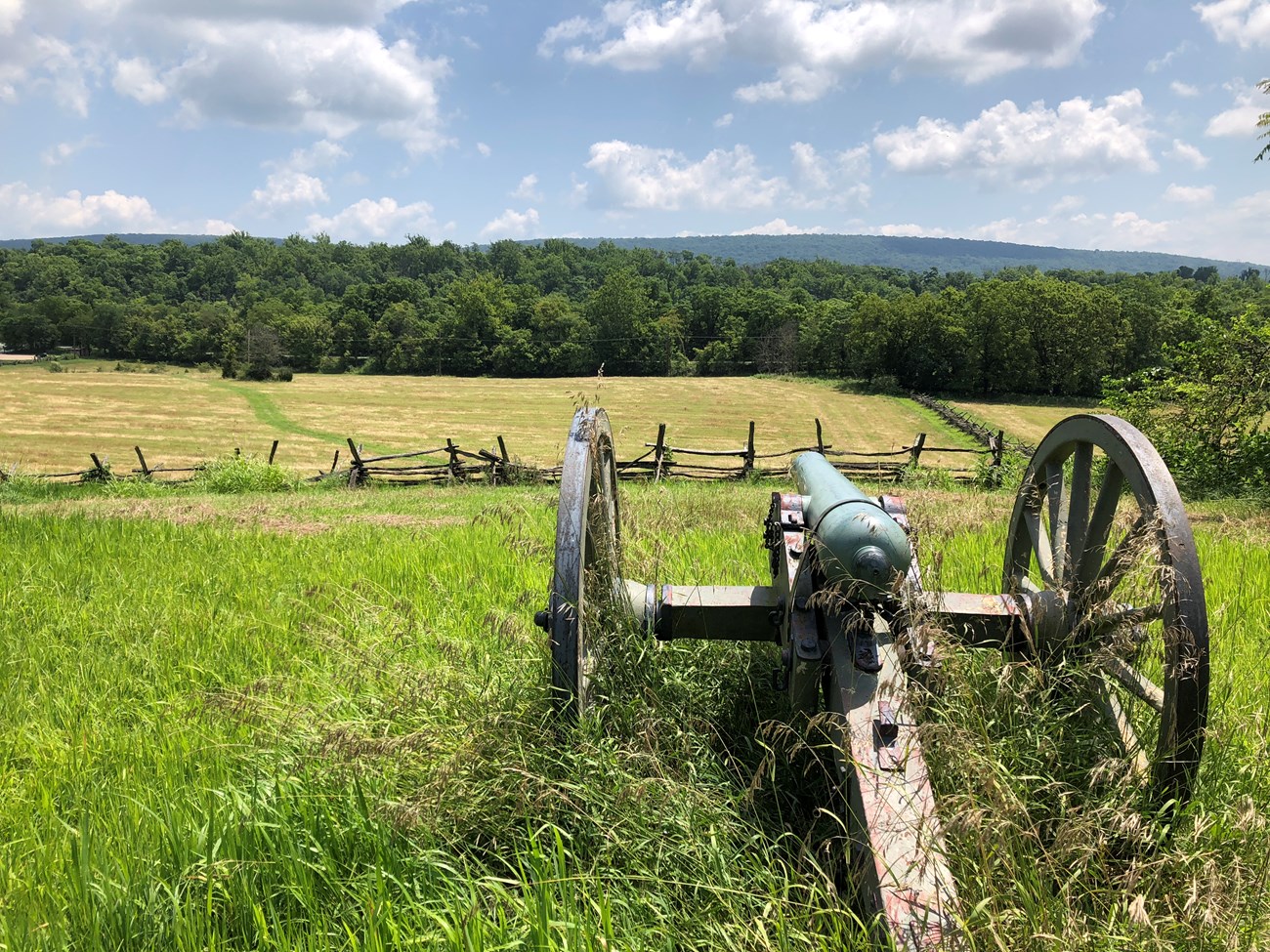 Allstadt Farm Trail: Moderate, 2.5 miles (4 km) round trip, 1.5 hours
Courtney's Battery Trail: Moderate, 1.2 miles (1.9 km) round trip, 30-40 min
Hikers see expansive views of Bolivar Heights, Maryland Heights, and Loudoun Heights all along this ridgeline. Experience farm fields, forest and glade views, ruins, Flowing Springs Run, and Civil War cannons.
Trail is open during daylight hours. Closed from sunset to sunrise.
Wayside exhibits.
Both trails can be accessed via the trail parking lot at 2083 Millville Road.

Please note: the southern loop of the Schoolhouse Ridge South trail is closed due to sinkholes.
The Allstadt Farm Trail to the left passes through fields, forest and along a stream. Hikers can start across the field, or take the farm lane straight up to the ruins of the 19th-century farmhouse and turn left to intersect the main trail. The trail eventually loops down to Flowing Springs Run, and then climbs back up to the top of the ridge. From the overlook on the far end of the ridge South Mountain fills in the gap between Maryland and Loudoun heights.
The shorter, Courtney's Battery Trail to the right from the parking lot, leads to a battery of cannon and another view of the surrounding heights illustrating Confederate tactics in 1862.

Drinking Water is not available.
Restrooms (pit toilets) are available at the trailhead. Do not dispose of any items, including diapers, pet waste, and feminine hygiene products in the pit toilets, as they will cause damage to the equipment.
Last updated: November 22, 2022