Frequently Asked Questions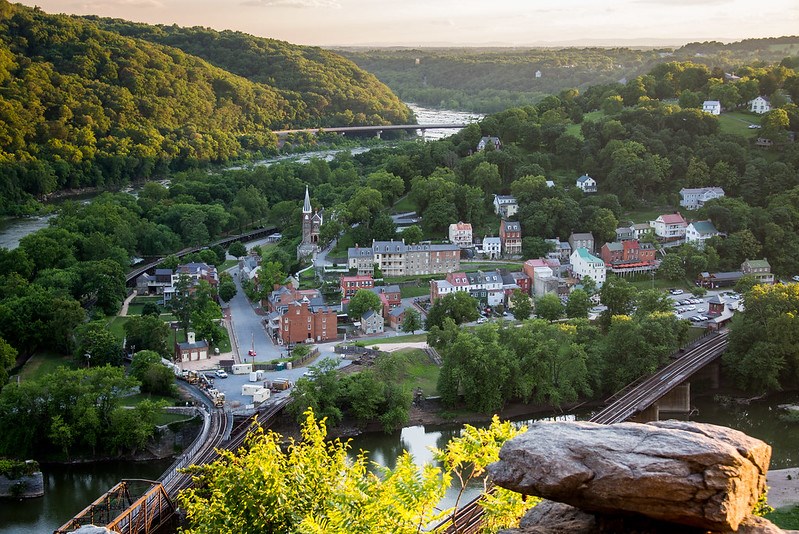 Here are some of the most frequently asked questions by visitors who are visiting or plan to visit the park. They are divided into three sections: During Your Visit, General, and Historical. If you have specific questions regarding your visit to Harpers Ferry National Historical Park, please contact us.
During Your Visit
Harpers Ferry National Historical Park is open daily from 9 a.m. to- 5 p.m. (with extended hours in the summer – 9 a.m. to 6 p.m.), year-round except for Thanksgiving Day, December 25, and January 1. 
To get the most out of your trip to Harpers Ferry National Historical Park, begin at the park's Visitor Center, located at 171 Shoreline Dr. Harpers Ferry, WV 25425. The Visitor Center is open daily from 9 a.m.to 5 p.m. (9 a.m. to 6 p.m. for extended summer hours) and has all you need to start your visit.
Fees are payable at the Entrance Station near the park's Visitor Center, Bolivar Heights, Maryland Heights, Harpers Ferry Train Station, and River Access Parking Lot. You can also purchase a park pass online.

Entrance passes are valid for three consecutive days, beginning on the date of purchase, and are required in all park areas.

Vehicle - $20.00 For a single, private vehicle. Excludes group tours and 7+ passenger vans. Motorcycle - $15.00
Per Person - $10.00 Persons arriving on foot or on bicycle are required to pay the per-person fee.

The park entrance fee provides revenue for Harpers Ferry National Historical to complete much-needed projects to improve the overall visitor experience:
Repair, maintain, and enhance park facilities for visitor enjoyment, safety, and improved access
Restore habitat for wildlife
Preservation of historic structures
Thank you for supporting your park!
There is hassle-free parking located just inside the main entrance of the park (171 Shoreline Drive, Harpers Ferry, WV 25425) adjacent to the Visitor Center and shuttle bus stop. This is the most convenient place to park if you wish to access Lower Town or the Maryland Heights Trail. Metered street parking and park-owned parking in Lower Town is extremely limited. Find more information on our Parking page.
Harpers Ferry NHP has a free shuttle bus service that is available at no additional cost. The service begins at 9 a.m. daily, but evening hours vary by season. Please call ahead or check on the day of your visit at the visitor center to verify shuttle bus hours. The shuttle bus goes between the Visitor Center and Lower Town, where you can access museums, exhibits, and trails, including Maryland Heights, Loudoun Heights, the Appalachian Trail, and the C&O Canal towpath. The approximate wait time for a shuttle bus is 10 to 15 minutes.
You may drive through Lower Town, but please be aware that many streets are narrow and difficult to navigate with vehicles larger than a family-size passenger vehicle. Metered street parking is very limited and monitored by the town of Harpers Ferry.
Park parking in Lower Town is also extremely limited. We recommend that visitors who plan to explore museums and exhibits or are hiking a trail that begins in Lower Town utilize the main parking lot and shuttle bus (171 Shoreline Drive, Harpers Ferry, WV 25425). Doing so reduces vehicle congestion and noise in Lower Town and provides for pedestrian safety and a better experience for all visitors.
For more information, please visit our Parking page.
Restrooms are in several locations throughout the park:
Visitor Center (171 Shoreline Drive, Harpers Ferry, WV 25425)
Lower Town:

Shenandoah Street, under the large orange sign labeled "Bakery"

Train Station on Potomac Street

Schoolhouse Ridge North (874 Bakerton Road, Harpers Ferry, WV 25425)

Schoolhouse Ridge South (2083 Millville Road, Harpers Ferry, WV 25425)
There are plenty of activities for all ages and abilities to enjoy the park. The park has over 20 miles of hiking trails, five Civil War battlefields, and over 15 historical exhibits. There are ranger and volunteer-led programs throughout the park. 
Privately guided tours are available through our non-profit partner, the Harpers Ferry Park Association. Visit www.harpersferryhistory.org or stop into the Bookshop in Lower Town for more information.
Adjacent to the Visitor Center parking lot (171 Shoreline Drive, Harpers Ferry, WV 25425) there are picnic tables for picnicking, though visitors must remember to follow the park's trash-free rules: please be prepared to dispose of your trash and recycling properly by carrying it out of the park when you leave. No fires of any kind are allowed in the park.The Lower Town area of Harpers Ferry is designated as a historic preservation area. Picnicking is not permitted.
Visitors are welcome to bring their furry companions to the park, as long as park pet guidelines are followed:
Leash your pet. Pets must always be kept on a six-foot leash while visiting any area of the park.
Plan Your day. Pets are not allowed in park buildings or on the shuttle bus. Pets also may not be left unattended while their owners explore the park. When planning your visit, please determine what activities you plan to enjoy before deciding to bring your pet.
Dispose of pet waste. All pet waste must be removed from the park. If you are visiting with your pet, please remember to bring plastic bags and determine how you will transport waste from the park. Pet waste may not be left on the ground or disposed of in the park.
Practice good behavior. Harpers Ferry is a popular destination. Visiting pets should be accustomed to crowds and capable of good behavior in the presence of other pets and wildlife. Unreasonable amounts of noise and harassment of wildlife are not permitted in the park. Digging, clawing, and other destruction of natural and historical resources are also strictly prohibited.
Harpers Ferry NHP is a trash-free park. There are no trash or recycling cans within the park. Please be prepared to dispose of your trash and recycling properly by carrying it out of the park when you leave. For more information, visit https://www.nps.gov/hafe/planyourvisit/trashfreepark.htm.
Harpers Ferry is a park consisting of historic buildings, Civil War battlefields, hiking trails, and much more. Within this complex park there is something for everyone to connect with and enjoy. Please be aware that due to the uniqueness of the park - its historic setting - not all areas and buildings are accessible. For more specific information, please visit our Accessibility page.
You may access the Shenandoah River with your personal watercraft from the River Access Parking Lot, located at the junction of Highway 340 and Shenandoah Street.  The access point is located under the Highway 340 bridge, about 200 yards from the parking area. The River Access Parking Lot has limited space and is often full, so we recommend arriving early.
Many times during the year, the rivers appear calm and peaceful. This is deceptive: deep holes, cold water temperatures, unexpected changes in depth, and swift undercurrents make them treacherous at any time of the year. Be prepared prior to your visit, and we highly recommend that you always wear your Coast Guard-approved life jacket (requred to have on board).
We strongly discourage swimming in the Shenandoah and Potomac rivers. There is a very real risk of drowning due to sinkholes, strainers, and river rapids. No lifeguards are present. There are also harmful hazards in the water, some of which date as far back as the 19th century: broken glass, rusty nails, sharp metal pieces, etc. Finally, no visitors in wet clothing are permitted on the park shuttle buses.
General
The town of Harpers Ferry is in West Virginia. However, Harpers Ferry National Historical Park consists of land in West Virginia, Virginia, and Maryland. The administrative offices are located in Harpers Ferry, West Virginia.  
A national historical park often honors more than one historic theme, event, or location and usually protect areas of greater physical extent and complexity than a national historic site. A national historic site just honors one historic theme, event, or location.  
Harpers Ferry National Monument was created on June 30, 1944. An Act of Congress changed the name from monument to national historical park on May 29, 1963. 
Historical
Interpretation at Harpers Ferry focuses on six themes: John Brown's Raid, the Civil War, African American History, Industry, Transportation, and Natural Heritage. The park is known for being the site of John Brown's Raid in October of 1859. While in the park, visitors can learn about the events that led up to the raid and how it affected a nation that was on the brink of Civil War, as well as what the nation was like at the time. Visitors can also learn about Meriwether Lewis and his time in Harpers Ferry, the founding and history of Storer College, the Niagara Movement, and the history of industry in the pre-Civil War United States.
The town's name originates from its founder, Robert Harper, and the ferry crossing he maintained across the Potomac River.
Painted between 1903 and 1906, the sign reads, "Mennen's Borated Talcum Toilet Powder." 
Until 1863, West Virginia was a part of Virginia. West Virginia joined the Union as a new, separate state on June 20, 1863.  

Last updated: February 2, 2022