Visiting the South Rim in an RV or Pulling a Trailer

Due to the coronavirus pandemic, public health measures are in place including capacity limits, temporary closures, and modified operations. Visit this webpage (updated daily) for the current list of what is open, and the hours of operation.
Finding RV parking in the South Rim Village
Planning to stay overnight? Campground and RV Campgound information is here >

Parking is at a premium on the South Rim when it's busy, especially for RVs over 22 feet and for vehicles with trailers, which have limited parking options.

Grand Canyon National Park does not charge parking fees. There are no pay lots.
Arrive Before 9:30 am - Driving into the Village Developed Area
To find a good RV parking spot, arrive on the South Rim early – before 9:30 am

Use the map below to find one of the 3 RV parking lots shown in the map below.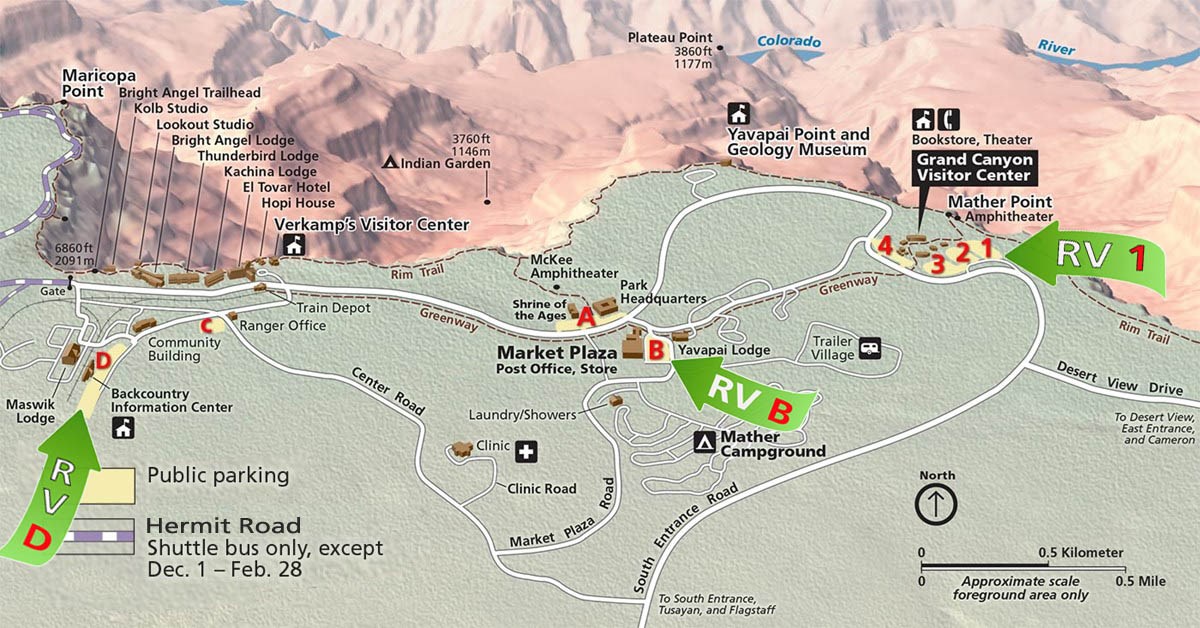 RV Parking in Lot 1 (Grand Canyon Visitor Center) – generally fills by 10:00 am

RV Parking in Lot B (Market Plaza) – generally fills by noon.

RV Parking in Lot D (Backcountry Information Center in Village) – generally fills by 2:00 pm
From the RV parking lots, you can take a free shuttle bus out to spectacular scenic views, or ride a shuttle around the South Rim Village.
There is no RV parking in these lots:
Please Do NOT park in lots 2, 3 or 4 or in lots A and C

Please Do NOT pull across multiple regular parking spaces
Parking Your RV at Visitor Center Lot 1
From Lot 1, it is a short walk to the Visitor Center and canyon views at Mather Point.
If you don't have a lot of time, and just want to see the canyon, take the short 5 minute walk (0.3 miles/ 0.48 km), to nearby Mather Point. Because it is close to the Visitor Center and parking lots, Mather Point is a busy scenic overlook.
The Visitor Center has an information desk staffed by park rangers. Trip planning and hiking information is also available through signs and exhibits outside of the building. The Visitor Center Plaza also has the Park Store offering a wide variety of books, maps, souvenirs, and gifts, a Passport Stamp Station and Junior Ranger Books/Badges. Bicycle rentals, a coffee bar, and grab-and-go food items are available from Bright Angel Bicycles
From the Visitor Center shuttle bus terminal, it is possible to ride the Village (Blue) Route around the entire village that connects the Visitor Center to lodges, campgrounds, parking lots, the Backcountry Information Center, and Market Plaza (store, 24 hour ATM, U.S. Post Office and Yavapai Lodge). Scroll down for shuttle route map.
From the shuttle bus terminal, you can also ride the Kaibab (Orange) Route shuttle bus to Yavapai Geology Museum, the South Kaibab Trailhead and Yaki Point. You can return to the Visitor Center on the shuttle, or return by walking along the Canyon Rim Trail. Scroll down for shuttle route map.



(Note: there is no parking for private vehicles at the South Kaibab Trailhead or at Yaki Point. The only motorized access is by park shuttle bus).
Parking Your RV in Village Lot B - Market Plaza
Parking Your RV in Village Lot D
Lot D is located on the west side of the village, near Maswik Lodge and the Backcountry Information Center. There are Village (Blue) Route shuttle bus stops at both Maswik Lodge, and the Backcountry Information Center. From these stops, the buses head eastbound towards the campgounds, Market Plaza, and the Visitor Center Plaza. Scroll down for shuttle route map.
From Lot D, it is a 0.4 mile/.65 km, walk to the Hermit Road Transfer Station, where you can ride the Hermit Road (Red) Route shuttle and see spectacular scenic views along the 7.5 mile Hermit Road. Between March 1 and November 30, the shuttle provides the only free motorized access to Hermit Road.

During December, January and February, the shuttle is not in service, and Hermit Road is open to private vehicles.
For those wanting to hike Bright Angel Trail, the trailhead is just up the hill from the Hermit Road Transfer Station, (towards all the buildings).
Winter 2022/2023 — South Rim Shuttle Bus Route Map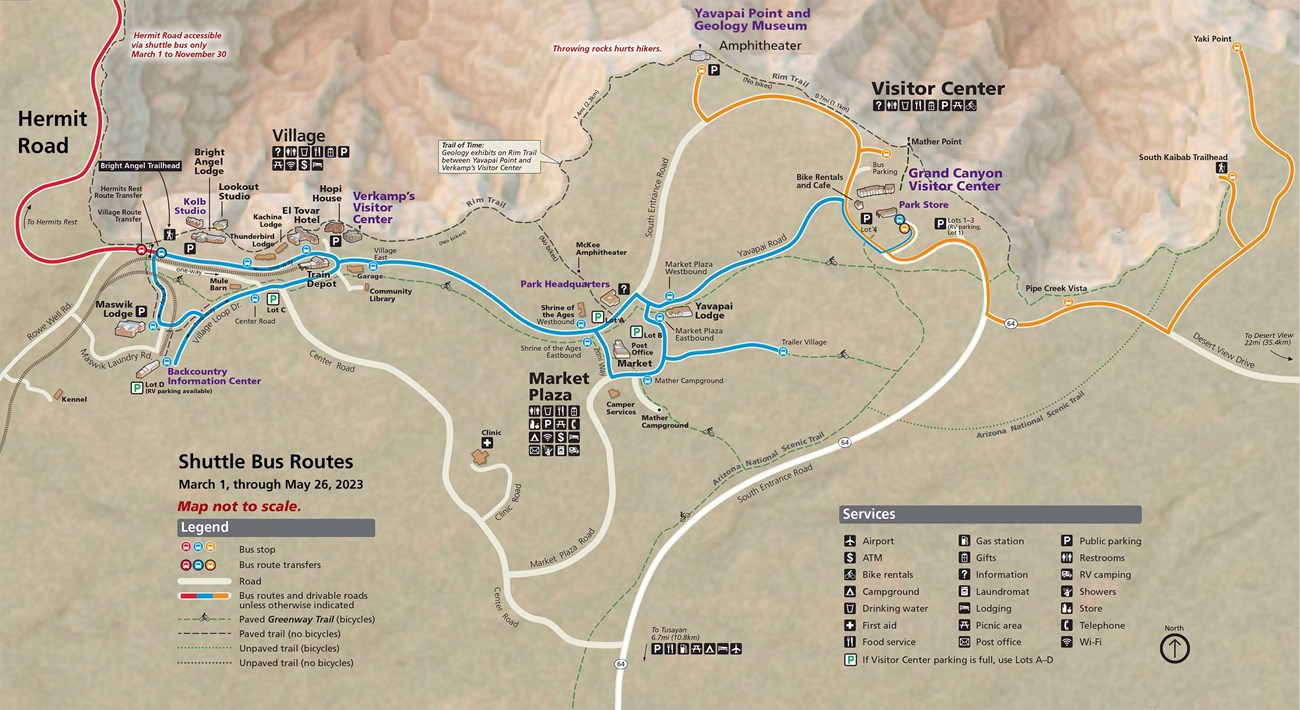 Tusayan Shuttle
- CLOSED - 2022 Season is OVER
The Tusayan (Purple) Route is scheduled to provide free shuttle bus service between the gateway community of Tusayan and the South Rim Visitor Center, between Memorial Day Weekend and Labor Day Weekend, 2023.

Schedule: After making four stops in Tusayan, the bus travels 6.8 miles/11 km to the South Rim Visitor Center. The buses run every 20 minutes between 8 am and 9:30 pm. A round trip takes 40 minutes.

During summer months, RV visitors arriving midday will find parking in Tusayan, then riding the shuttle into the park a better option —than entering the park and driving around looking for a parking spot, (especially during the busy time of day: between 9:30 am and 5 pm).

You must have valid park entrance pass to board the shuttle bus. Passes may be purchased online in advance, or from one of the locations within the town of Tusayan. Bus stops at the IMAX Theater and the Grand Hotel in Tusayan have vending machines where you may purchase an entrance pass with your charge card.
Last updated: December 2, 2022