Visiting the South Rim in an RV or Pulling a Trailer

The South Rim is a popular place that receives 6 million visitors each year. Spring break, summer and holidays during the fall and winter are busiest.
The page is about finding RV parking on the South Rim.
Campground and Trailer Park information is here.
Parking is at a premium on the South Rim when it's busy, especially for
RVs over 22 feet
and
vehicles with trailers
, which have limited parking options. Here are some tips to help:
Park in the gateway community of Tusayan and ride free shuttles into the park:
The Tusayan Shuttle (Purple Route) operates every day from 8:00 am to 9:30 pm ( March 1 – Sept 30 )
After making four stops in Tusayan, it returns to the Grand Canyon Visitor Center, where you can transfer to the in-park shuttle system, and access scenic overlooks, park trails, and the historic village.

RV parking is located near IMAX, RP's Stage Stop and the Park & Ride lot on north end of town (near second roundabout)
The closest bus stop to the Park & Ride lot is in front of IMAX (#1)
You must have valid park entrance pass to board the shuttle bus.

Alert: Begining this morning, digital pass options are not available - until further notice. Please do not attempt to purchase. (3/18/2020)


You can buy a pass online from Recreation.gov. You will have immediate access to your digital pass and can easily download it on your phone or tablet. Your pass will also be emailed as a PDF and can be printed out for display when you arrive.

More about pass options and Buying your Pass Online.
An online pass will admit everyone traveling with you in your RV.
Passes may also be purchased in the gateway town of Tusayan at IMAX Theater, Canyon Plaza Resort, Red Feather Lodge and RP's Stage Stop
If you choose to drive into the park:
To find a good parking spot, arrive on the South Rim early – by 9:00 am
Use the map below to find one of the 3 RV parking lots shown in the map below.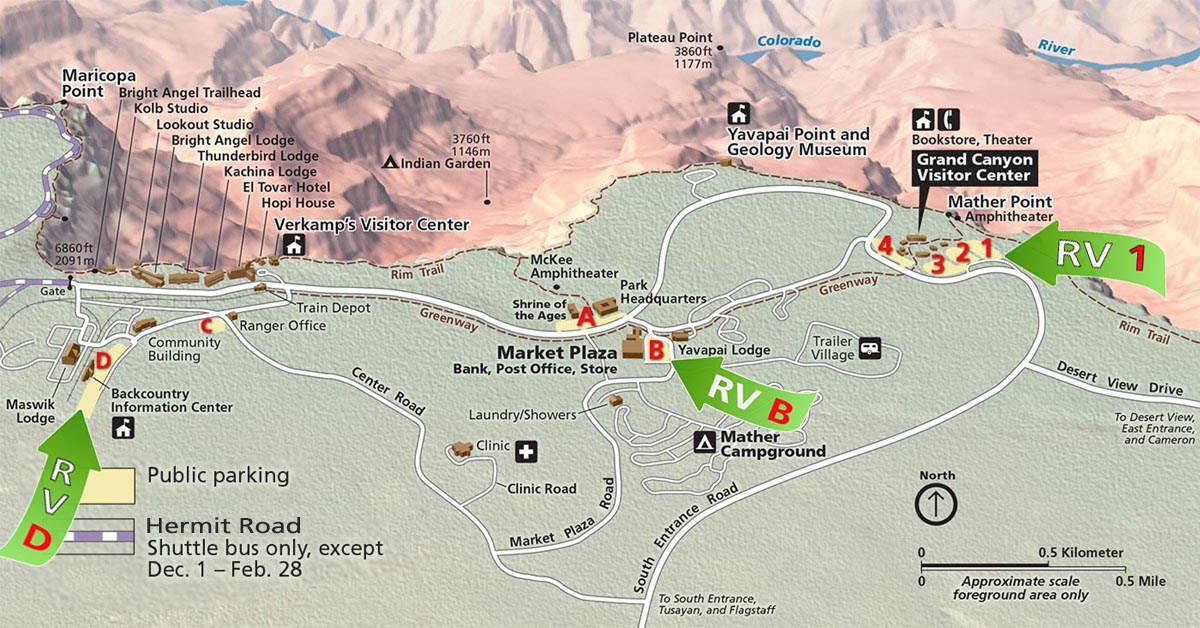 RV Parking in Lot 1 (Grand Canyon Visitor Center) – generally fills by 10:00 am
RV Parking in Lot B (Market Plaza) – generally fills by noon; walk across the street to Park Headquarters to get park information
RV Parking in Lot D (Backcountry Office in Village) – generally fills by 2:00 pm
Park once and take a shuttle bus, ride a bike along the Greenway Trail, or hike along the Rim Trail
Easily accessible shuttle bus stops are located in or near all parking lots
There is no RV parking in these lots:
Do NOT park in lots 2, 3 or 4 or in lots A and C

Do NOT pull across multiple regular parking spaces
Download or refer to you paper copy of the South Rim Pocket Map and Services Guide, which contains a map of the bus stops, parking areas, and trails with distances.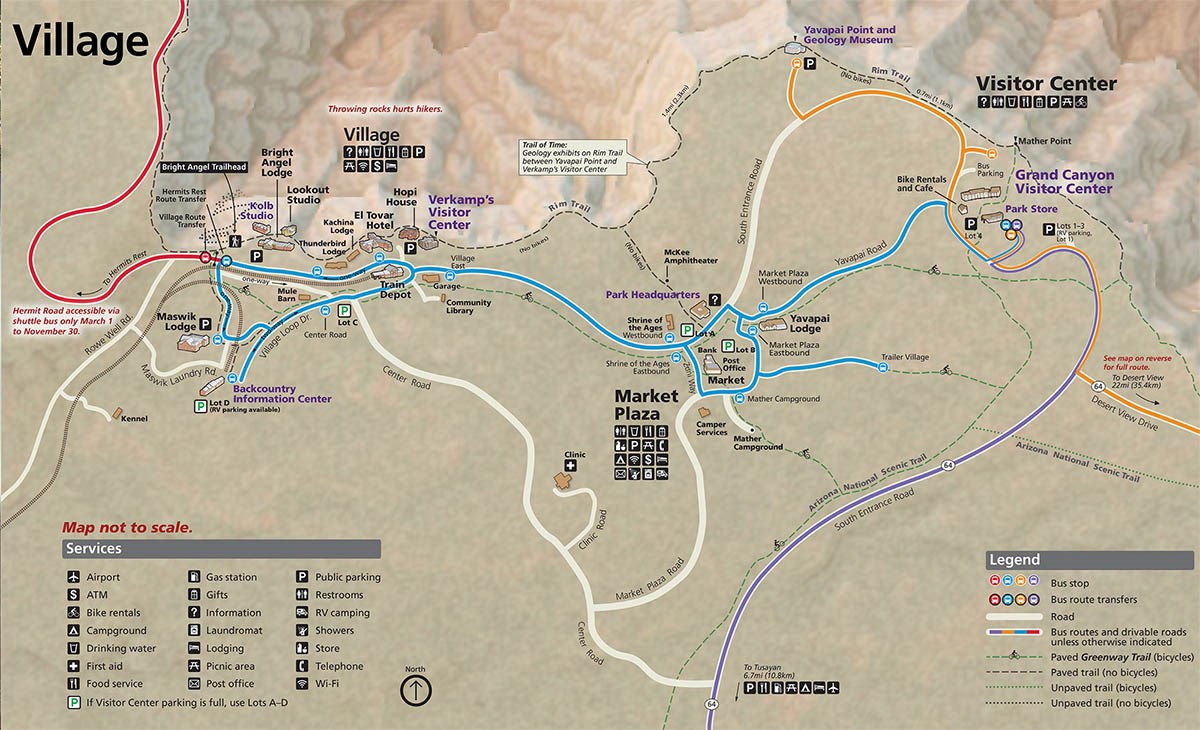 Last updated: March 18, 2020