Hermit Road Shuttle Bus Route
Hermit Road (Red Route)



Out of Service until March 1, 2020
(Hermit Road is open to private vehicles between December 1, 2019 and February 29, 2020)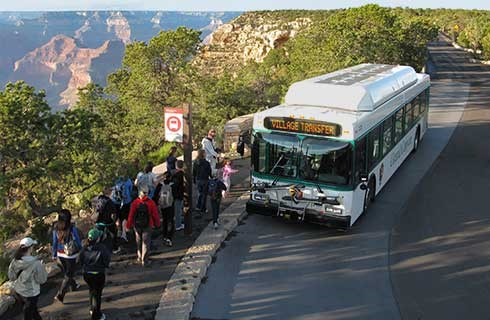 80 Minutes Round-trip (without getting off the bus)
Fall 2019 Bus Schedule
Outbound buses stop at nine overlooks
Return trip buses stop only at 4 stops:
Hermits Rest, Pima, Mohave, and Powell Points

September 8, through November 30, 2019
Every 30 minutes 5–6:30 am
Every 15 minutes: 6:30 am to 30 minutes after sunset
Last bus: 30 minutes after sunset

The last outbound bus leaves the Village transfer station 10 minutes before sunset.

The last return bus leaves Hermits Rest one hour after sunset. View sunset times.
The last return bus stops at all Hermit Road bus stops on the way back to the village.
Hopi Point > has toilets
Hermits Rest > has water, snack bar, toilets, and gift shop
(Hermit Road (Red Route) is not in service during December, January and February. During these months, Hermit Road is open to private vehicles.)
This route provides transportation between Grand Canyon Village and Hermits Rest with stops at nine scenic overlooks. The Hermits Rest Route provides excellent walking opportunities via the Rim and Greenway trails and cycling opportunities along Hermit Road. Mohave and Pima points are great places to view the sunset.

Points of Interest
Canyon Rim Trail
Greenway Trail
Trailview Overlook
Powell Memorial
Mohave Point
The Abyss
Pima Point
Hermits Rest
Hermit Trail
Points of interest are also shown below on the left-hand side of the South Rim Pocket Map. When you enter the park, you will receive a paper copy of this map.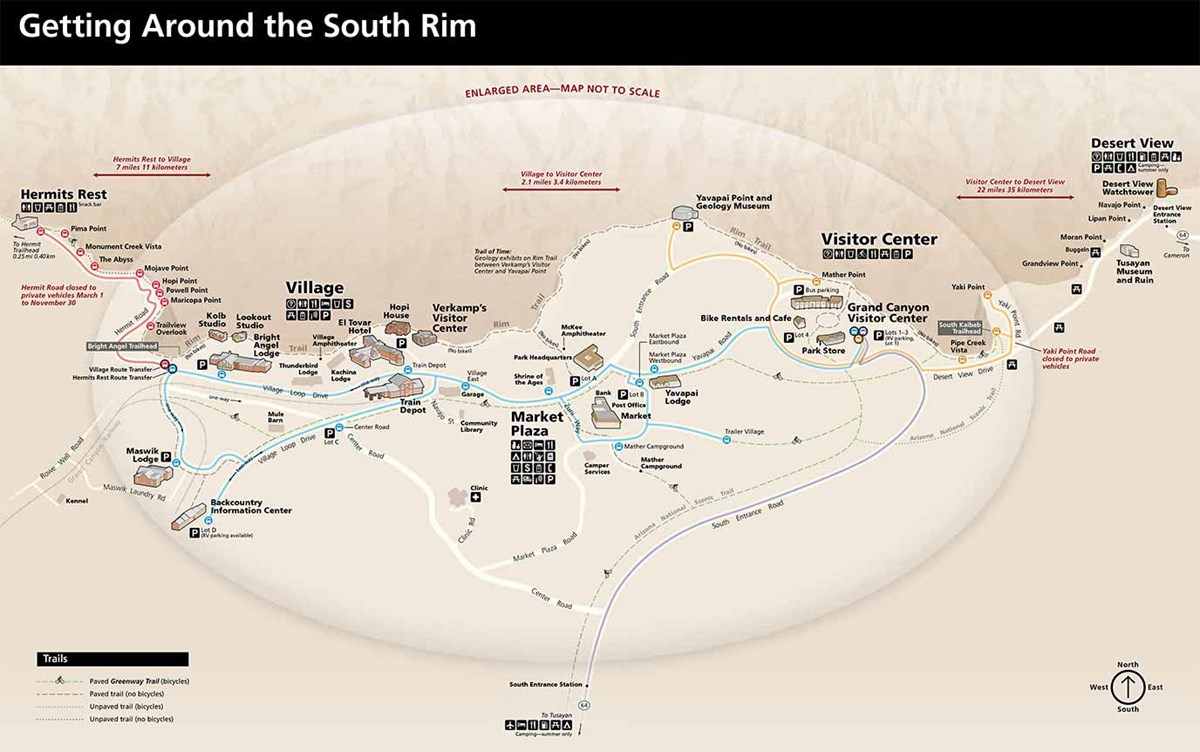 Possible Itineraries Along This Route:
Panoramic Views and River History
Walk or ride the Village Route bus to the Village Route Transfer, get on a Hermits Rest Route bus, ride to Mohave Point and walk east along the unpaved Rim Trail taking in spectacular canyon views to Powell Point (1.1 mi/1.8 km). You can continue walking east past Powell along the paved Rim Trail back to the Village (another 1.9 mi/3.1 km) or get on a shuttle bus at Powell - westbound buses (toward Hermits Rest) or eastbound buses (toward Grand Canyon Village).
Panoramic River Views Along with a Quiet Forest Walk
Walk or ride the Village Route bus to the Village Route Transfer, get on a Hermits Rest Route bus, ride to Monument Creek Vista and walk west along the paved Greenway Trail taking in spectacular canyon views to Pima Point (1.7 mi/2.7 km) or Hermits Rest (2.8 mi/4.5 km). The Greenway Trail is fully accessible from Monument Creek Vista to Pima Point. Westbound buses (toward Hermits Rest) will pick you up at each bus stop; eastbound buses (toward Grand Canyon Village) only stop at Pima.
During the busy seasons, the line can be long at the Village Route Transfer – you may have to wait two to three buses.

If you don't care to wait in line and are up for a short, but strenuous hike, walk 0.7 mi/1.1 km to Trailview Overlook, where you can board one of the shuttle buses or keep hiking out toward Hermits Rest.

West of Trailview Overlook, the Rim Trail levels out and offers easy to moderate hiking for an additional 7.1 miles (11.4 km).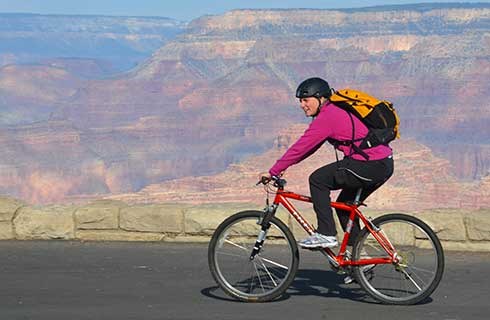 Beautiful Views and a Glorious Ride
If you are more interested in cycling than walking, ride your bicycle (use your own or rent one from
Bright Angel Bicycles
near the Grand Canyon Visitor Center) out along Hermit Road and the Greenway Trail to Hermits Rest (one-way is 8.0 mi/12.9 km).
You will get some great views of the canyon while feeling the wind on your face.

There are some steep sections along this route, so be prepared for an arduous ride. If you tire and do not want to continue further, get on one of the shuttle buses at a designated bus stop along Hermit Road - you can load your bike on a shuttle bus and take it back to the Village. When riding on Hermit Road, you must find a safe place to pull to the right shoulder and dismount when a shuttle bus passes.
When walking or cycling at the Grand Canyon, make sure to take your time and carry food and water with you. The South Rim of Grand Canyon averages 7,000 feet / 2,134 meters above sea level. Visitors with respiratory or heart problems may experience difficulties. Exercising at this elevation can be strenuous.
Inclement Weather Operations on Hermit Road
During summer thunderstorms, or other inclement weather, shuttle bus service will be suspended on Hermit Road.
Visitors will not be transported via shuttle bus from the Village Route Transfer Station, westward to viewpoints along Hermit Road.
However, shuttle bus drivers along this route will do all they can to either shuttle visitors along Hermit Road east to the Transfer or become standing shelters out along the route.
When service is suspended due to inclement weather, shuttle buses with additional capacity will stop anywhere along the Hermit Road it is safe to do so, and pick up visitors.
More detailed information about Lightning Danger.
Last updated: December 2, 2019