Place
Backcountry Information Center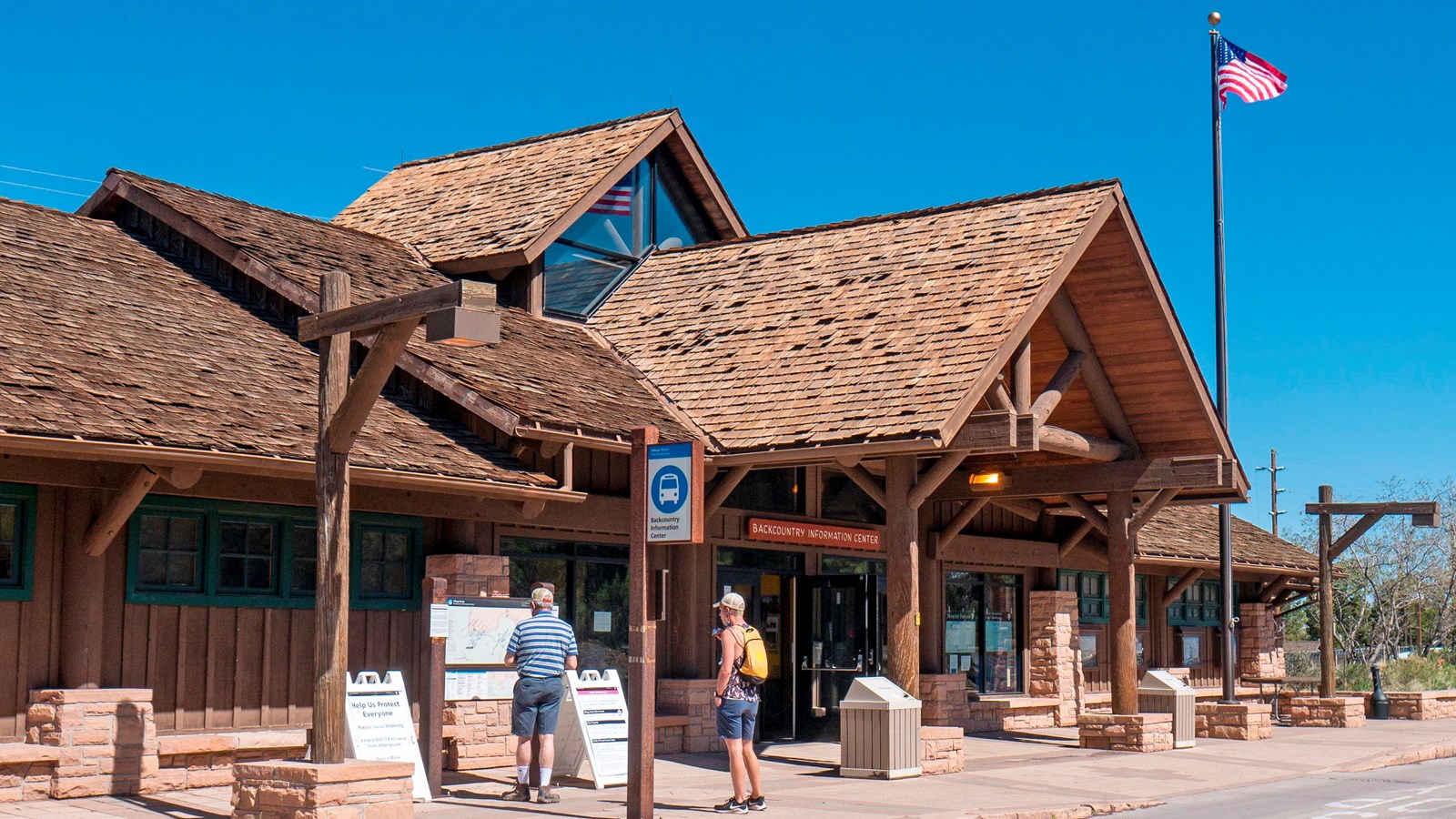 Location:
Grand Canyon Village
Audio Description, Automated External Defibrillator (AED), Benches/Seating, Bicycle - Rack, Bus/Shuttle Stop, Fire Extinguisher, First Aid Kit Available, First Aid/Medical Care Available, Historical/Interpretive Information/Exhibits, Information, Information - Maps Available, Information - Ranger/Staff Member Present, Information Kiosk/Bulletin Board, Parking - Auto, Parking - Bus/RV, Permits Issued, Picnic Shelter/Pavilion, Picnic Table, Recycling, Restroom, Restroom - Accessible, Tactile Exhibit, Toilet - Flush, Trash/Litter Receptacles, Water - Bottle-Filling Station, Water - Drinking/Potable, Wheelchair Accessible
The Backcountry Information Center is open daily from 8 am - 12 pm and 1 pm - 5 pm, and provides information, permits, and trip planning assistance for those looking to explore Grand Canyon on day and overnight hikes. Face masks are required to enter the building. 

Day hikes do not require permits of any kind, but any overnight trip within the backcountry (below the rim or above) WILL require a permit. You can get further information and try for a "day-of" permit in person at the Backcountry Information Center.

South Rim Backcountry Information Center staff are happy to be interacting with visitors in person and helping them plan for a safe backcountry experience. 

To get a last minute, in-person permit for a corridor campsite, wait times are typically 2-3 days after arriving in the park  Be aware most remote backcountry sites are already at capacity. You can check with the Backcountry Information Center for last minute availability via email or phone.
Hours of Operation / Contact
Open Daily: 8 am - 12 pm and 1 pm - 5 pm (closed 12 pm - 1:00 pm)

Email: grca_bic@nps.gov

Phone: For information inquiries, you can call: 928-638-7875 between 8 am and 5 pm Monday through Friday, except on federal holidays. This telephone number is for information only, not for requesting a permit.

Fax: 928-638-2125
Mailing address:
Grand Canyon National Park
Permits Office
1824 S. Thompson St., Suite 201
Flagstaff AZ, 86001

Backcountry permits can also be requested and obtained in advance through the park's website > 
Parking
Parking Lot D, located at the Backcountry Information Center, accommodates cars, trucks, campers, and large RVs for day visits or extended parking for overnight hikers. It is a short walk to the edge of Grand Canyon, The Bright Angel Trailhead, and the Hermit Road (Red Route) shuttle stop. 
Hikers' Express Shuttle Bus Service
An early morning bus with service from Grand Canyon Village — to South Kaibab Trailhead
To ride the Hikers' Express Shuttle to the South Kaibab Trailhead, be at the Backcountry Information Center shuttle stop at:
6 am, 7 am, 8 am in April 
5 am, 6 am, 7 am, in May
4 am, 5 am, 6 am in June, July, August
5 am, 6 am, 7 am in September
6 am, 7 am, 8 am in October
7 am, 8 am, 9 am in November
8 am, 9 am in December, January, February
7 am, 8 am, 9 am in March
Village (Blue) Route - Summer Schedule
May 26, through September 9, 2023|
The Village Route connects the Backcountry Information Center with lodges, campgrounds, Market Plaza, and the Visitor Center Shuttle Bus Terminal.
50 minutes round trip (without getting off the bus)
First bus: 4 am
Every 30 minutes: 4 am to 6:30 am
Every 10-15 minutes: 6:30 am to 8:30 pm
Every 30 minutes: 8:30 to 10:30 pm
Last bus: 10:30 pm
Visitors dining in the village need to be at a bus stop no later than 10 pm
Backcountry Permits - Additional Information
Detailed information about backcountry permits and the application process may be found here >

On the North Rim, the Backcountry Information Office is located in the NPS administration building, and is open between May 15th and October 31st.
Last updated: July 23, 2023