Current Park Conditions
Alerts
Park Closure
Section A of the Billy Goat Trail is closed until further notice due to high river levels. Use caution on other trails as they may be wet or muddy.

Avoid towpath headed upstream b/w McMahons Mill (MM 88.1) & Burnside House (MM 89.5). Exit towpath at McMahons Mill onto Avis Mill Road, take a left on Dellinger Road, left onto Neck Road, left onto Spring Dell Road, back to towpath. Approx 3 mile detour.

You can still access the downstream towpath at Cushwa. Please follow a signed detour route using Fenton Ave, Route 68, and W. Potomac St. (US 11) for upstream towpath access. Due to construction, parking at the Cushwa Basin and Lock 44 may be limited.
more

The Paw Paw Tunnel and the downstream boardwalk are CLOSED until further notice. Detour routes available for hikers and bikers. Upstream portal of the tunnel is open for visitors. Check the park's project page for more information.
more

There is a towpath detour around the Lock 3 plaza located between 30th Street and Thomas Jefferson Street in Georgetown. Lock 3 plaza and surrounding area will be closed for the reconstruction and repairs of Locks 3 and 4.
more
Caution
Due to the construction zone of the 18-month long Conococheague Aqueduct restoration project, part of the parking lot is closed. Limited parking is available the Visitor Center and at Lock 44. The downstream towpath is open.
more

Date Posted: 11/1/2017

Bathrooms in Williamsport and Tonoloway (in Hancock) are closed until further notice to prevent pipes from freezing. All water pumps throughout the park are currently turned off for the winter.
Information
Construction is anticipated to begin in Dec 2017 and extend until spring 2019. Project work will focus on eight different areas between Little Falls and Swains Lock.
more

Construction will be onoging at Swain's Lock (Lock 21). A majority of the parking lot will be closed through July 2018. There will also be a local towpath detour in the area through March 2018.
more

The Williamsport Visitor Center will be closed for the winter season starting Nov. 23, 2017. It reopens Saturday, March 3, 2018. Stop by to borrow a bike, ask for information, become a Junior Ranger, or visit the historic Trolley Barn!
more
---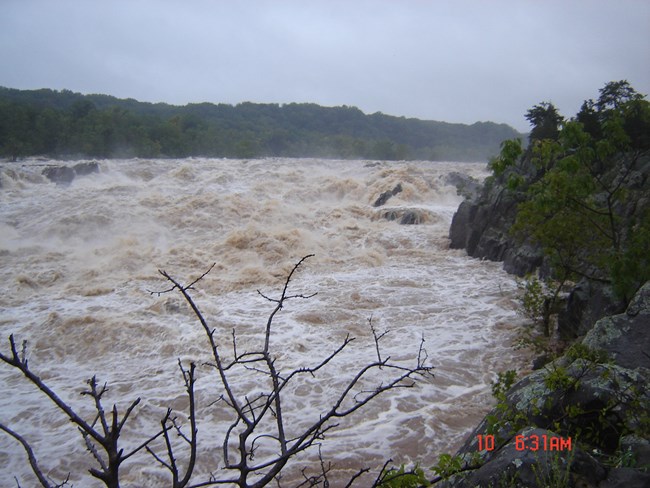 The Park monitors Potomac River levels to determine when portions of the towpath, hiking trails or parking areas might be affected by rising river levels. By visiting the National Oceanic and Atmospheric Administration - National Weather Service Advanced Hydrologic Prediction Service, you can see a timeline of expected river rises and crests to help plan your visit to the park.
Section A of the Billy Goat Trail often closes due to flooding. Under normal conditions, the trail is closed when the gauge at Little Falls reaches 5 feet and reopens when the gauge falls to 4.8 feet. However, under certain circumstances, the trail may be closed at lower levels. Please call the Great Falls Tavern Visitors Center at 301-767-3714 during regular business hours for the latest information on trail closures.
Last updated: October 3, 2017