Current Park Conditions
Towpath and Park Conditions

Milepost 1–25
Including Georgetown, Washington D.C.; Bethesda, MD; Potomac, MD; Seneca, MD
Towpath Closed 6/26/19, MP 0.57-0.59

Closed,

due to contract work on the 31st Street NW Bridge. Flaggers will be positioned at each end of the closure to direct visitors around the block, approx. 0.15 mile. Expected to reopen by end of day 6/26.

Georgetown Locks 3 and 4 (MP 1)

Towpath Open,

The newly sodded areas will continue to be fenced off to protect the grass until it reaches a mature state, which is anticipated in summer 2019. For more information

Billy Goat Trail (MP 9.9)

Open

, Section A

Open

, Section B

Open

, Section

Great Falls Tavern Area (MP 14)

Open

, Olmsted Island and Great Falls Overlook.

Open

,

Great Falls Tavern Visitor Center—

hours

Closed

, Mule-drawn boat rides. Boat rides resume in 2019. For more.
Milepost 25–50
Including Poolesville, MD; Whites Ferry, MD; Dickerson, MD; Point of Rocks, MD
Milepost 50–100
Including Brunswick, MD; Harpers Ferry, WV; Shepherdstown, WV; Downsville, MD; Williamsport, MD
Culvert 82 (MP 52.5)

Towpath Detour.

There is a short towpath detour around the washed out area - follow the signage off the towpath and onto a desginated pathway that leads to a temporary low-water* crossing across the creek. Get back onto a desginated pathway that leads back up to the towpath. Follow signage and dismount bikes before crossing.*During high water events, the crossing may be under water and unsafe to cross.
When high water occurs, please contact Shepherdstown Pedal and Paddle at 304-876-3000 or River and Trail Outfitters at 301-834-9950 to arrange for a shuttle around the detour. The Canal Towns Partnership, acting through C&O Canal Trust, also has a free daily shuttle until
July 4th
. See the C&O Canal Trust
website
for more information. The park is working on a long-term solution.
Towpath Below Dargan Bend Boat Ramp (MP 64)

Towpath Detour.

Due to a washout half a mile below the boat ramp. The pedestrian footbridge has been relocated 100 feet upstream from its original location along the towpath. Follow a designated pathway from the towpath, across the footbridge and stream, and back onto the towpath.

Big Slackwater: Dam #4 - Burnside Farm (Milepost 84.4 - MP 90.0)

Open,

be prepared for some rough and slick areas caused by frequent high water and river silt.

Boat Dock Open,

As of June 21st, the boat dock at Big Slackwater is installed and open for use.

Williamsport Area (MP 100)

Closed,

Conococheague Aqueduct towpath access, find a marked towpath detour upstream and downstream. Please follow the marked detour route. Work is expected to be completed summer of 2019. Learn more about the Conococheague Aqueduct project.

Open,

Williamsport Visitor Center. Learn about boat ride operations and operating seasons in Williamsport, Maryland.
Milepost 100–150
Including Big Pool, MD; Hancock, MD; Little Orleans, MD
Little Tonoloway Boat Ramp (MP 124.33)
Closed for repairs,

toilets
Milepost 150–184.5
Including Paw Paw, WV; Oldtown, MD; Cumberland, MD
Paw Paw Tunnel (MP 155.2)

Open. Phase 2 of construction began May 13, 2019. During construction, both portals of the tunnel will remain open and flaggers will be stationed to control traffic. Expect some delays. Construction is expected to be completed in July of 2019. Learn more about the Paw Paw Tunnel construction.

Spring Gap Recreational Area (MP 173.3)

Open,

recreation area

Open,

boat ramp

Open,

toilets
Drinking Water Conditions
Remote water faucets ON for the season. Please see below for individual faucet statuses.
Drinking water is available from mid-April to mid-November at Hiker/Biker and Drive-In Campsite locations, approximately every 5 to 7 miles. Water quality tests are performed frequently by park staff to ensure drinkable water.
As of 4/15, water is on for the season
. Please plan your trip accordingly.
On
Lock 5 (MM 5)
On
Lock 10 (MM 8.8)
Off Carderock Recreation Area (MM 10.5)
On
Marsden Tract (MM 11.5)
On
Anglers Access (MM12.2)
Off Swains Campground (MM 16.7)
Off Seneca Creek/Rileys (MM 22)
On
Horsepen Branch Campsite (MM 26)
On
Chisel Branch Campsite (MM 30.5)
On
Turtle Run Campsite (MM 34.4)
On
Marble Quarrry Campsite (MM 38.2)
On
Indian Flats (MM 42.4)
On
Calico Rocks Campsite (MM 47.7)
On
Bald Eagle Island Campsite (MM 50.3)
On
Lock 34 (MM 61.5)
Off Huckleberry Hill Campsite (MM 62.9)
On
Antietam Creek Campground (MM 69.6)
On
Killiansburg Cave Campsite (MM 75.4)
On
Horseshoe Bend Campsite (MM 79.7)
On
Big Woods Campsite (MM 82.4)
On
Opequon Junction Campsite (MM 90.8)
On
Cumberland Valley Campsite (MM 95.2)
On
Jordan Junction Campsite (MM 101.2)
On
Four Locks Picnic Area (MM 108.9)
On
North Mountain Campsite (MM 109.2)
On
McCoys Ferry (MM 110)
On
Licking Creek Campsite (MM 116)
Off Little Pool Campsite (MM 120.7)
On
White Rock Campsite (MM 126.5)
On
Leopards Mill (MM 129.9)
On
Cacapon Junction (MM 133.6)
On
Indigo Neck (MM 139)
On
Fifteen Mile Creek Campground (MM 140.9)
On
Devils Alley (MM 144.5)
On
Stickpile Hill Campsite (MM 149.3)
On
Sorrel Ridge Campsite (MM 154.1)
On
Arbaugh (MM 155)
On
Paw Paw (MM 156)
On
Purslane Run Campsite (MM 157.4)
On
Town Creek (MM 162)
On
Potomac Forks (MM 165)
On
Pigmans Ferry (MM 169)
On
Spring Gap (MM 173)
On
Irons Mountain Campsite (MM 175.4)
On
Evitts Creek Campsite (MM 180)
Water Levels in Lower Sections of the Canal
Due to construction projects, maintenance activities, and weather, water levels in the lower portions of the canal are likely to vary throughout the year. This can affect a variety of activities throughout these areas.

The park currently actively manages water levels within two main sections of the lower portions of the canal: between Lock 4 (MP 0.54) and Lock 5/Inlet Lock 1 (MP 5.02) and between Lock 20 (MP 14.3) and Lock 23/Inlet Lock 2 (22.12). The water levels are primarily managed through the opening and closing of paddle gates on inlet lock gates, which control water entering the canal from the Potomac River, and waste weirs, which help establish the water level in the canal by draining excess water back into the river.

Open* is when the inlet lock paddle gates are open, allowing water to flow into the canal. When open, it can be assumed the water level can support boating in the canal. Closed* is when the inlet lock paddle gates are closed, blocking off water flow from entering into the canal. When closed, it can be assumed the water level will not support boating in the canal. *Water levels can change unexpectedly.

Current Status Locks 4-5: Closed
Current Status Locks 20-23: Locks 22-23 - Open. All others - Closed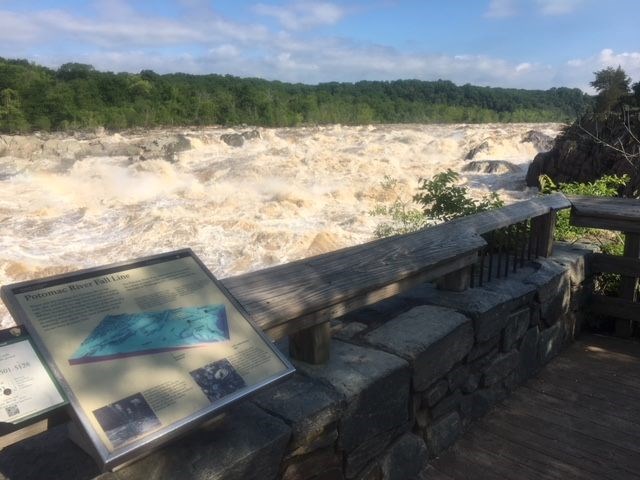 River Conditions
The Park monitors Potomac River levels to determine when portions of the towpath, hiking trails or parking areas might be affected by rising river levels. By visiting the National Oceanic and Atmospheric Administration - National Weather Service Advanced Hydrologic Prediction Service, you can see a timeline of expected river rises and crests to help plan your visit to the park.
Section A of the Billy Goat Trail often closes due to flooding. Under normal conditions, the trail is closed when the gauge at Little Falls reaches 5 feet and reopens when the gauge falls to 4.8 feet. However, under certain circumstances, the trail may be closed at lower levels. Please call the Great Falls Tavern Visitors Center at 301-767-3714 during regular business hours for the latest information on trail closures.
Last updated: June 26, 2019