Current Park Conditions
COVID-19 Update:
The National Park Service (NPS) is working servicewide with federal, state, and local public health authorities to closely monitor the COVID-19 pandemic and using a phased approach to increase access on a park-by-park basis. Based on guidance from the White House, Centers for Disease Control and Prevention (CDC), and state and local public health authorities, access to the park is as follows:
Masks - Required, in certain areas for unvaccinated individuals when physical distancing cannot be maintained, such as narrow or busy trails, overlooks, and parking lots. Consistent with CDC recommendations regarding areas of substantial or high transmission, visitors to the Chesapeake and Ohio Canal NHP, regardless of vaccination status, are required to wear a mask inside all park buildings.
Visitor Centers - closed, including the Great Falls Tavern Visitor Center, Brunswick Visitor Center, Williamsport Visitor Center, and Cumberland Visitor Center.

Reservation Only (Drive-in) Campgrounds - open. Campsites must be reserved through www.recreation.gov. See note below on restooms and water availability.

Hiker-biker Campsites - open. See note below on restooms and water availability.

Restrooms, Vault Toilets, and Portable Toilets - open at campgrounds, boat ramps, and day use areas. Restrooms will be cleaned twice weekly. Please bring your own hand sanitizer, soap, and toilet paper as these items have been the subject of theft.

Water Fountains and Wells -

open

for the season. See "Drinking Water Conditions" below for detailed water availability.

Fee collection at Great Falls has resumed. Credit, debit, or contactless payment (such as Apple Pay or Google Pay) ONLY. No cash or checks accepted. Digital passes are available via

www.recreation.gov

.

C&O Canal NHP may cancel permits and reservations and may not accept applications for demonstrations, special events, or park site reservations until further notice.
While the listed areas are accessible for visitors to enjoy, a return to full operations will continue to be phased, and services may be limited. When recreating, please follow local area health orders, practice Leave No Trace principles, and avoid crowding and high-risk outdoor activities.

The CDC has offered guidance to help people recreating in parks and open spaces prevent the spread of infectious diseases. We will continue to monitor all park functions to ensure that visitors adhere to CDC guidance for mitigating risks associated with the transmission of COVID-19 and take any additional steps necessary to protect public health.

All park lands remain open. Updates will be posted on this page and to the park's social media channels. For more information please visit the National Park Service Public Health Update page.
Updated 8/26/21
Towpath and Park Conditions
Milepost 1–25
Including Georgetown, Washington, DC; Bethesda, MD; Potomac, MD; Seneca, MD

Fletchers Area (MP 3.14)

Open

,

Parking Lot & Access Road

Open

, Restrooms

Carderock Area (MP 10.53)

Marsden Tract (MP 11.3)

Anglers (MP 12.0)

Limited Parking

,

The lower parking lot at Anglers has been closed to provide access for EMS and rescue services. The upper parking lot remains open for visitors.

Open

, Restrooms

Billy Goat Trail (MP 13.8)

Open,

Section A

Closed

, Section B, due to trail damage.

Open

,

Section C

Great Falls Tavern Area (MP 14.3)

Open

,

Great Falls entrance road on MacArthur Boulevard

Open

,

Parking lot

Open

, Restrooms

Open

, Great Falls Overlook and Olmsted Island Boardwalk

Closed,

Great Falls Tavern Visitor Center. See COVID-19 update at top of page.

Closed

,

Boat rides.

Closed for the season.

Open

, Gold Mine Loop.

Hazard tree and hanging branches at trail midpoint.

Swains Lock 21 Area (MP 16.64)

Seneca Aqueduct/Rileys Lock Area (MP 22.8)
Milepost 25–50
Including Poolesville, MD; Whites Ferry, MD; Dickerson, MD; Point of Rocks, MD
Edwards Ferry (MP 30.8)

Monocacy Area (MP 42.2)

Nolands Ferry (MP 44.6)

Point of Rocks (MP 48.2)

Lander (MP 50.8)
Milepost 50–75
Including Brunswick, MD; Harpers Ferry, WV; Shepherdstown, WV
Culvert 82 (MP 52.5)

Open.

Cyclist are encouraged to dismount bicycles and take caution crossing it as the low water crossing bridge repair is an interim fix.

The following vendors have indicated their availability for shuttle services around this area:

River & Trail Outfitters: 301-834-9950 or email at river@rivertrail.com (contact directly for pricing and to make your arrangements)
Footbridge to Maryland Heights (MP 61.1)

Closed. The wooden footbridge across the canal to access the Maryland Heights Trailhead is closed for repairs. Use the wooden footbridge upstream at mile 61.3.

Towpath Below Dargan Bend Boat Ramp (MP 64)

Towpath Detour.

Due to a washout half a mile below the boat ramp, the pedestrian footbridge has been relocated 100 feet upstream from its original location along the towpath. Follow a designated pathway from the towpath, across the footbridge and stream, and back onto the towpath.

Dargan Bend (MP 64)

Open

, Boat ramp

Antietam Creek Area (MP 69.6)

Open,

Campground
Milepost 75–100
Including Downsville, MD; Williamsport, MD
Snyders Landing (MP 76.6)

Taylors Landing (MP 81.0)

Dam #4/Big Slackwater Area (MP 84.4)

High Water Impacts,

Towpath at Dam #4/Big Slackwater Boat Ramp (MP 84.4) to McMahon's Mill (MP 88). Road detour is needed during high water events. Expect rough and/or slick towpath conditions caused by water events. Bikers may need to dismount in some areas.

McMahon's Mill Area (MP 88.1)

Closed.

Towpath from McMahon's Mill (MP 88) to Lock 42 (MP 89)

. A detour is in place.

Bikers will need to dismount in some areas. Learn more about the project and the detour.

Closed.

Parking lot. Alternative parking can be found upstream in Williamsport, MD, (miles 99.32 and 99.71) and downstream at Dam #4 (mile 84.41).

Williamsport Area (MP 100)

Open

, Parking lot.

Open

, Restrooms.

Changed

, towpath access. Access the towpath from Cushwa Basin requires navigating a steep set of stairs. Learn more about

Alternate Parking

and Towpath Access Points.

Closed.

Williamsport Visitor Center. See COVID-19 update at top of page.

Closed.

Launch boat rides. Boat rides are expected to resume in 2022
Milepost 100–150
Including Big Pool, MD; Hancock, MD; Little Orleans, MD
McCoys Ferry (MP 110.4)

Little Tonoloway (MP 124.33)

Fifteen Mile Creek (MP 140.9)

Open

,

Campground

Open

,

Parking Lot

Open

, Boat ramp
Milepost 150–184.5
Including Paw Paw, WV; Oldtown, MD; Cumberland, MD
Paw Paw Area (MP 155.8)

The Paw Paw Tunnel is currently

open

. However, the towpath just downstream is

closed

. Learn more about the project.

Open

,

Campground

Partially closed,

Parking lot. A portion of the parking lot is closed off for Paw Paw Tunnel construction staging.

Spring Gap (MP 173.3)

Cumberland Area (MP 184.5)
Drinking Water Conditions
Faucet handles are OFF for the season.
Drinking water is generally available from mid-April (around the 15th) to mid-November (around the 15th) at Hiker/Biker and Drive-In Campsite locations, approximately every 5 to 7 miles. Water quality tests are performed frequently by park staff to ensure drinkable water.
Water availability is subject to change. Always bring plenty of water with you when camping as a backup option.
Please plan your trip accordingly.
On Fletcher's Cove (MM 3.21)
Off
Lock 5 (MM 5)
Off Lock 10 (MM 8.8)
Off Carderock Recreation Area (MM 10.5)
Off Marsden Tract (MM 11.5
)
On Anglers Access (MM 12.2)
On Great Falls Tavern Restrooms (MM 14.3)
Off Swains Lockhouse (MM 16.64)
Off Swains Campground (MM 16.7)
Off Seneca Creek/Rileys (MM 22)
Off Horsepen Branch Campsite (MM 26)
Off Chisel Branch Campsite (MM 30.5)
Off Turtle Run Campsite (MM 34.4)
Off Marble Quarrry Campsite (MM 38.2)
Off Indian Flats (MM 42.4)
Off Calico Rocks Campsite (MM 47.7)
Off Bald Eagle Island Campsite (MM 50.3)
On Lock 34 (MM 61.5)
Off Huckleberry Hill Campsite (MM 62.9)
Off Antietam Creek Campground (MM 69.6)
Off Killiansburg Cave Campsite (MM 75.4)
Off Horseshoe Bend Campsite (MM 79.7)
Off Big Woods Campsite (MM 82.4)
Off Opequon Junction Campsite (MM 90.8)
Off Cumberland Valley Campsite (MM 95.2)
Off Cushwa Basin Restrooms (MM 99.7)
Off Jordan Junction Campsite (MM 101.2)
Off Four Locks Picnic Area (MM 108.9)
Off North Mountain Campsite (MM 109.2)
Off McCoys Ferry (MM 110)
Off Licking Creek Campsite (MM 116)
Off Little Pool Campsite (MM 120.7)
Off White Rock Campsite (MM 126.5)
Off Leopards Mill (MM 129.9)
Off Cacapon Junction (MM 133.6)
Off Indigo Neck (MM 139)
Off Fifteen Mile Creek Campground (MM 140.9)
Off Devils Alley (MM 144.5)
Off Stickpile Hill Campsite (MM 149.3)
Off Sorrel Ridge Campsite (MM 154.1)
Off Arbaugh (MM 155) -
Out of Service until further notice.
Off Paw Paw (MM 156)
Off Purslane Run Campsite (MM 156.9)
Off Town Creek (MM 162)
Off Potomac Forks (MM 165)
Off Pigmans Ferry (MM 169)
Off Spring Gap (MM 173)
Off Irons Mountain Campsite (MM 175.4)
Off Evitts Creek Campsite (MM 180)
Off Cumberland Visitor Center (MM 184.5)
Water Levels in Lower Sections of the Canal
For more information about boating, visit our boating page.

Due to construction projects, maintenance activities, and weather, water levels in the lower portions of the canal are likely to vary throughout the year.

This can affect a variety of activities throughout these areas.The park currently actively manages water levels within two main sections of the lower portions of the canal: between Lock 4 (MP 0.54) and Lock 5/Inlet Lock 1 (MP 5.02) and between Lock 17 (MP 13.99) and Lock 23/Inlet Lock 2 (22.12).

Below, the term "watered"* refers to the canal when it is holding water. The term, "de-watered"* refers to the canal when it is not holding water. When de-watered, it can be assumed the water level will not support boating in the canal. *Water levels can change unexpectedly.

Last Update: 12/2/2021

Current Status Between Locks 3-4: De-watered
Current Status Between Locks 4-5: De-watered
Current Status Between Locks 5-6: De-watered
Current Status at Widewater: Watered
Current Status Between Locks 19-20: De-watered
Current Status Between Locks 20-21: De-watered
Current Status Between Locks 21-22: De-watered
Current Status Between Locks 22-23: De-watered
Current Status Between Lock 44 - Conococheague Aqueduct: De-watered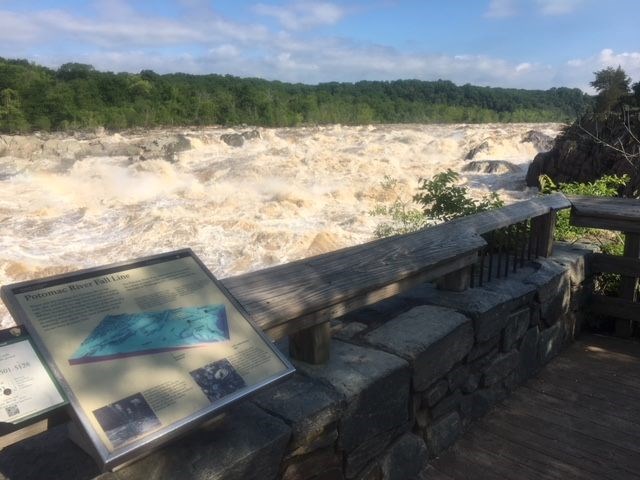 River Conditions
The Park monitors Potomac River levels to determine when portions of the towpath, hiking trails or parking areas might be affected by rising river levels. By visiting the National Oceanic and Atmospheric Administration - National Weather Service Advanced Hydrologic Prediction Service, you can see a timeline of expected river rises and crests to help plan your visit to the park.
Section A of the Billy Goat Trail often closes due to flooding. Under normal conditions, the trail is closed when the gauge at Little Falls reaches 5 feet and reopens when the gauge falls to 4.8 feet. However, under certain circumstances, the trail may be closed at lower levels. Please call the Great Falls Tavern Visitors Center at 301-767-3714 during regular business hours for the latest information on trail closures.
Last updated: December 2, 2021