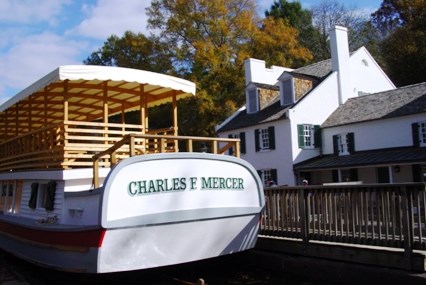 Enjoy a Mule-Drawn Boat Ride
Take a trip back in time to the 1870's! Ride along the historic C&O Canal in a boat pulled by mules. Experience rising 8 feet in a lock. Hear park rangers in period clothing describe what life was like for the people who lived and worked floating on the canal.
Cost: $8.00 for adults (ages 16-61), $6.00 for seniors (ages 62 +), and $5.00 for children (ages 4-15). Children aged three and under ride free.

Purchase tickets and board the boat at the Great Falls Tavern Visitor Center at 11710 MacArthur Blvd., Potomac MD 20854.
Ten or more people are required to make advance reservations for the boat ride. Otherwise, seats are available on a first-come, first-serve basis.
The Charles F. Mercer boat capacity is 65 people. The boat programs last approximately one hour.
Public Boat Rides Schedule
| | | | | |
| --- | --- | --- | --- | --- |
| 2017 Boat Program Season | Start Date | End Date | Days Offered | Times of Day |
| Spring | April 1st | May 28th | Saturday and Sunday | 11:00 am, 1:30 pm, 3:00 pm |
| Summer | June 2nd | September 3rd | Friday, Saturday and Sunday | 11:00 am, 1:30 pm, 3:00 pm |
| Fall | September 9th | October 29th | Saturday and Sunday | 11:00 am, 1:30 pm, 3:00 pm |

Please call ahead as special circumstances may affect this schedule.
To Reserve Tickets for a group of 10 or more:
During Visitor Center operating hours (Wednesday through Sunday, 9:00 am to 4:30 pm) one of our rangers or volunteers will be happy to assist you with making a reservation on the Charles F. Mercer canal boat at Great Falls. You can call the visitor center at 301-767-3714.
If you call after operating hours, leave a message and you will be contacted by a ranger to confirm the details of your reservation. Please make sure you speak with a ranger before the day of your requested boat tour.
Thank you!