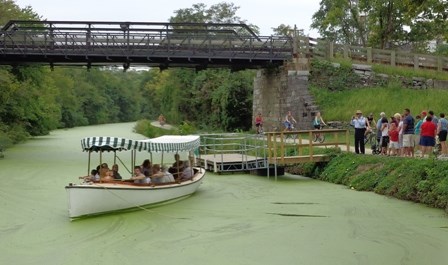 Williamsport launch boat programs resume Memorial Day weekend and are offered through Labor Day weekend.
Today, visitors can enjoy life on the canal during a replica canal launch boat program at Williamsport. During the late 19th and early 20th century, 30-foot battery and steam powered launch boats traveled the canal for leisure and business. They contrasted with the 90 foot mule-drawn canal cargo boats that dominated the canal.This FREE 1 hour Program includes riding in the boat from the historic Cushwa Basin down to Lock 44 and back to the Cushwa Warehouse.
2018 Boat Tour Season
The 2018 boat tour season runs from Memorial Day weekend through Labor Day weekend. Tour times are Wednesday-Friday at 1:00pm and 2:30pm and Saturday and Sunday at 10:30am, 1:00pm, and 2:30 pm. Tours are limited to 12 people. Animals are not allowed, with the exception of service animals. Inclement weather such as high winds, thunder storms, heavy rain, or extreme heat may cause tours to be cancelled; call the Williamsport Visitor Center for updates. Reservations are taken 7 days in advance, starting on May 19, 2018. For more information, call the Williamsport Visitor Center Wednesday through Sunday 9:00am-4:30pm at (301) 582-0813.