Williamsport Launch Boat Program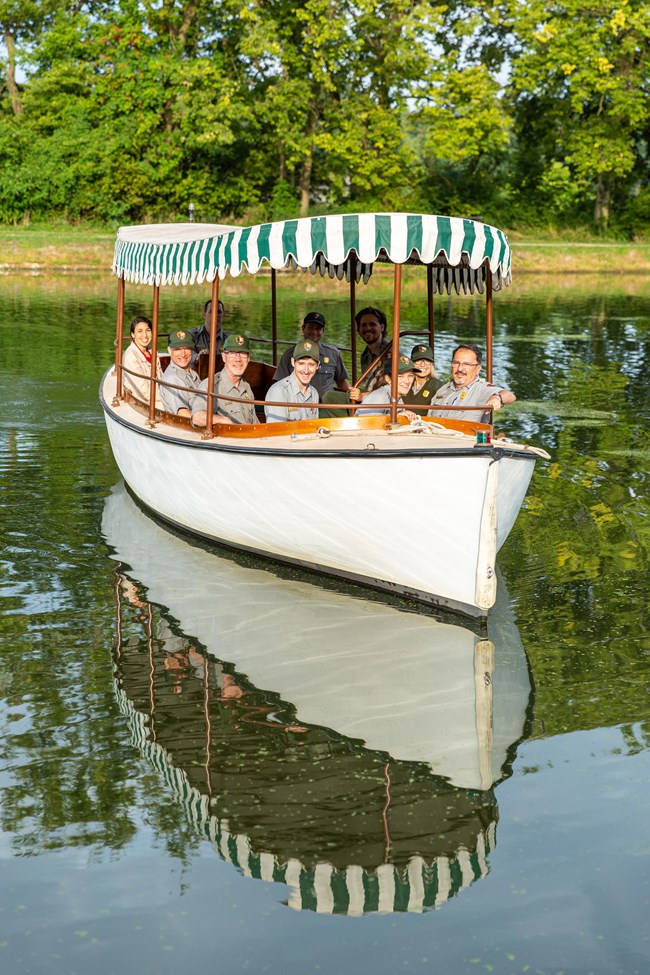 In the summer of 2019, enjoy a FREE one hour boat program on an 1890's replica launch boat in Williamsport, Maryland. Williamsport is now the only place in North America where visitors can view a variety of canal features in one place, including a lift lock and refurbished lockhouse, a railroad lift bridge, a canal turning basin and warehouse, and now a watered aqueduct. Tours are limited to 10 people. Animals are not allowed, with the exception of service animals. Inclement weather may cause tours to be cancelled.
Schedule:
2019 August and September Schedule
Friday, Saturday, and Sunday at 11:00am, 1:00pm, 2:00pm, 3:00pm
Length and content:
August - Boat rides are approximately 30 minutes and only include crossing the aqueduct.
September - Still under evaluation, but boat rides will likely be longer and may include the Aqueduct and traveling to Lockhouse 44.
How do I get tickets?
Since the Conococheague Aqueduct ribbon cutting, we've seen an unprecedented interest in our launch boat program - in the first 4 days the aqueduct was open, 315 people took a launch boat ride across the aqueduct. We're currently evaluating different ticketing systems to determine what works best for our visitors.

For more information, call the Williamsport Visitor Center Wednesday through Sunday 9:00 am to 4:30 pm at 301-582-0813.
Did You Know?
During the late 19th and early 20th century, 30-foot battery and steam powered boats traveled the canal for leisure and business, contrasting greatly with the 90 foot mule-drawn cargo boats that usually dominated the canal.
Last updated: August 17, 2019