Georgetown Visitor Center
Address:
1057 Thomas Jefferson Street, NW Washington, DC 20007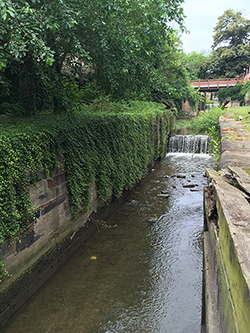 For continued information on the Georgetown Restoration process, read our press releases: https://www.nps.gov/choh/learn/news/newsreleases.htm
Construction is Beginning on Locks 3 and 4 in November, 2016
The C&O Canal National Historical Park is excited to begin the process of restoring the Georgetown C&O Canal area. Site preparations began on October 5th with the removal of the Georgetown Canal Boat from the Canal. The boat currently rests at Fletchers Cove as the Park assesses property relocation options.
The work on lock 3 will begin with dissembling and rebuilding the foundation and walls of the lock using original and added stone. New lock gates will be installed for lock 3.
Repairs to lock 4 will begin with repairs to the existing walls, and repairing of mortar joints. Depending on the state of the upper and lower lock gates, they will be replaced.
The last stage of construction will be paving and landscaping the area surrounding the locks.
Impact to Surrounding Area
The National Park Service and its contractors will make great efforts to minimize any negative impact of this work on the surrounding area. See the map below for the boundaries of the work area.
The Canal will be dry from Lock 5 to Georgetown boundary during construction.
A chain link fence will be erected around the job site to ensure safety, and all building materials and activities will remain within the fence line. There will be no public access to the fenced-in area.
The Canal towpath will be closed between Thomas Jefferson and 30th Streets NW. The towpath, pedestrian and bicycle traffic will be redirected to K and M Streets.
Both 30th Street and Thomas Jefferson Street NW will remain open to traffic for the duration of construction.
Work will occur during regular business hours from 7 a.m. to 7 p.m., Monday through Friday.
A construction area entrance on 30th Street NW will occupy one or two street parking spaces.