Billy Goat Trail is an Epic Trail Trilogy
There are 3 sections that make up the Billy Goat Trail: A, B, and C. You can access all three of them off the towpath between Great Falls Tavern and Carderock (Anglers is between section A and B). All three combined are approximately 8 miles. Section A is a technical and strenuous hike. Section B is challenging, and Section C is an easier hike. All three have beautiful scenery and views of the Potomac River- and spotty cell service.
Millions of people visit the Chesapeake and Ohio Canal National Historical Park each year, and a large portion of them love to come and hike near Great Falls Tavern. Located at 11710 MacArthur Blvd, Potomac, MD 20854, The Great Falls Tavern Visitor Center provides a place (Wednesday through Sunday) to get more information about hikes and the history of the area. The bathrooms by the Great Falls Tavern parking lot are open every day.
If you're hiking Section A or B, you might want to try parking at Anglers recreational area downstream. If you're hiking Section C, Carderock recreational area is the closest parking area.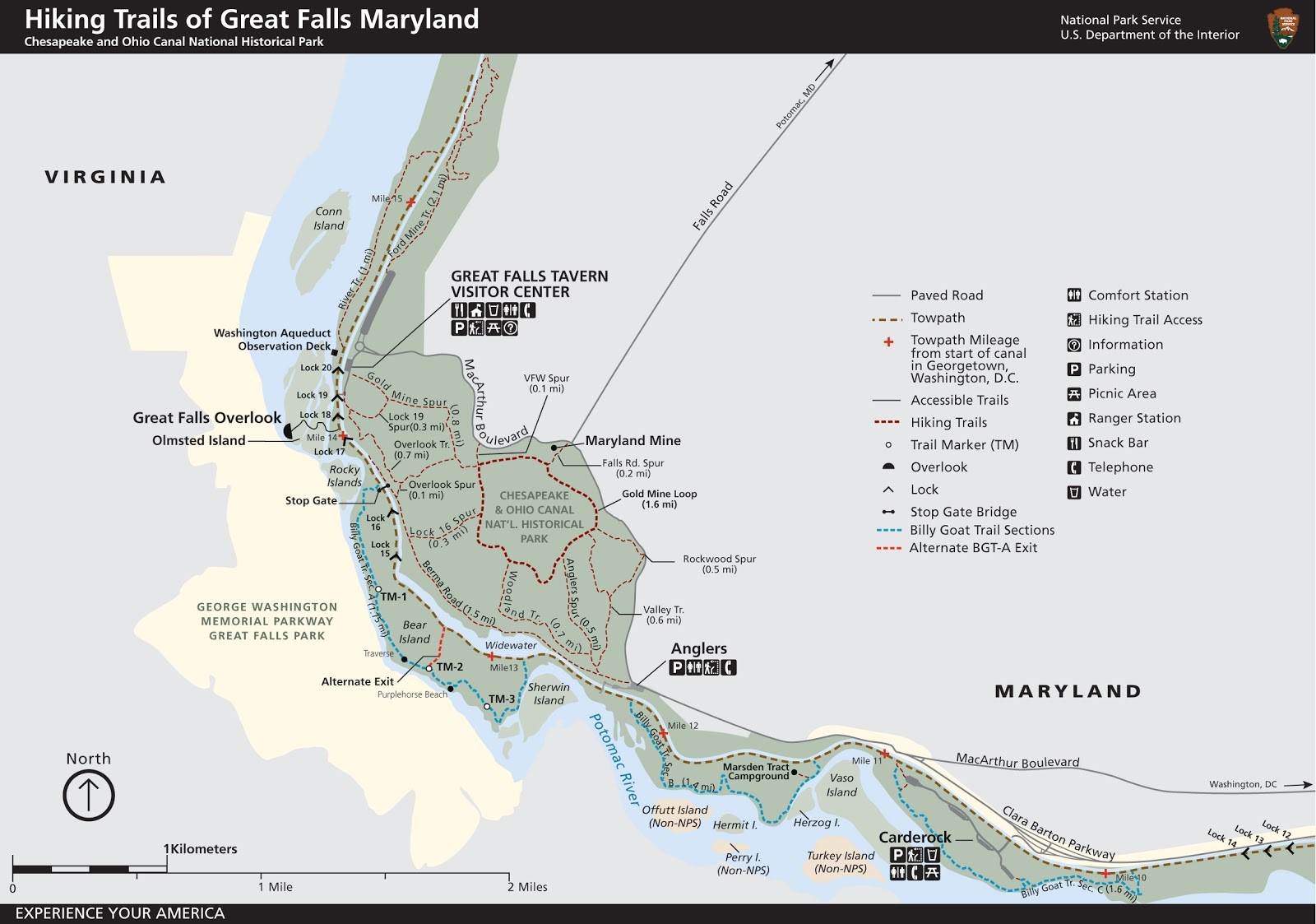 Photo Credit:
NPS.
Download the Great Falls MD Hiking Map
[1 MB].

Billy Goat Trail A is the longest section and by far the most technical, dangerous, and difficult section of the Billy Goat Trail. It is less than two miles, but you will be doing some rock climbing and scrambling over very slippery surfaces. There are blue blazes painted on trees and rocks to keep you going the right way. Follow the blue blazes and stay on the trail. Any area not marked by blazes is closed. There are a lot of cool and rare plants in the area and we must protect them from getting trampled, and preserve the delicate surrounding environment. Exposure to ticks, snakes and poison ivy are also real dangers along all sections.
You May Love the River…
But the river does not love you. Swimming, wading, and going out in the water is not allowed. There are dangerous currents that sweep people underwater and never let them up. Sadly, swimmers ignore this message and many die each year. Wading and standing on rocks at the water's edge are also dangerous: one false step can mean losing one's life. Fines of $200 or more may be charged for swimming in the Potomac along the trail. If you're interested in learning why this part of the river is so deadly, check out this article in the Washington Post.