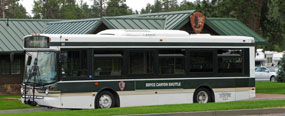 nps
2015 Rainbow Point Shuttle Tour
Bryce Canyon National Park offers a daily guided tour to Rainbow Point, free of charge, from May to October, twice daily (at 9:00 AM and 1:30 PM).
Operated by the Bryce Canyon Shuttle, this 3.5 hour round-trip tour covers 40 miles with stops along many of the park's scenic viewpoints.
Reservations are required and can be made in person at the shuttle offices at Ruby's Inn, Ruby's Campground, the Shuttle Parking and Boarding Area, or by calling 435-834-5290 between the hours of 8:00 AM and 7:00 PM. Reservations can be made up to 24 hours in advance. Buses will hold up to 45 passengers. Unclaimed spaces will be filled on a first-come, first-served basis.
Passengers can board at any of six shuttle boarding areas: Ruby's Inn, Ruby's Campground, Shuttle Parking and Boarding Area (across the road from Ruby's Inn), Bryce Canyon Lodge, North Campground and Sunset Campground. There will be approximately eight stops at the scenic viewpoints in the southern section of the park. Visitors are advised to dress appropriately for the weather and bring lunch, snacks, water, etc.
This tour is ideal for backpackers wanting to be dropped off at any of the park's backcountry trailheads. If backpackers wish to be picked up following a backcountry hike, it is important that they adhere to the scheduled pickup times and locations.