Bryce Point to Peekaboo Connector Trail Closure

Due to a large rockslide, the connecting trail from Bryce Point to Peekaboo Loop is closed. Trail will be reopened once repairs are made. The Peekaboo Loop is open, but must be accessed from Sunset or Sunrise Point.
Backcountry Campsite Closures

Due to bear activity at select campsites in Bryce Canyon's backcountry, multiple backcountry campsites have been closed until further notice: Sheep Creek, Swamp Canyon, Natural Bridge, Iron Spring, Corral Hollow, Riggs Spring and Yovimpa Pass.
Backcountry Information
BACKCOUNTRY OVERVIEW
Bryce Canyon's backcountry trails offer solitude, forests, meadows, wildlife, wildflowers and interesting geologic features. There are 8 campsites on the 22.9 mile (36.9 km) Under-the-Rim Trail. There are 4 campsites on the 8.8 mile (14.2 km) Riggs Spring Loop Trail. The trails are strenuous, with multiple changes in elevation. Elevations range from 6,800 feet (2,073 m) to 9,115 feet (2778 m).
Permits are required for all overnight stays. Permits may be purchased at the Visitor Center from 8 a.m. until one hour before closing. We do not accept advance reservations via the internet or mail. Reservations may be made up to 48 hours in advance, in person, at the visitor center.
$5 - per permit / 1-2 persons / 7 nights maximum
$10 - per permit / 3-6 persons / 7 nights maximum
$15 - per permit / 7-15 persons (Group sites ONLY) / 7 nights maximum
Camp only at designated campsites. Leave no trace.
Shuttle Service may be available, click here for more information.
Water can be found at Right Fork Yellow Creek, Yellow Creek Groupsite, Yellow Creek, Sheep Creek, Iron Spring, Riggs Spring and Yovimpa Pass. Water must be purified by boiling (10 minutes), filtering or iodine treatment.
Open fires are not permitted. Camp stoves are permitted.
The 10 regular backcountry campsites are limited to a maximum of 6 people per site. The 2 group sites can have up to 15 persons.
Check the Backcountry brochure (PDF-690K) for more information, regulations, and preparedness guidelines.
(The DATUM provided for each site was derived from a handheld GPS unit and does not represent NPS approved information.)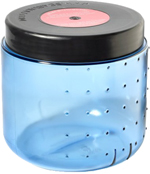 Safety in the Backcountry
As in any "wild" setting the chance of human/animal interaction will increase as more and more people visit wilderness areas to get away from crowds. In the summer of 2010, a Black Bear had to be killed when it repeatedly exhibited aggressive behavior towards backcountry campers. Unfortunately, bears often lose their natural wariness towards humans when they become habituated to human food.
The summer of 2012 has seen an increase in the number of human/bear encounters. UNTIL FURTHER NOTICE, we are REQUIRING that backcountry campers store their food in bear-resistant canisters. Hanging food is insufficient! Please bring your own approved bear-resistant canister with you, or you may borrow a canister (free-of-charge) from the visitor center when you obtain your backcountry permit.
The following link provides information about Black Bears and what you should and shouldn't do if you encounter one.
Black Bear encounter information (Information courtesy of the Utah Division of Wildlife Resources)
Information about other animals that may be encountered in Bryce Canyon can be viewed here.
Did You Know?

USS Bryce Canyon (AD-36) was named after the park. Commissioned 15 September 1950 at Charleston SC,(22 years after the park was established, to the day), Decommissioned 30 June 1981. A plaque, with a Flag and Ensign last flown over the ship are on display in the Headquarters building. More...