U.S. Highway 89 Bryce Canyon to Grand Canyon

Road damage south of Page, Arizona will impact travel between Bryce Canyon and Grand Canyon National Parks. Click for a travel advisory and link to a map with suggested alternate routes: More »
Lodging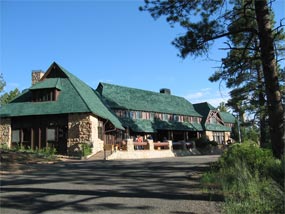 nps
Forever Resorts, LLC operates the Bryce Canyon Lodge, with 114 rooms including lodge suites, motel rooms and cabins. The 2013 season begins March 29 and runs through November 10th after Breakfast.
The dining room at Bryce Canyon Lodge is open for breakfast, lunch and dinner. A gift shop is available at the Lodge.
Reservations are recommended.
Reservations for lodging may be made by one of the following:
Forever Resorts, LLC
Forever Corporate Plaza
7501 E. McCormick Parkway
Scottsdale, AZ 85258

Reservations: (877) 386-4383
Direct: (435) 834-8700
For lodging in the communities near Bryce Canyon visit Bryce Canyon Country.
Did You Know?

Bryce Canyon National Park has three wildlife species listed under the Endangered Species Act: Utah Prairie Dog, California condor, and the Southwestern Willow Flycatcher. It is illegal to take, capture, kill, pursue, hunt, or harm these species or their habitat. More...