U.S. Highway 89 Bryce Canyon to Grand Canyon

Road damage south of Page, Arizona will impact travel between Bryce Canyon and Grand Canyon National Parks. Click for a travel advisory and link to a map with suggested alternate routes: More »
Sunset Campground Construction

From April-July 2014, three new restroom facilities will be constructed in Sunset Campground. Visitors may experience construction noise and dust, as well as some campsite and restroom closures. 'Sunset Campground' webpage has additional information. More »
Bryce Point to Peekaboo Connector Trail Closure

Due to a large rockslide, the connecting trail from Bryce Point to Peekaboo Loop is closed. Trail will be reopened once repairs are made. The Peekaboo Loop is open, but must be accessed from Sunset or Sunrise Point.
Wall Street Section of Navajo Loop Closed

Due to dangerous conditions (falling rock and treacherous, icy switchbacks), the Wall Street section of the Navajo Loop Trail is CLOSED. It will reopen in Spring once freezing temperatures have subsided.
Backcountry Campsite Closures

Due to bear activity at select campsites in Bryce Canyon's backcountry, two backcountry campsites have been closed until further notice: Sheep Creek and Iron Spring.
Lodging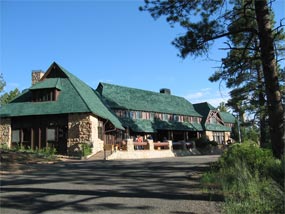 nps
Forever Resorts, LLC operates the Bryce Canyon Lodge, with 114 rooms including lodge suites, motel rooms and cabins. The 2013 season begins March 29 and runs through November 10th after Breakfast.
The dining room at Bryce Canyon Lodge is open for breakfast, lunch and dinner. A gift shop is available at the Lodge.
Reservations are recommended.
Reservations for lodging may be made by one of the following:
Forever Resorts, LLC
Forever Corporate Plaza
7501 E. McCormick Parkway
Scottsdale, AZ 85258

Reservations: (877) 386-4383
Direct: (435) 834-8700
For lodging in the communities near Bryce Canyon visit Bryce Canyon Country.
Did You Know?

Bryce Canyon National Park has a 7.4 limiting magnitude night sky! In most rural areas of the United States, 2500 stars can be seen on a clear night. At Bryce Canyon, 7500 stars can be seen twinkling in the void! More...