Back Country Campsite Closed

Due to bear activity at Bryce Canyon's back-country, the following campsite has been closed until further notice: Sheep Creek
Lodging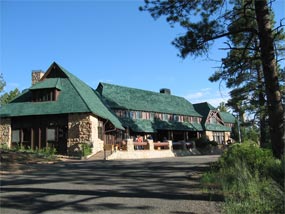 nps
Forever Resorts, LLC operates the Bryce Canyon Lodge, with 114 rooms including lodge suites, motel rooms and cabins. The 2013 season begins March 29 and runs through November 10th after Breakfast.
The dining room at Bryce Canyon Lodge is open for breakfast, lunch and dinner. A gift shop is available at the Lodge.
Reservations are recommended.
Reservations for lodging may be made by one of the following:
Forever Resorts, LLC
Forever Corporate Plaza
7501 E. McCormick Parkway
Scottsdale, AZ 85258

Reservations: (877) 386-4383
Direct: (435) 834-8700
For lodging in the communities near Bryce Canyon visit Bryce Canyon Country.
Did You Know?

The Bryce Canyon Paintbrush was discovered June 24, 1965 at Inspiration Point in Bryce Canyon National Park. This rare wildflower is only found in southwestern Utah. More...