Virtual Conservation Corps Event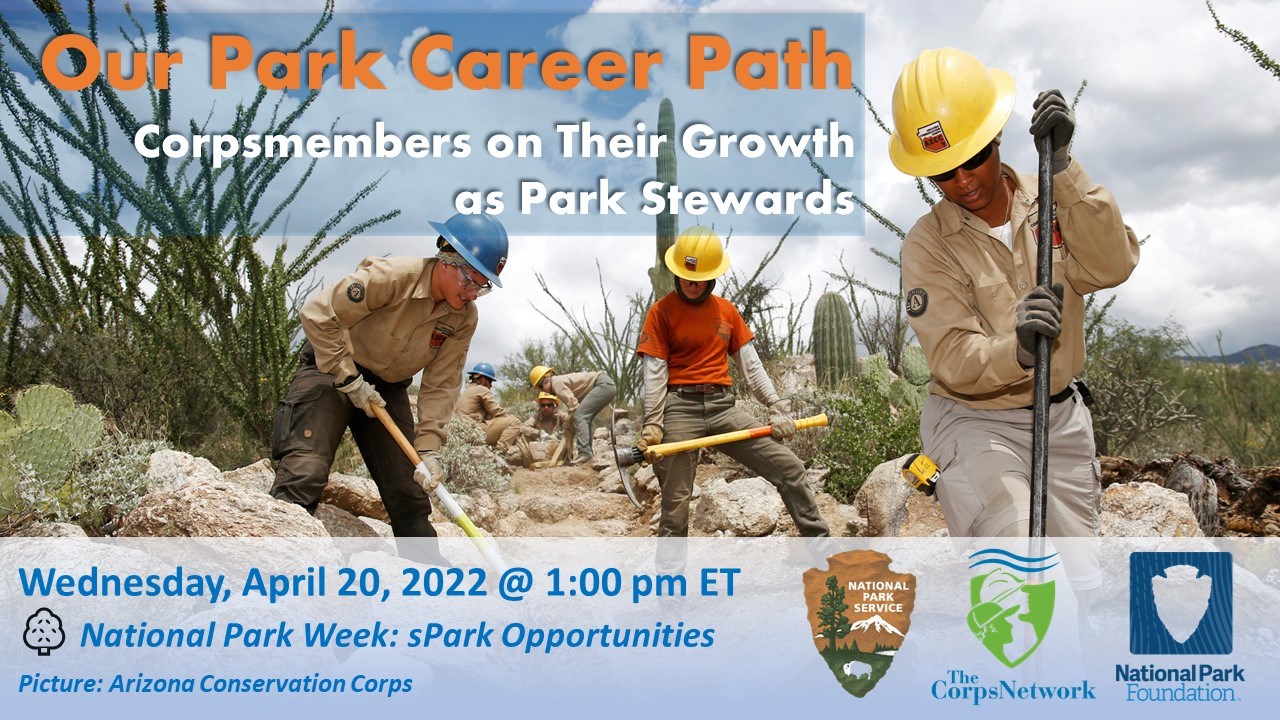 The graphic is an announcement for a virtual event. Text on the graphic reads "Our Park Career Path: Corpmembers on Their Growth as Park Stewards. Wednesday, April 20, 2022 at 1:00 PM ET. National Park Week: sPark Opportunities. Picture: Arizona Conservation Corps" and includes logos for the National Park Service, The Corps Network, and the National Park Foundation. The image is from the Arizona Conservation Corps.

Additional information about this event is available throughout this webpage.
Event Details

On Wednesday, April 20 at 1:00pm EDT during National Park Week, join the National Park Service Youth Programs Division in partnership with The Corps Network and the National Park Foundation for the virtual event, "Our Park Career Path: Corpsmembers on Their Growth as Park Stewards." Be part of the discussion about the future of the conservation movement and learn about some of the different jobs in conservation and park management. Current and former Corpsmembers and interns will share how their Conservation Corps experiences impacted their personal development, their national parks, and local communities. These young adults engage in a range of projects at national parks, from supporting the Dragonfly Mercury Project, to doing trail maintenance, performing music, educating park visitors, advancing relevancy, diversity, and inclusion initiatives, preserving Indigenous cultures, and so much more. The event will open with introductions, followed by a panel discussion, a Q&A, and closing remarks from each speaker.
Program
Introduction and Moderator
Keena Graham, Superintendent, Medgar and Myrlie Evers Home National Monument, National Park Service
Remarks
Dr. Tracey Ritchie, Vice President of Education and Engagement, National Park Foundation
Mary Ellen Sprenkel, President & CEO, The Corps Network
Floyd Myers, Acting Chief, Youth Programs and the Experienced Services Program Division, National Park Service
Yasmeen Shaheen-McConnell, Senior Advisor for Strategic Partnerships, AmeriCorps
Panel Discussion
Katherine Ko, Biologist, Air Resources Division, National Park Service (former Mosaics in Science and Geoscientists in the Parks Intern)
Hunter Miles Davis, Park Guide, New Orleans Jazz National Historical Park, National Park Service (former Greening Youth Foundation Intern)
Jamie Gonzales, Wellness Coordinator, Yosemite National Park, National Park Service (former Community Volunteer Ambassador)
Kalen Anderson, Corpsmember, Appalachian Conservation Corps (2022 Corpsmember of the Year)
Eduardo Chaidez, Education Technician, Paterson Great Falls National Historical Park, National Park Service (former Latino Heritage Internship Program Intern)
Olivia Czajka, Corpsmember, YouthWork
Q&A Session (all speakers + speaker below)
Lisa McClure, Senior Manager, Grants and Programs, National Park Foundation
Closing Remarks
Watch the Event Recording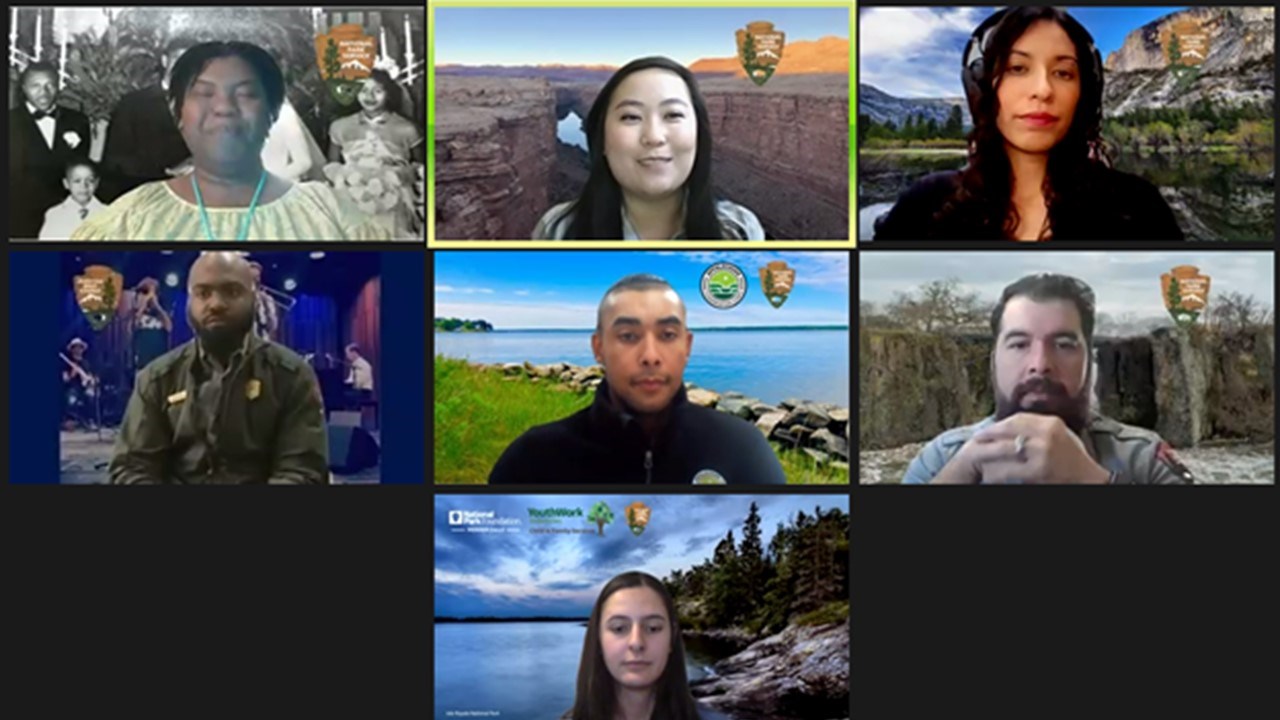 Have any questions? Please

email us

!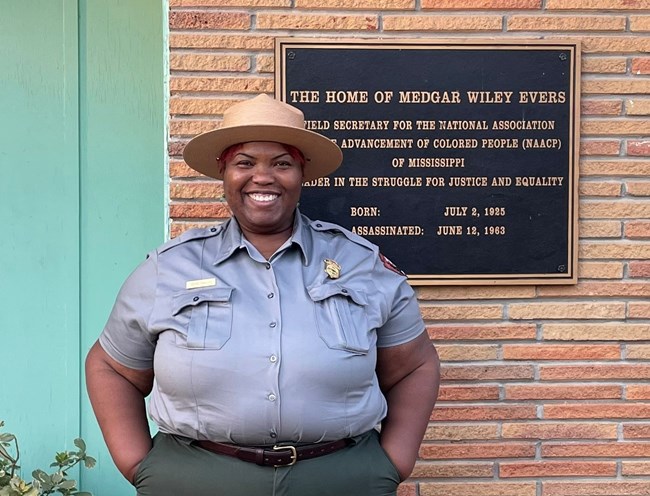 Keena Graham
(
M
oderator)
is the Superintendent at the
Medgar and Myrlie Evers Home National Monument
in Jackson, Mississippi. She believes that, "The places that the National Park Service protects allows for people to extend their education of history and science, our nation, and ourselves." She was born and raised in Tuscaloosa, Alabama where she gained a love of history, which led her to choose it as her major when she attended the University of Alabama. She eventually received her master's degree in Public History from Western Michigan University in Kalamazoo, Michigan.
Upon moving to Washington D.C., she kicked off her career with the National Park Service by volunteering at Arlington House, the
Robert E. Lee Memorial
. There was no turning back after that experience. She worked as a park ranger at the
National Mall and Memorial Parks
, the Corp of Discovery II: the
Lewis & Clark National Historic Trail, Gila Cliff Dwellings National Monument
,
Jean LaFitte National Historical Park and Preserve
,
Russell Cave National Monument
, and details at
Natchez National Historical Park
,
Selma to Montgomery National Historic Trail
, the
Tuskegee Institute National Historic Site
,
Tuskegee Airman National Historic Site
, and
Kennesaw Mountain National National Battlefield Park
. She spent years with the US Fish & Wildlife Service at a National Wildlife Refuge located outside of Atlantic City, NJ.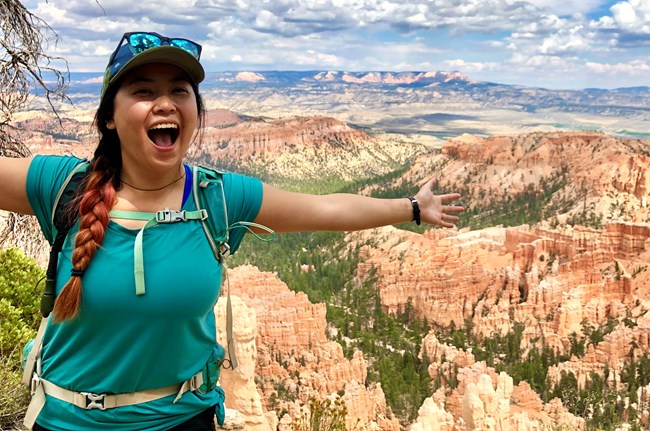 Katherine Ko
is a biologist for the National Park Service
Air Resources Division
. She works to coordinate the
Dragonfly Mercury Project
(DMP), a nationwide study that engages citizen scientists in the collection of dragonfly larvae for mercury analysis. Since 2011, the DMP has engaged more than 5,000 volunteers in this multi-level monitoring, research, education, and public engagement initiative. Kat brings her unique blend of scientific and communication skills to this effort, engaging the next generation of stewards in meaningful mercury research to protect human and wildlife health.
Born and raised in New Jersey, Kat was studying ecology (and theatre) in Nashville when a service trip took her out west to
Glen Canyon National Recreation Area
. Her NPS journey began there, as a volunteer in 2017. She then completed three internships with
Mosaics in Science Diversity Internship Program
,
Geoscientists-in-the-Parks
(now part of the
Scientists in Parks Program
), and
Appalachian Mountain Club
. In 2020, Kat accepted her current position, where she helps manage the very same program that she contributed to as an intern. Through her own NPS journey, Kat hopes to inspire and pave the way for the next generation of diverse young professionals.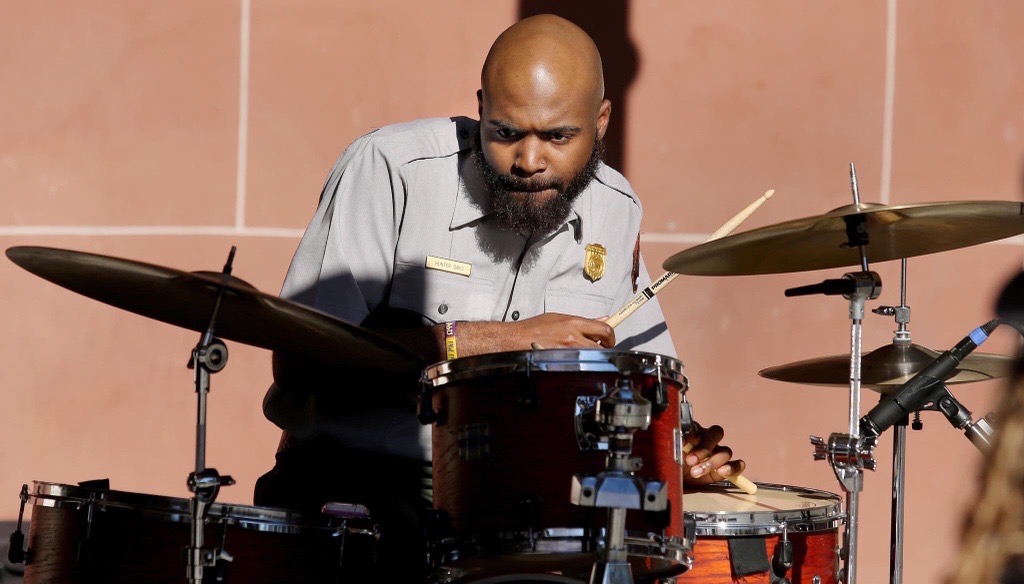 Hunter Miles Davis
is a gifted percussionist from Queen City, Charlotte, North Carolina. He graduated from Hampton University with a Bachelor of Arts in Music Audio Production in December of 2020. He has interned with both
New Orleans Jazz National Historical Park
as well as
Jean Lafitte National Historical Park & Preserve
through the
Greening Youth Foundation
. Hunter is excited to be in a new city with such enriching culture. As a musician, he is developing and maturing in music while working within the professional network of the National Park Service and community.
The road to the National Park Service was not a short one, but it was worth it. Hunter worked on many programs, hosted many ranger talks, preparing him for his entry to the National Parks over the course of two internships. He believes the internship prepared him for what he loves to do. Daily, Hunter interacts with visitors and has a chance to display his love of music and Jazz with the public in the best city for a musician. In addition to music, Hunter enjoys producing and editing film, photography, and suit tailoring as he is inspired by multiple avenues of the arts.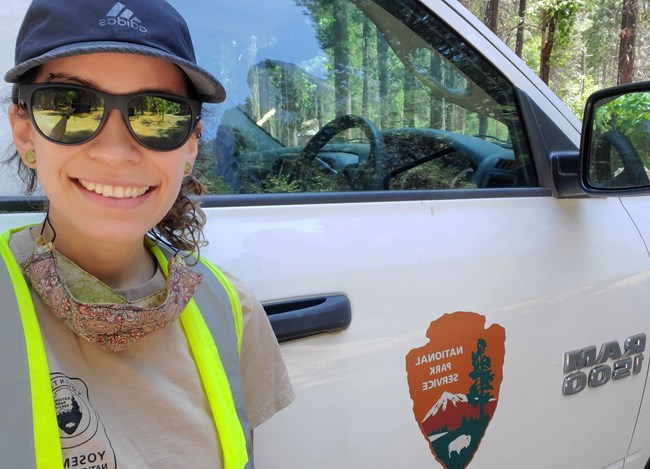 Jamie Gonzales is a former AmeriCorps member in Conservation Legacy's Stewards Individual Placement program, Jamie spent more than two years with Community Volunteer Ambassadors (CVA), a program that places recent high school and college graduates at national parks across the country to build relationships between parks and people. By listening to volunteers and staff at Yosemite National Park, Jamie led presentations to park leadership and partners, advocating to strengthen employee resource groups and gain approval to manage a parkwide relevancy, diversity and inclusion council. Among other outcomes, Jamie's efforts supported the first Yosemite Pride event in support of the LGBTQ+ community.
During her service, Jamie has led numerous critical meetings among park stakeholders, focused on building relationships, promoting employee wellbeing, and advancing equity goals. Her hard work did not go unnoticed: Jamie is now employed at Yosemite National Park with the Safety Office in the Superintendent's Division. This position was created for her to allow her to continue her work in employee engagement and increasing advocacy for the park's diversity, equity, and inclusion initiatives.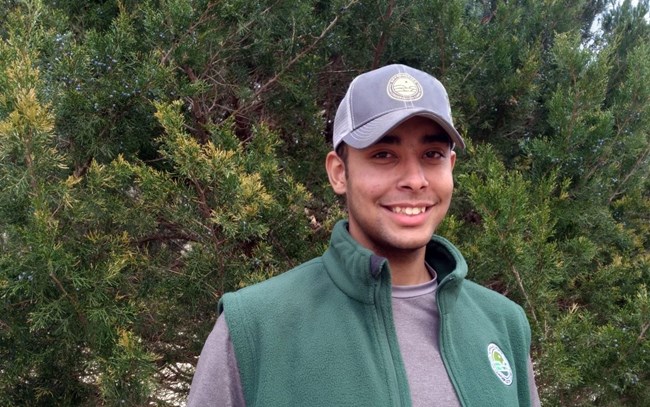 Kalen Anderson is a current AmeriCorps member with the Werowocomoco Ancestral Lands program through Conservation Legacy's Appalachian Conservation Corps (ACC), which works at Colonial National Historical Park. He has always been eager to learn and is helpful, punctual, and a hard worker. This new program teaches Native youth resource management skills while engaging them in sharing their cultural knowledge and assisting with preservation and interpretation activities surrounding Werowocomoco: a recently rediscovered site with deep historic significance for Tribes in what is today Virginia. Kalen took every opportunity offered, completing trainings in water quality assessment, invasive species identification, the Archeology Repatriation Act, and many other fields. As a member of the Nansemond, he used his training to contribute to his tribe's oyster bed recovery work on the Nansemond River.
After Kalen's time with ACC, a partner worked with him to serve in a different internship position to help him deepen his knowledge of archaeology. After completing this position, Kalen will return to ACC this upcoming season to serve in a lead role for the Werowocomoco Ancestral Lands Corps individual placements. As a supervisor said of Kalen, "You can tell how deeply he cares about his heritage and the land in which he wants to take care of."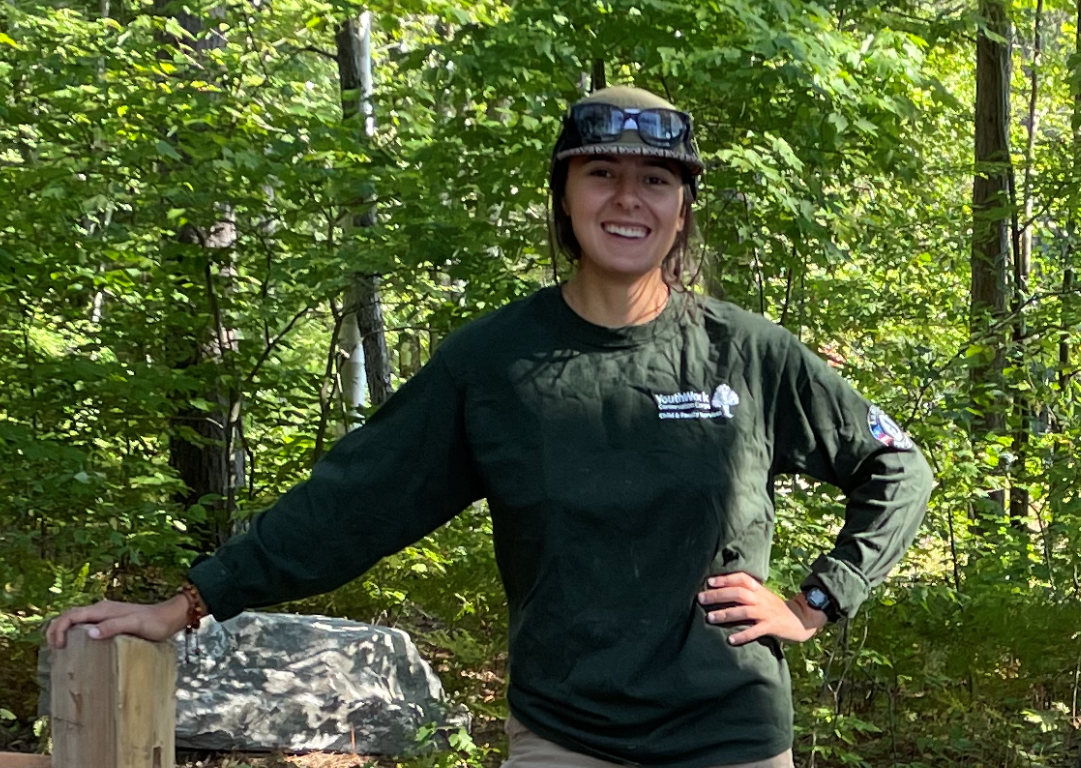 Olivia Czajka
is a Corpsmember with
YouthWork
in Northwest Michigan. currently pursuing her Master's in Geographic Information Systems at Michigan Technological University. She completed her Bachelor's of Science in Environmental Studies and Sustainability at Northern Michigan University in May of 2021. This summer, she will be mapping utility lines on
Isle Royale National Park
for the National Park Service and completing another AmeriCorps term with YouthWork.
She began her first term with YouthWork in June of 2020 where her crew pulled invasive species, built trails in the Hiawatha National Forest, and built boardwalks on the North Country Trail in
Pictured Rocks National Lakeshore
. The following summer, she came back for a second term with YouthWork where she was a part of a crew that restored historic buildings of Camp Nesbit in the Ottawa National Forest. YouthWork provides hands-on experience that gives her the opportunity to contribute to her community, as well as to the national parks and forests in a meaningful way. She looks forward to completing more projects and encouraging people of all ages, ethnicities, and backgrounds to get involved in their communities and with our public lands.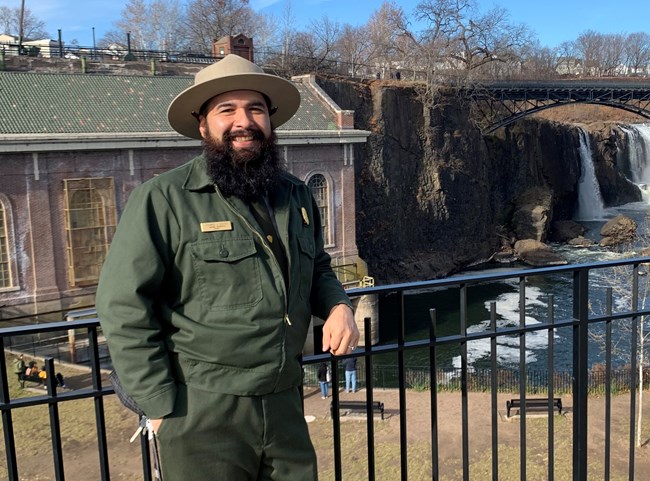 Eduardo Chaidez
is from Oakland, CA and currently lives in New York City while working as the Education Technician at
Paterson Great Falls National Historical Park
in Paterson, NJ where he is developing and running educational programming for the community in Paterson and surrounding areas. He has been a permanent employee of the National Park Service for almost three years now; having worked at other parks in the San Francisco Bay Area like
Alcatraz Island
and
John Muir National Historic Site
. Prior to working for NPS, he was a
Latino Heritage Internship Program
(LHIP) intern while in college. He earned double Bachelors Degrees in Art Practice and Ethnic Studies from the University of California Berkeley and a Master's Degree in Visual and Critical Studies from the School of the Art Institute of Chicago.
Although his passion for social justice, community outreach, and conservation has led him to a career with the National Park Service, he is also an artist exploring race and representation in portrait painting and has had his art featured in the Dia de Los Muertos Festival in Oakland. He can also be found exploring the outdoors on his bicycle. Eduardo currently serves on the Board of Directors for Civicorps in Oakland , of which he is also an alum. He hopes that by serving on the Board, he can continue to cultivate an environment of inspiration for current and future Corpsmembers.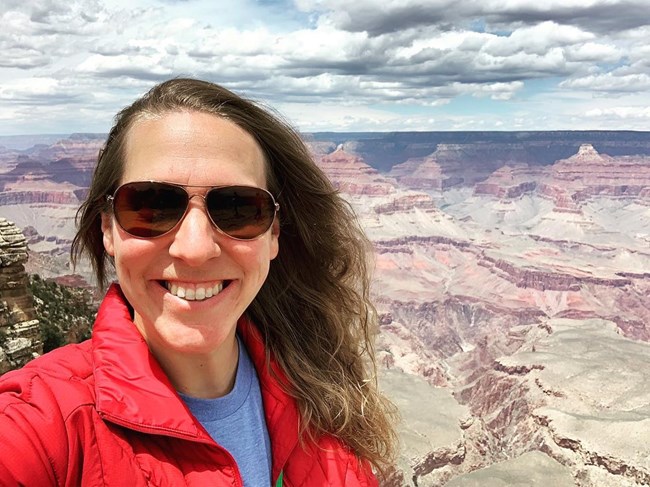 Lisa McClure
is a Senior Program Manager within the Programs and Partnerships Division at the
National Park Foundation
. Lisa leads a number of programmatic initiatives that collaborate with park sites and partner organizations across the country. Specifically, Lisa's efforts have centered around increasing workforce and job skill development, outdoor equity, improving diversity within national parks, and helping to create future park stewards. Lisa thoroughly enjoys being able to connect and serve parks and communities and is interested in growing the network and collaborative of the National Park Foundation's reach.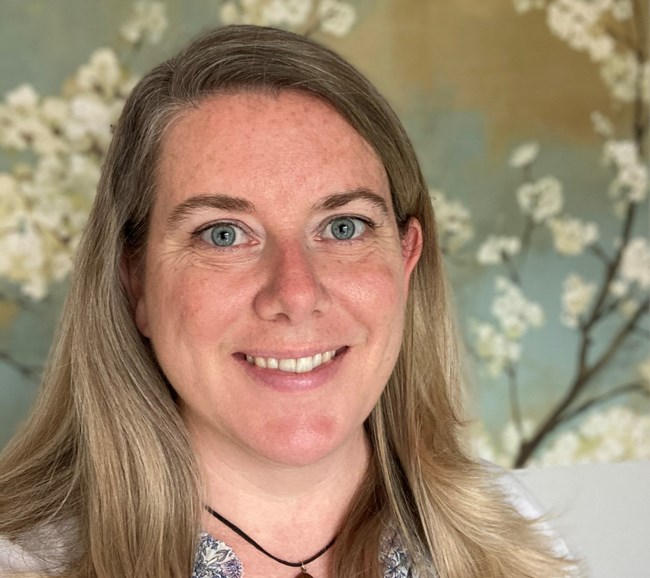 Tracey Ritchie
joined the
National Park Foundation
team as the Vice President of Education and Engagement in August of 2021 and oversees all aspects of program management and grantmaking for the Connecting Audiences team. She also serves as a key liaison to the National Park Service Office of Interpretation, Education, & Volunteers and the Office of Workforce & Inclusion. Tracey works closely with the National Park Foundation leadership and philanthropy teams to raise funds from institutional funders, individual donors, and corporate partners to support the programmatic needs and growth of the Connecting Audiences portfolio.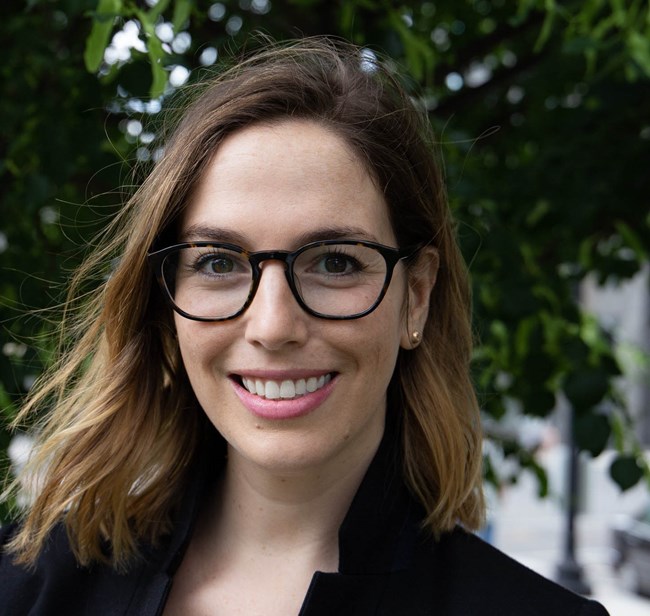 Yasmeen Shaheen-McConnell
's professional experience centers on making national service part of growing up in America. Most recently, she served as managing director of strategic partnerships at
Service Year Alliance
, where she led initiatives including the Serve America Together campaign, stakeholder engagement, and convenings for leaders inside and outside the national service network. Shaheen-McConnell helped start the Franklin Project at the Aspen Institute, where she designed and ran a fellowship program for rising leaders across the country. She was a business development consultant with News Deeply, a new media and technology startup, and managed programs and the Arab American Census Information Center at the Arab American Institute and Foundation. Shaheen-McConnell is a proud
AmeriCorps
alumna, and served in 2008 with the Arab American Resource Corps in a community support and cultural resource position before becoming a supervisor for future members. She earned a bachelor's degree from George Washington University and a master's degree from Harvard Divinity School.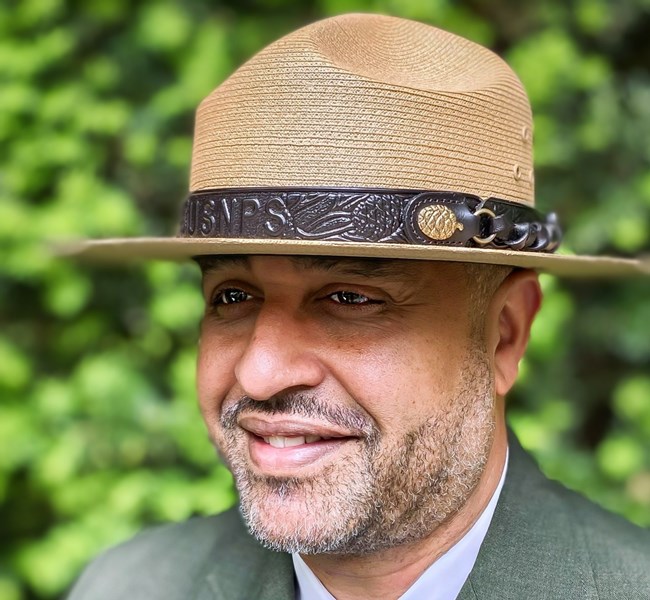 Floyd Myers
is currently the National Park Service Acting Chief of
Youth Programs and the Experienced Services Program Division
. He has 15 plus years of expertise in cultural and natural preservation, visitor interpretation, and national park system management experience. He started working at the National Park Service in his position at the National Parks of New York Harbor. Floyd fostered his alliances and partnerships and made record-breaking returns for the National Park Service. Floyd currently holds the position of Chief of Business Development and Partnerships for the National Park Service.
He has also held Executive Management positions at the
Paterson Great Falls National Historical Park
, the
Tuskegee Institute National Historic Site
, the
Tuskegee Airman National Historic Site
,
Selma to Montgomery National Historic Trail
and the
Booker T. Washington National Memorial
. Most recently, he served as the Acting Deputy Superintendent for the
Martin Luther King National Historical Park
in Atlanta, Georgia.
Last updated: April 24, 2022